Who doesn't like street art or street murals or graffiti art. To me, it's all fantastic, no matter what you call it. Recently my sister took my mom and I on a trip to the Eau Gallie Arts District in Melbourne, Florida to check out some amazing street art. If you don't know where Melbourne is, you can find it in Central Florida, just before you cross the bridge to the East Coast.  It always surprises me to see art that is so fantastic. There are some seriously talented people in the world.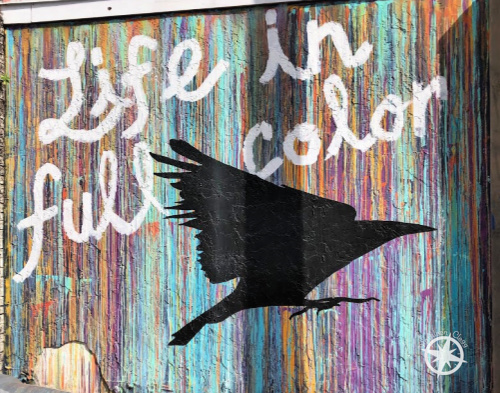 Eau Gallie Arts District Melbourne Florida
Why Murals
The Eau Gallie Arts District in Melbourne, Florida is a fun neighborhood with little galleries, art shops, churches and other businesses. It is in a rebuilding phase and as such, it has had some local and international artists paint some really great murals on the buildings. The idea is to draw people in for the art and then they can stay awhile and explore. It's a great idea to me.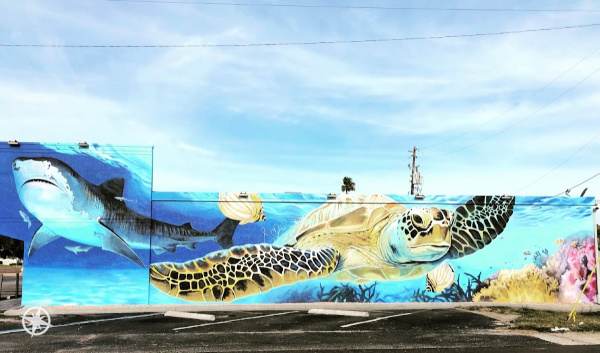 My Favorite
While I hate to pick favorites because there are some seriously wonderful murals in the Eau Gallie Arts District, the mural above is my favorite and the first one I saw. The mural was painted by artist Cody Monahan, who has murals all over Florida. Can you tell why I love it so much? You're right. Turtles! Check out his Instagram account for more greatness.
A little disclaimer here, this particular mural is on Eau Gallie Blvd, but across the bridge and closer to the beach. It's on the north side of the street.
Art to Make You Happy
There are different themes, but not set by the district but by what the artists want to paint. Some are just to make you happy. This one is so simple and very uplifting to me. Not simple like I could paint it, but simple like there's not a bunch of unnecessary stuff going on. I think it's great!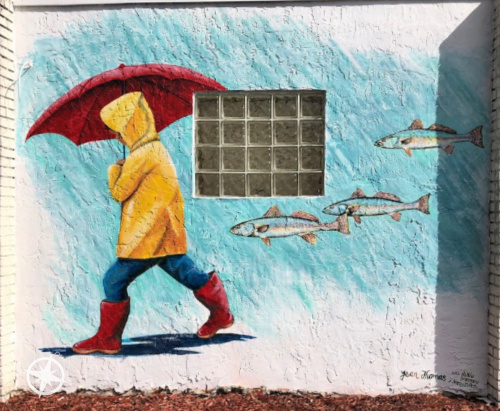 The beach is always a favorite thing for me. This depicts the perfect scene. To top it off, someone has added a sign telling The Weather Channel's Jim Cantore to go home. That poor guy. You know things are getting serious when he shows up. I hope he has a loving home to return to.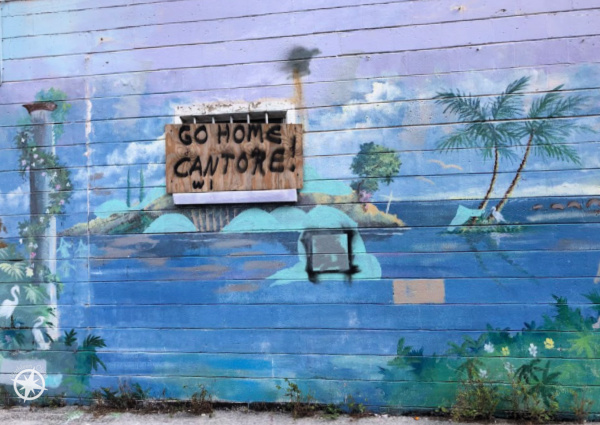 Divers
You know there are loads of divers in the Florida area. There are a lot of sunken treasures out there. Here is a mural recognizing this, along with a lot of foxes. I don't really get the foxes, but that's okay. Maybe the artist just likes them.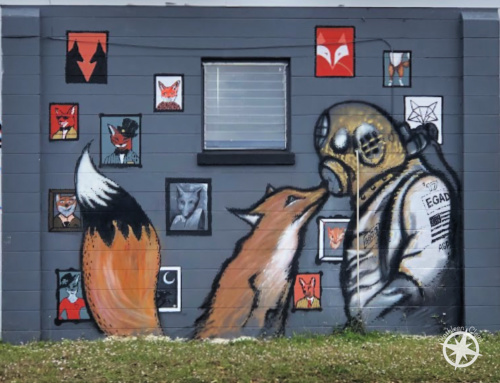 Space Art
Since East Central Florida is called the Space Coast, it stands to reason that there would be some murals in the space genre. This one is really neat because not only is it awesome, but you can see the church next door reflected in the astronaut's helmet. (see next picture) How much talent would that have taken?! Way more than I have, that's for sure.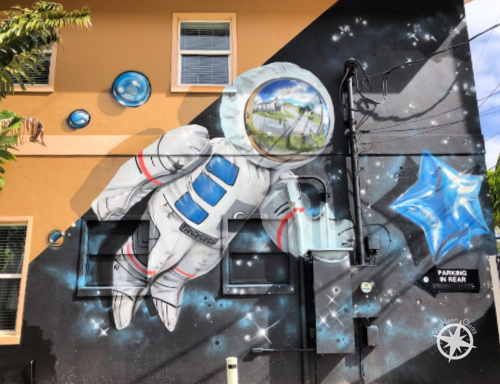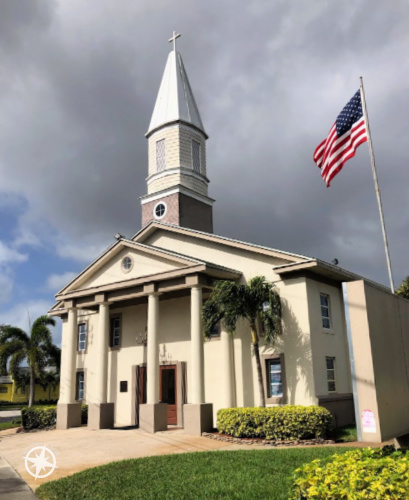 Support Local Businesses
There are loads of other murals to discover. I just wanted to give you a taste. While you're walking around enjoying the art, be sure to support the local businesses. There is a cute pie shop, a few restaurants, the art shops and galleries. Take your time and just enjoy the day in the Eau Gallie Arts District. Do you love street art like I do?