Living in Tulsa, Oklahoma put us smack dab on the Mother Road, Route 66, with all there is to explore. I found out about this cute little town about an hour from us and thought it would be fun to explore Chelsea, Oklahoma on Route 66. What a fun day we had.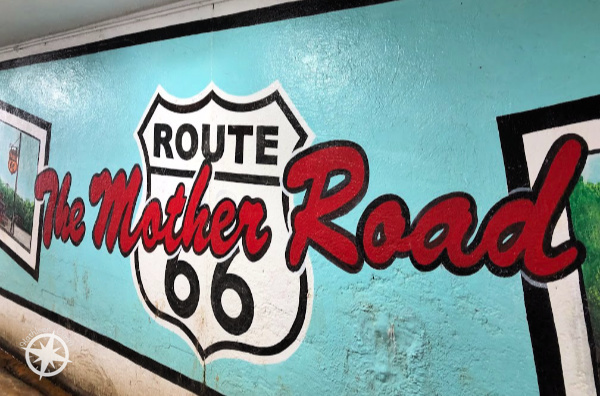 Explore Chelsea Oklahoma on Route 66
A Little History
Founded in 1881 as a stop on the railroad, which was then "Cherokee Nation, Indian Territory", Chelsea has relied on farming, ranching and oil production. I honestly never realized that Oklahoma had so much oil in its history. Chelsea produced oil from 1890 until shortly after 1916. In its history, the population has only been over 2000 one time when the censes was taken. The last censes had the population at 1,964 people. There are three structures on the National Register of Historic Places within the town, which is what drew us to explore Chelsea Oklahoma on Route 66.
Chelsea Pedestrian Tunnel
In the middle of town, you can take a walk under Route 66, by walking through the pedestrian tunnel. In the tunnel you will find some really great murals of the sites in Chelsea.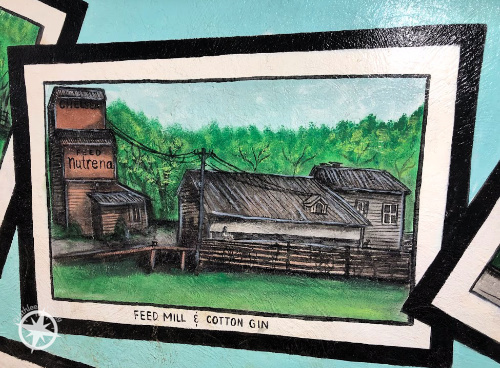 Take a marker because there is also a wall to sign, although somehow I didn't get a picture of it.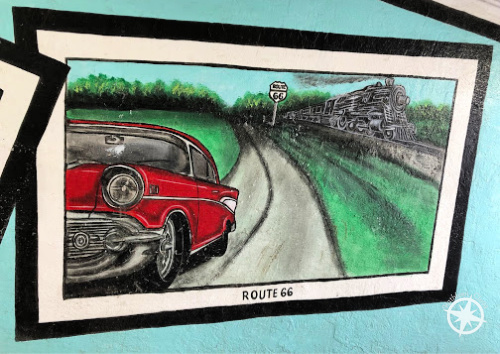 Pryor Creek Bridge
One of the structures on the National Register of Historic Places is the Pryor Creek Bridge. Built in 1926, this bridge is just off of Route 66, but only by a minute. I love old bridges and this one is so scenic, with all the green around it. You can find a historic marker and also a sign detailing the significant things to see in Chelsea, so this is really a good place to start your time in Chelsea.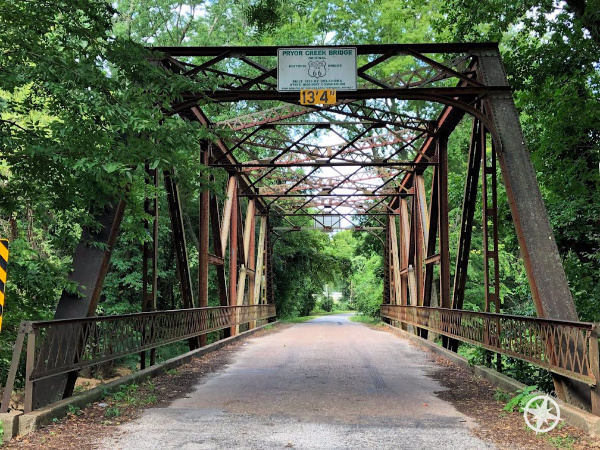 Main Street
Like most small towns, Chelsea has a Main Street and it has the most interesting buildings and a section of red bricks on the road. Of course, I had to stop and take a few pictures.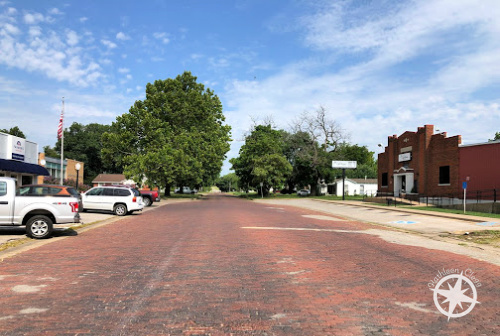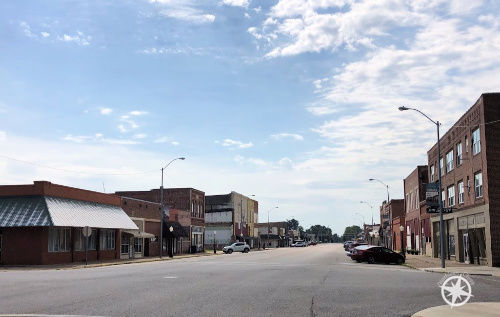 Isn't this a great clock?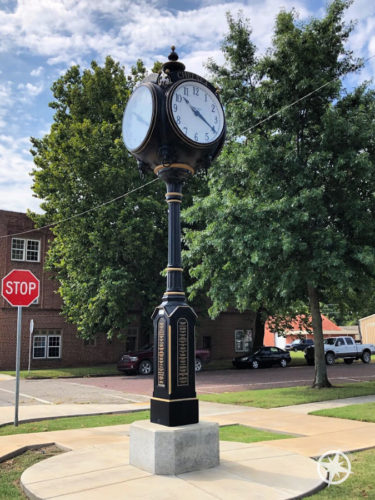 Hogue House
Built in 1912-1913, the Hogue House is Oklahoma's first Sears kit home and the only surviving Honor Built home. Not only is it still surviving, it has remained unaltered over the years and is still occupied, apparently by someone with a fancy car. If you don't know about Sears kit homes, look them up. They are pretty interesting.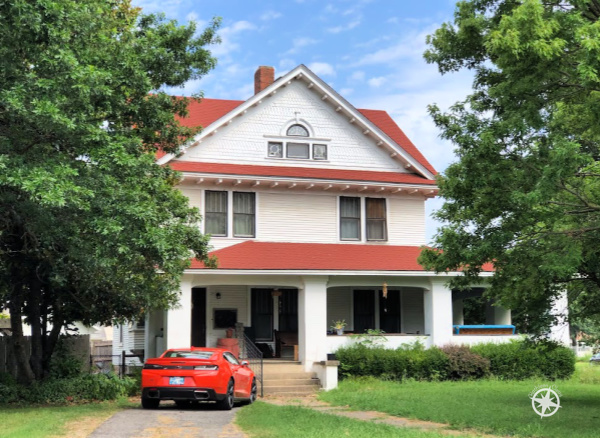 J.B. Milam Home
Built in 1909 by J.B. Milam, this historic home is also still occupied. J.B. Milam was the first Principle Chief of the Cherokee Nation, under both Franklin D Roosevelt and Harry S Truman. He was Cherokee from his mother's side and while being born in Italy, Texas, was also born into her clan, the Long Hair Clan and received social status from them.  He was pretty interesting and you can read more about this here.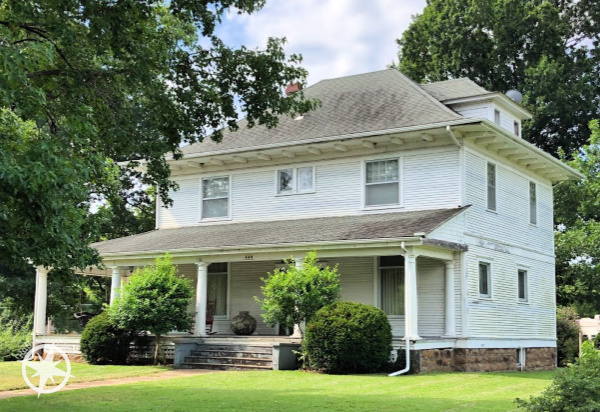 Memorial Methodist Church
Established in the 1880, the Memorial Methodist Church is still in operation today. Isn't it pretty? I tried to do some research on it and only found out that there are 2 employees and some membership information. It's located at 441 W 6th Street.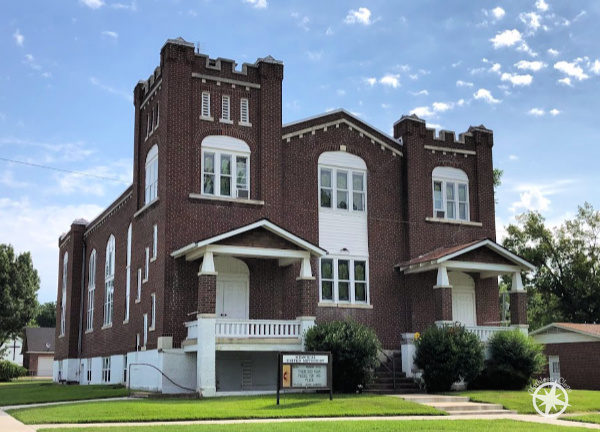 First Oil Well in Oklahoma
The first oil well in Oklahoma sits about 5 miles southwest of Chelsea. Established in 1889, it was the first well of many to be drilled in the Chelsea area. If you happen to look up the first oil well in Oklahoma, you may get a different answer than this particular well. It seems there are some others claiming that title too.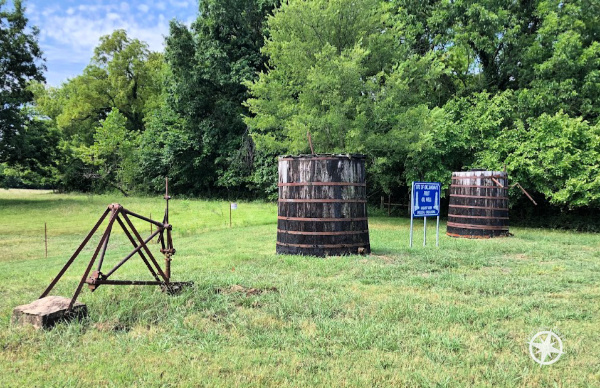 Ed Galloway's Totem Pole Park
A few miles outside of Chelsea, but still within Chelsea limits is Ed Galloway's Totem Pole Park, which boasts the world's largest concrete totem pole. There are some other pieces of art and totem poles in the park too and it's free to enter. It was pretty interesting to visit.
As you can see, there are quite a few things to explore in Chelsea, Oklahoma on Route 66. We had a fun morning before moving on to the Belvidere Mansion in Claremont. Do you enjoy exploring small towns? I really do.