11 Tips for Chaos Free Travel from a Serial Traveler
It's no secret that I love to travel. I have a little history with traveling, it's not that I've only been to a few places. I was born in Germany, have lived in 8 countries, visited 19 countries and I've been to 47 States in the US. If I sit still for too long, I get antsy and want to go. Today I thought I would share 11 Tips for Chaos Free Travel from a Serial Traveler. It's true. I embrace it. I love it.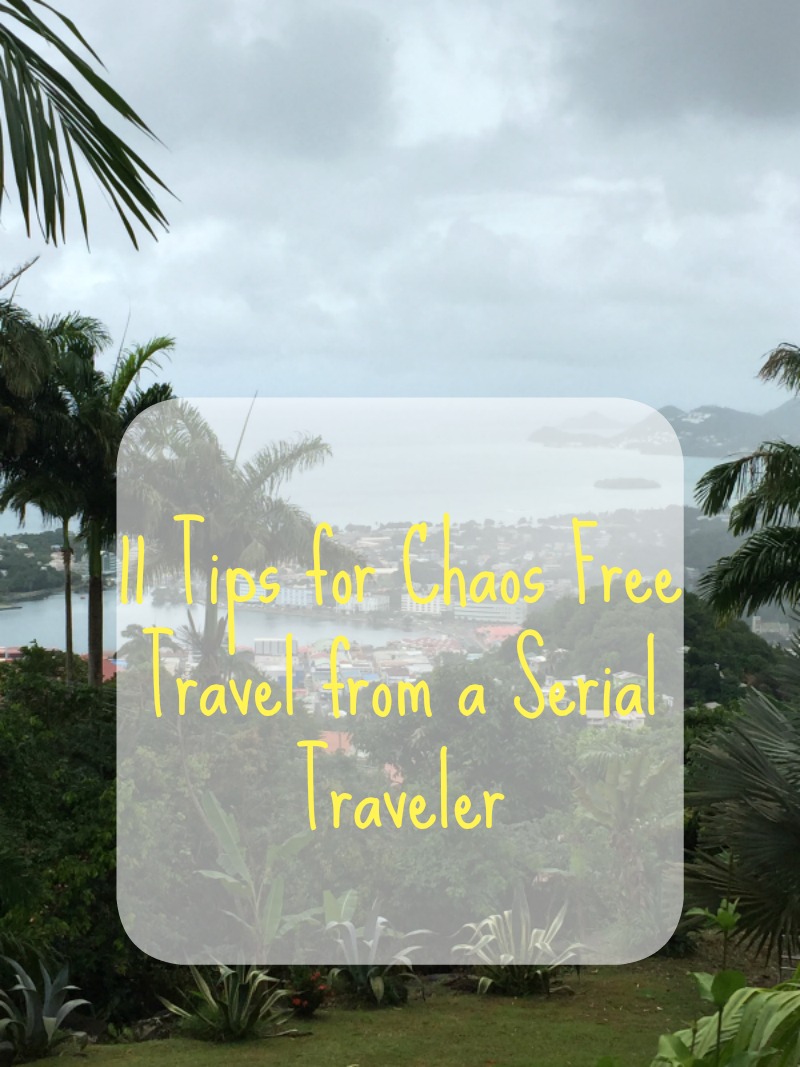 Tip One
One of the most important things about traveling is the preparation beforehand. You don't want to miss something important. If I'm going on a trip I haven't been on before, I make a list of things I need to take. If I'm going to someplace like Florida, where I go at least once a year, I don't usually make a list, but I have an area where I gather things so I don't forget them. It usually works.
Tip Two
Make sure you have a way to communicate with your friends and family. You might have flight delays or if you're driving, you might have to take a detour that causes your trip to be longer than anticipated. No need to make people worry about you. It's pretty handy that there is wifi in so many places these days.
Tip Three
Be sure you have lots to keep you occupied during those long layovers, flights and car rides. This is so important for your sanity.  We have had some crazy long layovers and having things to keep us busy really helps.  It will keep the whining of tired kids, and parents, way down.
Some things that can keep your family busy, during a layover, on a plane or long car ride, are books, magazines, games on your tablet, coloring (no crayons, they melt), cross stitch or handheld games. So many things, just don't weigh your carry ons down too much.
Tip Four
If you are traveling internationally, call your mobile phone company and find out what their service is in the place you are going. You don't want to come home to a crazy phone bill. When we went to Mexico, there was a special plan I was able to get so I wasn't charged by the text, but instead a flat rate. It was so helpful.
Tip Five
Be sure to pack the appropriate clothes and supplies that you need. The beach is my happy place and we try to go for at least two weeks a year. When my kids finally got old enough to pack their own suitcases, I would remind them what they needed to take and then let them do the work. It was great. However, we have actually gotten to the beach without one or more of them having their swimming suits. How do you forget that when you're going to the beach? No idea. If you are traveling with self-packing kids, my advice is to give them each a checklist.
Tip Six
If you are traveling with kids, pair them up, especially on planes. We traveled to Estonia on a plane when we were moving there, because it took less time than a boat, but it still took us 36 hours to get there. At that time our kids were 5, 9 and 12 and were really good travelers because they had already been traveling, a lot. We put the two oldest kids together on the two seat side and then kept the youngest with us on the three seat side. They pretty much kept each other busy the whole trip, even during the layovers.
Funny story, the youngest actually stayed awake during the whole trip. However, when we got to our destination, she fell asleep on the floor while we were waiting for our luggage. We went through customs with her laying across our trunks. That was the easiest customs we've ever experienced.
Tip Seven
If you're driving, plan your route. Check state's Transportation Departments for road closures so you will know if your chosen route is closed. Leave your plan with someone either at your home or where you are going. Having said that, don't be so ridged in your trip. If you see something off of your path you want to visit, do it. Some of our best memories have been made that way.
Tip Eight
If you're traveling with kids by car, get hotels with a pool. Your kids have been cooped up in a car all day long and will have loads of energy. When you get to the hotel, let them swim for a while. This will help them and thus, you, sleep a lot better.
Tip Nine
Take plenty of snacks with you. The airlines don't supply much in the way of food anymore, so you want something you enjoy, but that won't be messy, with you. Some of our favorite snacks are crackers, nuts (although some airlines don't allow them, so check), small chocolates, snack mix and dried fruit.
When you're picking your snacks, be respectful of other travelers and don't pick snacks that are too aromatic. When we lived in China, we were traveling by plane from Beijing to Shanghai and there were people with packaged dried fish all around us, munching on those fish to their heart's content. I really hated that.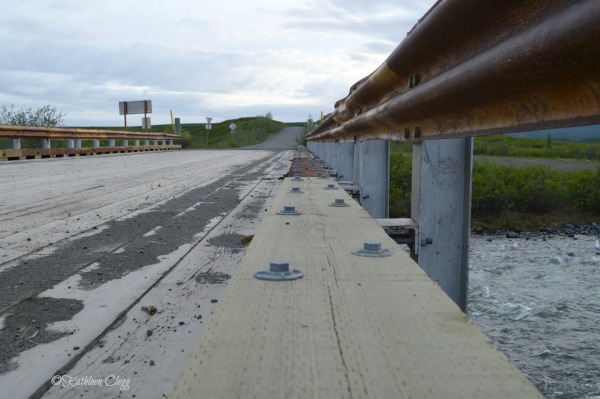 Denali Highway, Alaska
Tip Ten
Drink plenty of water. When you travel, you get dehydrated. I'm not sure why, I just know you do. You can't bring water through airport security, but you can take an empty bottle and most airports have filtered water stations where you can fill it before you get on the plane. Then you can drink your water without paying $5 a bottle. Yes, it's free on planes, but sometimes it takes awhile until they get to you.
Tip Eleven
Contact your credit card companies and bank to let them know your travel itinerary. It's such a bummer when you get somewhere and try to use your card and they don't work. Seriously, I know this from experience. This also will help prevent fraud. When we were in Martinique, someone tried to use one of my credit cards in Ireland. Since the bank knew where I was, they were able to contact me to check on the purchase. Calling ahead saved me a lot of money and heartache.
Wherever your adventure takes you, be sure to enjoy it and experience everything you can. If you have your office with you, don't work too much either. What trip are you planning to take this summer? Leave me a comment below please, because I love getting comments.
If you'd like to read more travel tips, you can read some other posts HERE. Also, if you aren't already, be sure to follow me on Instagram and/or Facebook.