One of the things I love to do is look at photos of beautiful places and dream or sometimes plan my trip there. Do you like to do that? If so, these photos of Fort de France Martinique are sure to get you dreaming of far away, exotic places.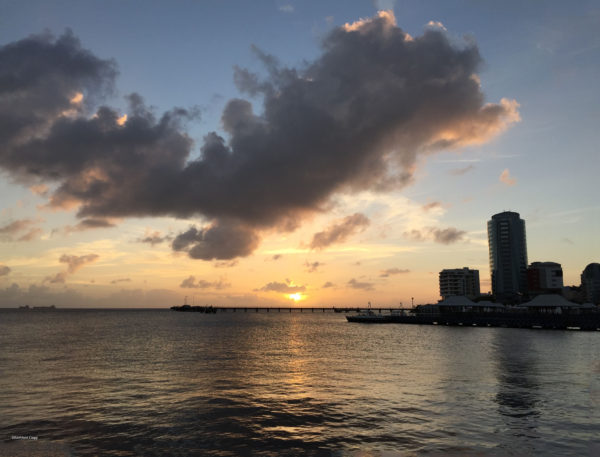 When my husband told me we were moving to Martinique for a year for his job, I wasn't sure where exactly it was located, but it sounded exotic and since I love to explore new places, I was all in. I began to research the very small country and it was so much love before I even left Idaho. It didn't hurt that the photos of Fort de France Martinique and the rest of the island were full of beaches, palm trees and fresh fruits at the same time as I was freezing from winter temperatures.
When the time came to move, I packed up our six 27 gallon plastic totes, kissed my kids and grandkids goodbye (which was horribly hard) and off we went. We arrived to balmy temperatures that actually took a little while to get used to, but I was as happy as a pig in slop.
It took us about three weeks to find a place to like, while we stayed in an apartment about 50 steps from the beach. I know, life is hard. It gets better though. We found a place to live in one of the small tourist towns on the island. I wanted to be super close to the beach and that wish came true for sure. It was only about a 2 minute walk.
To get to Fort de France, the capital, we took a ferry from our beach to their pier. It was so convenient not to have to drive there. Driving in Martinique is not my favorite thing. So here is my daughter and I, getting windblown on the ferry and loving it.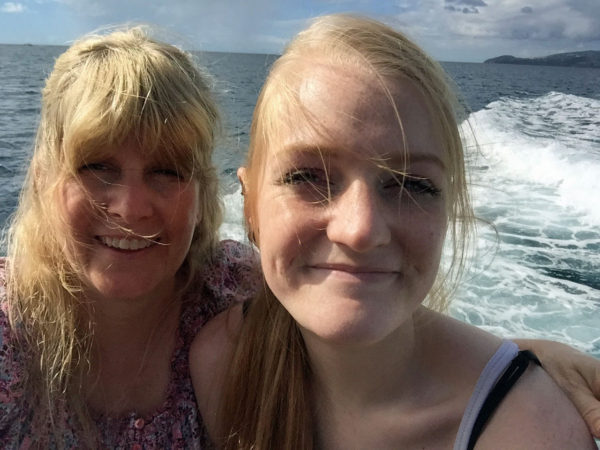 Fort de France is not the original capital of Martinique. The first capital was Saint Pierre, which was then called "The Paris of the Caribbean". Originally named Fort Royal, it didn't become Fort de France until sometime in the 19th century, although some still call it Fort Royal. Fort de France became the capital after Mount Pelee erupted in 1902, destroying Saint Pierre. Below is the port area with the dome my husband built, along with his awesome crew.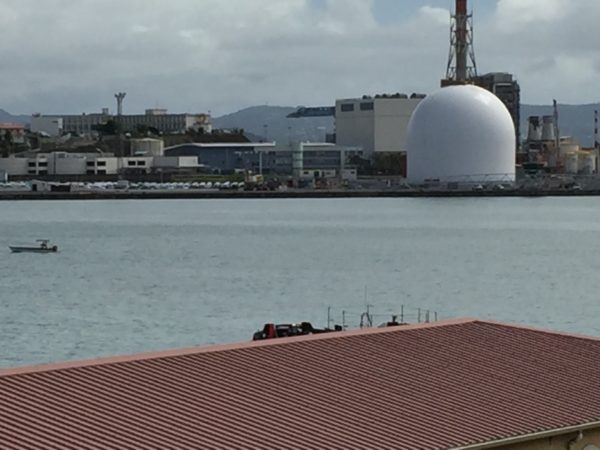 The streets are pretty narrow in Fort de France and made even more so by the cars parking on the sides. The buildings are all the colors you would expect to see in the Caribbean. I just love them. If I ever buy a house near a beach, I'm going to paint in an amazing bright color. The colorful buildings are actually one of my favorite things about the Caribbean.
This is just me, in the middle of the road. Actually, part of the roads are closed to vehicles downtown. I like walking on those roads so much better than the ones with traffic.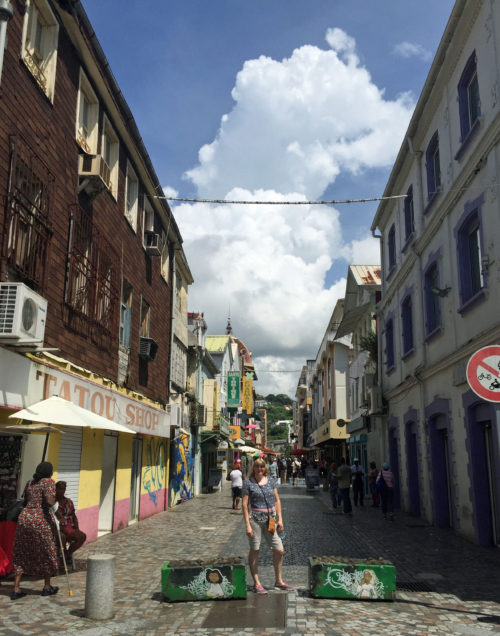 Cruise ships run through Martinique from October through March or April, so several times a week it is pretty crowded in Fort de France. I lived there long enough that I came to appreciate days with no cruise ships. I was almost a local, however, I did stand out. Most of the locals have the most beautiful skin color. I am so pale that some of my friends like to compare their skin color to mine and just laugh. Isn't this lady I'm standing with beautiful in her traditional dress?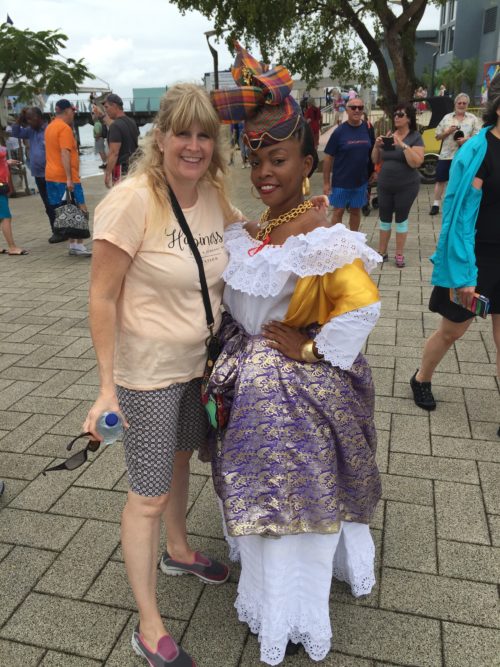 Want to read a funny story. The first time Robyn and I walked around Fort de France, I saw this shop front and took a photo. It is so pretty, right? I had never heard of this store before, but because of the name, I thought it must be a cellular phone store with a great paint job. Some of my friends in the US and Romania told me it was a shop with beautiful clothes and accessories.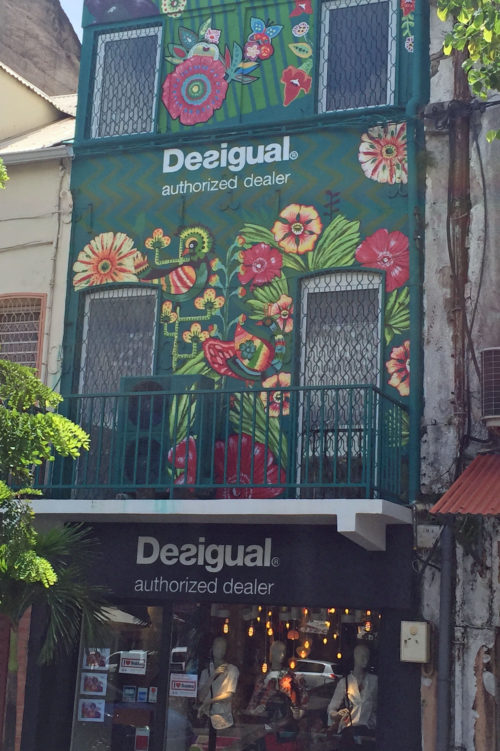 The next time we went to Fort de France, Robyn and I took a trip into the store and we both fell in love. I wish I had loads of money because I might like one of everything. I actually bought one of their purses, but I've seen some really cute skirts I would love to have too. If you ever see one of these somewhere, I highly recommend them. They are a Spanish brand. Love them. This is Robyn and I awaiting the ferry from Fort de France back to our beaches. She too is browner than me. We got a kick out of that.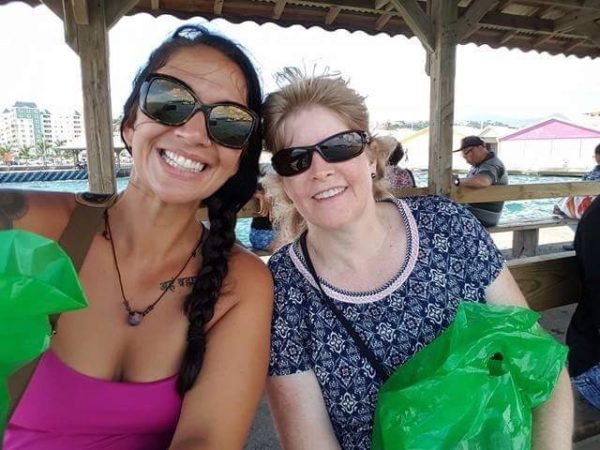 Local art work on the street. Isn't it lovely?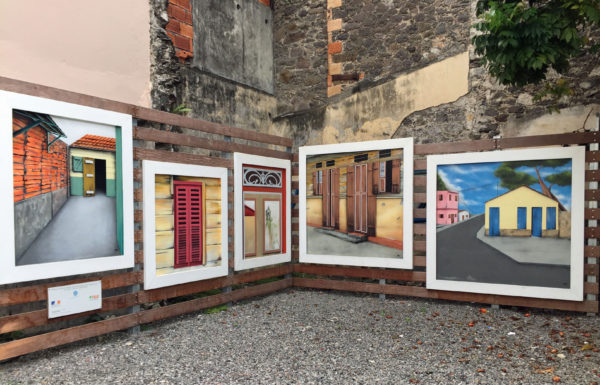 The Bibliotheque Schoelcher has an interesting history. It was named after the French politician Victor Schoelcher, who was a very popular man. There is a town, this library, statues and loads of streets named after him. He was a representative of the Abolitionist movement and actually left over 10,000 books to the grand council of Martinique to educate the freed slaves.
This building, the Bibliotheque Scholcher, was built by Pierre-Henri Picu in Paris. After it was presented to the Parisians, it was then dismantled and shipped in pieces to Martinique to be reconstructed. After several events disrupted the work, it was finally open in 1893. This is my friend Candice in the photo with me. We had so much fun while she visited me. I hated to see her go.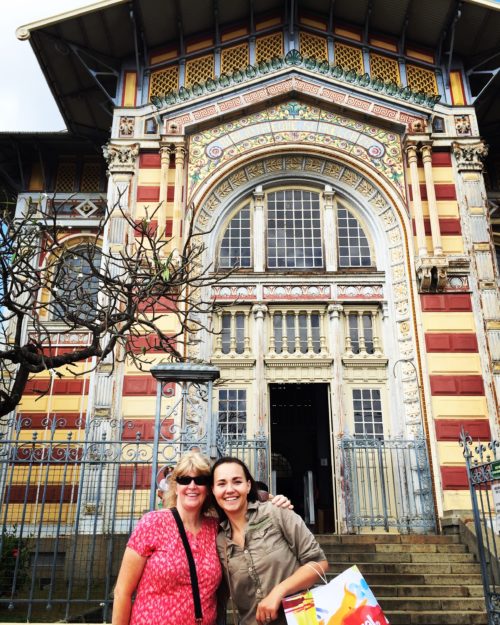 This statue is of Victor Schoelcher in front of the old judicial building.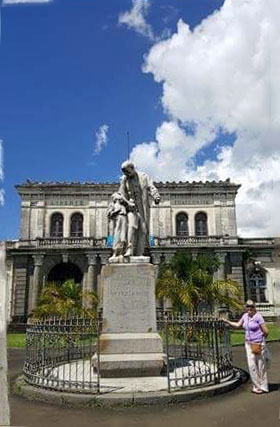 I love this turtle mural on one of the main streets. There are quite a few places with beautiful murals and was always impressed with the artists abilities. I wish I had taken more photos of the street art.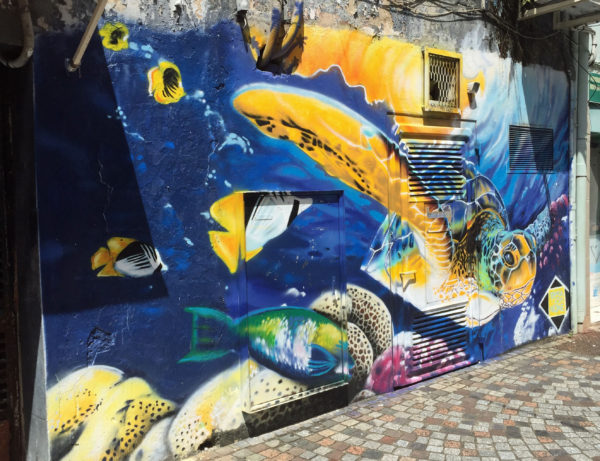 In Fort de France, you can find a huge Spice Market. It is divided into sections, one for fresh foods, one for spices and mixes, one for tourist trinkets and then there is a little restaurant at the end. I loved going in there and seeing all there is to see, although my nose was usually itchy and running by the time I leave.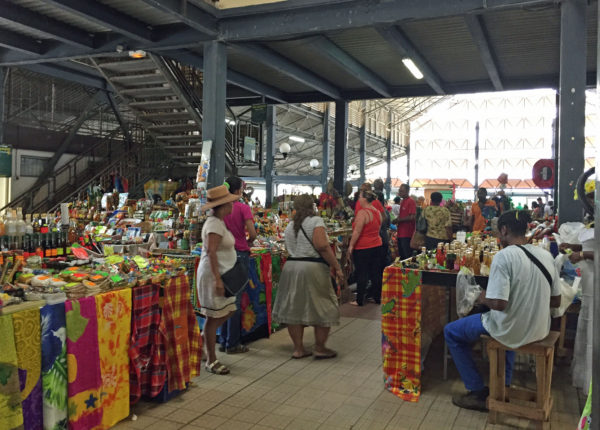 Fort de France was started as a fort to protect the port and island. The name of the fort was originally Fort Royal and then Fort de la Republique and finally For Saint Louis, which it is called today. The fort was originally built in 1638, although the first fort was destroyed and this on rebuilt in 1669. It has been continuously occupied by the French since that time, except for a few years when it was under British control.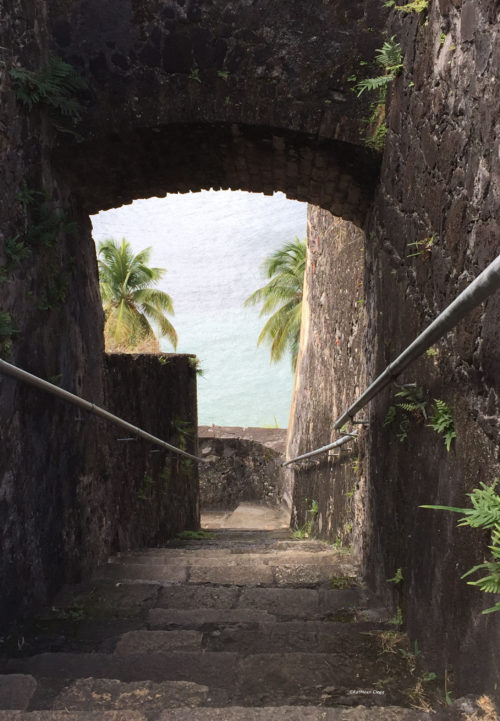 It is still an active naval base, so if you take a tour, you can only see part of the fort. If you are lucky enough to get Maurice as your guide, you will learn so many things of it's vast history. He also speaks excellent English, as he is from Saint Lucia. You should ask for him specifically if you go.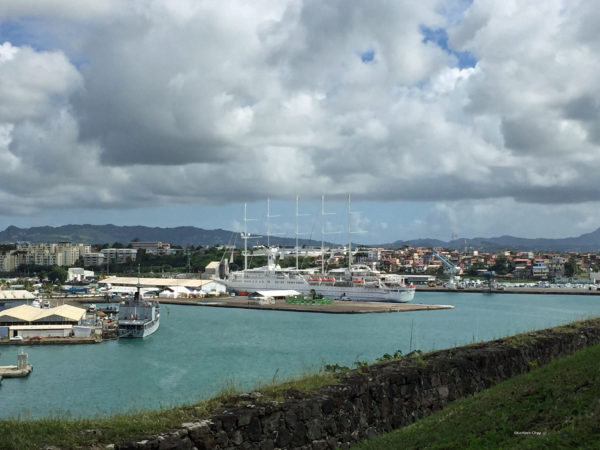 This little guy is one of the green iguanas who lives at the fort and isn't actually all that little. They are not indigenous to the island. It's thought they came in on some ships from either French Guyana or the Îles des Saintes. I didn't see too many iguanas, which surprised me. I only saw the ones at and around the fort and the one that fell out of a tree and broke the windshield of the car my daughter was in. He was fine though. My daughter's heart might have skipped a beat or two. (If you want to see that picture, here is the link. It's on my Instagram page. You can follow me while you're there if you like.)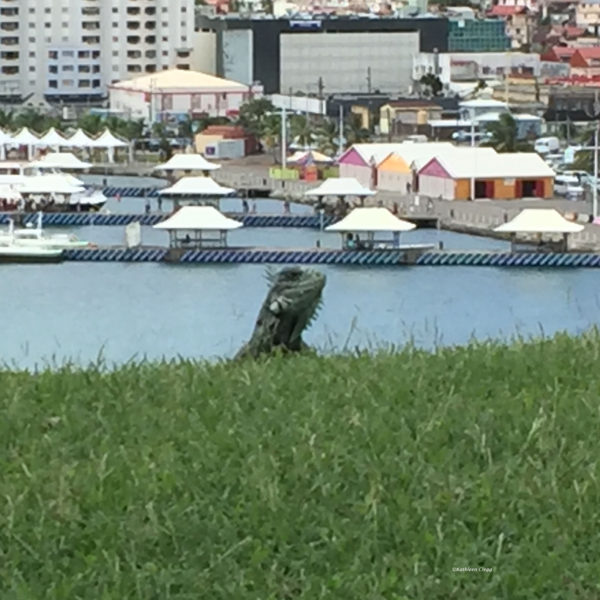 This is downtown Fort de France. Don't you love all the colors? The tall church you see was being refurbished the whole time we were there. I was hoping to be able to take some photos of it completed, but it didn't happen. Hopefully some day. In all of these photos of Fort de France Martinique, this one probably shows the colors of the buildings the best.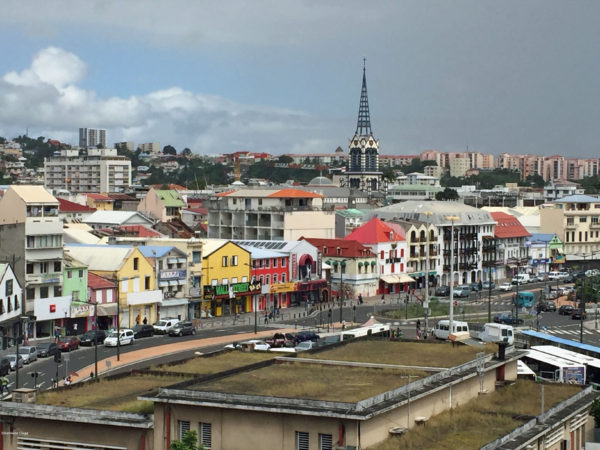 If you love photos of beautiful flowers and plants, I wrote about Jardin de Balata. That is actually in Fort de France too, although way up in the hills on a crazy windy road. I really loved that place though.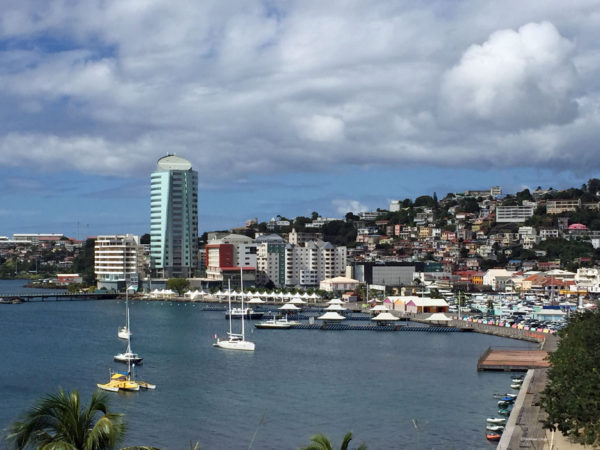 I hope you enjoyed seeing the photos of Fort de France Martinique. It's a pretty interesting place, with a lot of history. I've been gone eight months now and still think of it and Martinique as a whole daily. I was very fortunate to be able to spend a year is such a beautiful location. I dream of going back. Is there any place you have been that you dream of returning.