I've been all over the world and been privileged enough to see some fabulous and beautiful places and meet some really wonderful people. Caye Caulker, Belize was no exception. It's easy to have fun and relax on Caye Caulker Belize. I'm going to give you some pointers on how you can do exactly that.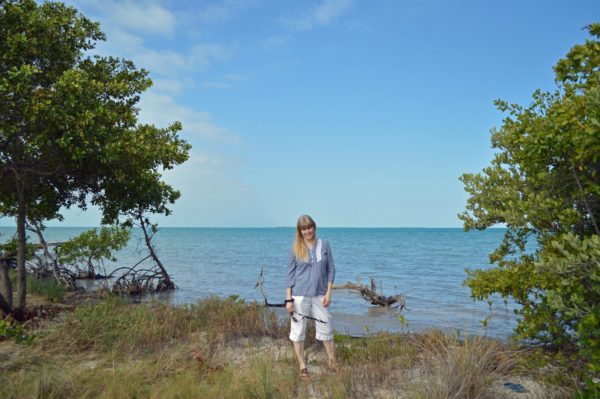 My husband had been talking about Belize since he went there for a few days for business. I hadn't been there, so it was hard to get on the bandwagon. I am now driving said bandwagon!   I'm not sure I can say enough great things about it. I would have happily stayed there if I were independently wealthy. Alas, I am not.
My skin was really iridescent, I know. I'm typically pretty white, but we had just spent a year in China and this was my first exposure to the beach in a while.
About Caye Caulker
We left Idaho before the sun came up on an April day. Somehow getting out of bed at 4:30 am wasn't such a chore. We had really great connections, so we were in Belize by 2:30 that afternoon. It was so nice to be warm! Belize City has the only international airport in Belize. It is quite small, with only six gates, so it was easy to get through. Immigration and Customs were very easy as well. We waited in the airport about an hour and then we were off for our island getaway. It was so exciting, until I saw the plane. It was quite small, with only room for 10 passengers. The ride was only about 7 minutes though, with a fantastic view, so it wasn't too horrible.
The arrow is pointing to the house where we stayed. So close to the water and so many great views.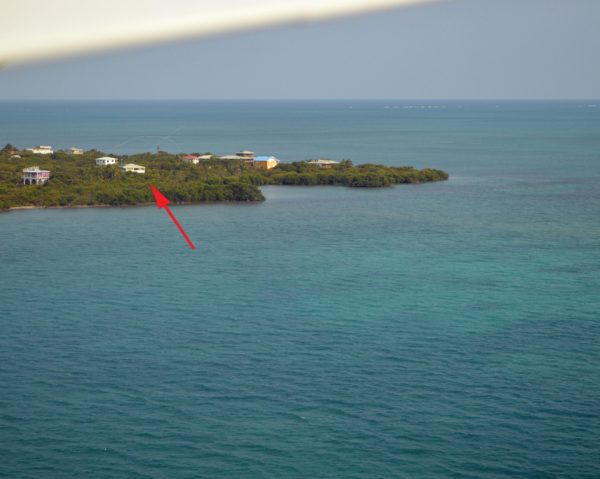 Caye Caulker is a very small island off the coast of Belize, with the only pavement being the small runway. There are also only a few actual vehicles, with most transportation being on foot, bicycle or golf cart. Since it's surrounded by water, being an island, there are plenty of ways and places to have fun and relax on Caye Caulker Belize.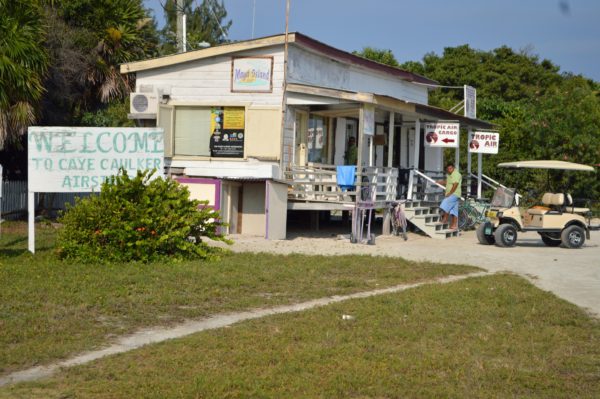 Where to stay
There are several hotels on the island, but we decided to stay in a house on the very southern end of the island. The house was a really great fit for us. It had everything we needed, a bedroom, bathroom, kitchen, living area and a wonderful porch most of the way around it. The house is an "off the grid" house and generates electricity from the sun and wind. The refrigerator and stove are both propane, like in an RV and the water comes from the rain.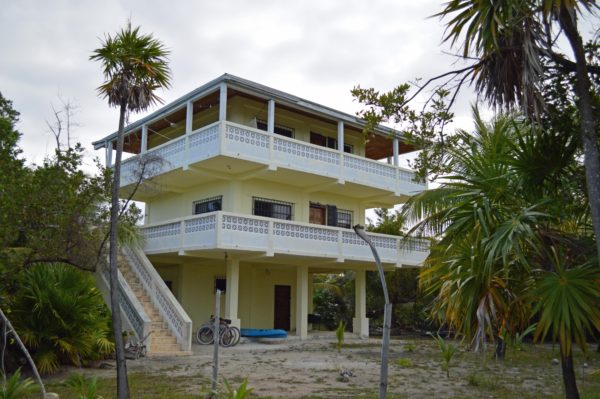 The only time we had a problem with the power was when we ran the air conditioner on a couple of nights. It was right back up again a little bit later though.  We really enjoyed it. There was even internet, so we were able to check emails and take care of most of the things that needed our attention. The house also came with bikes and a kayak. You can rent it from AirBNB (that is my referral link) this is the house link. If you click on my referral link first, you can get a $40 credit towards your stay. It gives me a $20 credit as well.
I really love all of the bright colored houses in the Caribbean. If I ever buy a house on or near a beach, I'm going to paint it a beautiful bright color.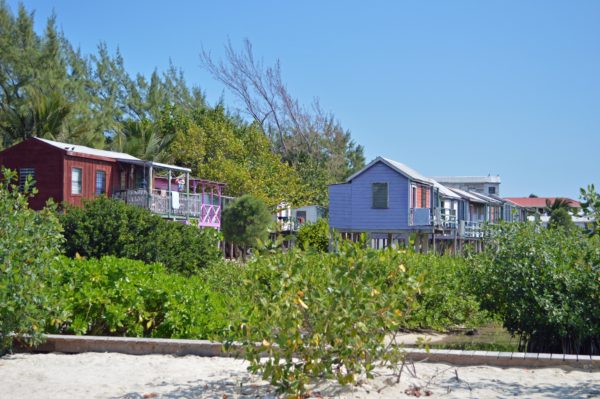 Transportation
Riding around the island on bikes was really fun. It was great to get exercise while exploring the island, especially since we ate so much. However, riding the bike back to the house at night was an adventure and one that freaked me out the first time. We had headlamps on the bikes, but I was having trouble seeing. I kept hearing stuff off to the sides of the path as I was going by and I didn't know what was going on. A little further down the path and I figured it out. There were crabs everywhere, crossing in front of us and on the sides. It was kind of creepy. If all of these crabs got together, they could take over the island for sure!! (A side note here. The owner of the house told us about the crabs. In my state of panic, I just didn't remember.)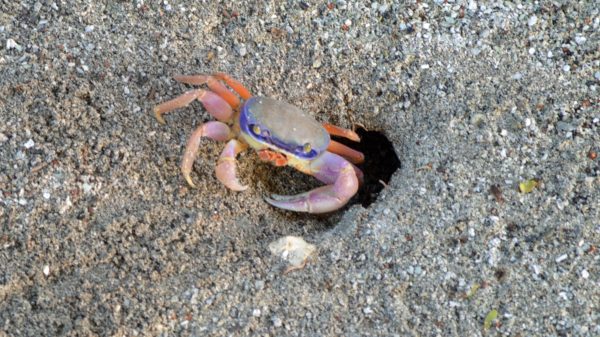 These are some of the little crabs that are all over the trails at night. They are everywhere and I think that if you laid down amidst the crab holes and fell asleep, you would quickly become crab soup.
What to do
If you love fishing, as my husband does, this is the place for you. Our home's caretaker, Eddy, took him on a deep sea fishing trip with Elias from Big Fish Dive Center. They caught a lot of fish and Nick saw dolphins and manatees out there too. To be honest, I think Nick fished every day we were there, sometimes in the kayak that our house provided, sometimes from our dock and of course, on the deep sea trip.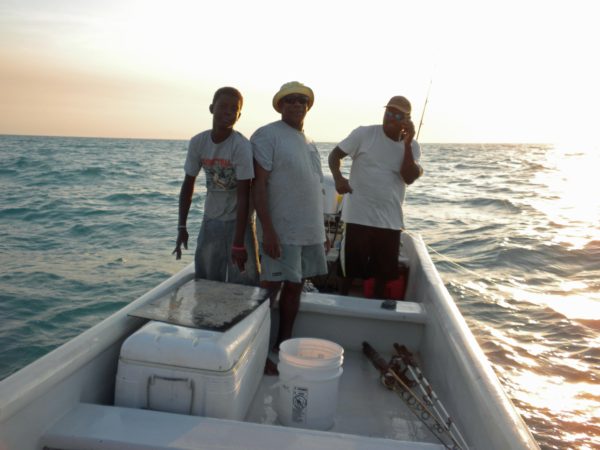 So what do you do with all the fish you catch? Nick gave most of the fish he caught to the crew of the boat he was on, but he kept a few too. A few of the restaurants will cook the fish you catch for you and charge you for the sides. We did this at a place called Wish Willy's and Nick was charged about $5 for cooking the fish, some rice and veggies. Very nice, right?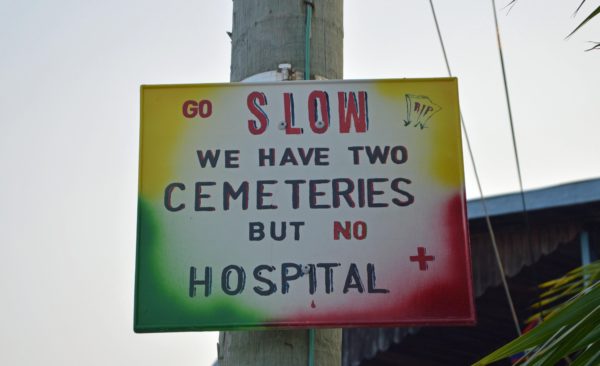 One of our adventures was hand feeding the tarpon from someone's private pier. The tarpon were about five feet long! It was so fun, although quite startling each time the fish jumped out of the water. I don't think everyone does this when on Caye Caulker, but the locals all know about it. Just ask one of them where you can do it because it's just in someone's backyard. You pay about $1 for a bag of small fish.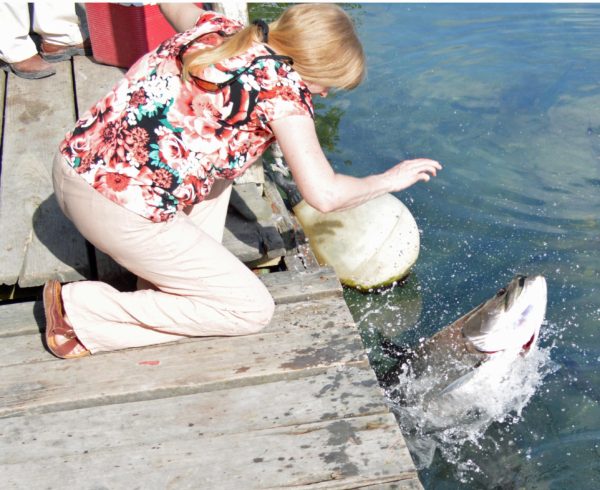 Snorkeling with Raggamuffin Tours
One of my very favorite things to do is snorkeling. When we lived in Martinique, I went several times a week. If you are ever in Caye Caulker, go on a sailing and snorkeling trip with Raggamuffin Tours.  We had a really great time. I was able to hand feed a frigate bird and that was really neat. It took a fish right out of my hand!! So crazy all this stuff eating out of my hand.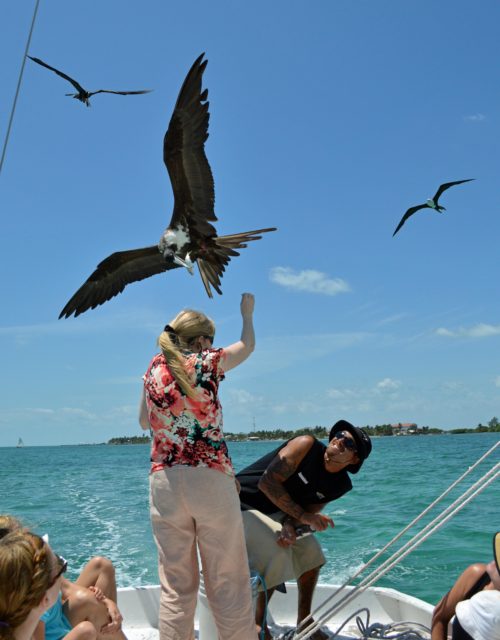 On our tour they took us to three different places. First was The Coral Garden, which is where the captains wanted to watch us all snorkel to make sure our gear worked well and that we could actually swim. There were a lot of fish in this area. After we were done there, we were served lunch on the boat. Nick had fish and rice and I had chicken and rice.
The second stop was at Shark and Ray Alley. This was a really neat stop for us. One of the captains got into the water and the other put a bunch of chum in the water to draw in the sharks and rays, plus tons of other fish. We got into the water and the captain was able to catch some sharks and rays for us to pet. Did you know that sharks are smooth on one side and rough like sandpaper on the other? True story.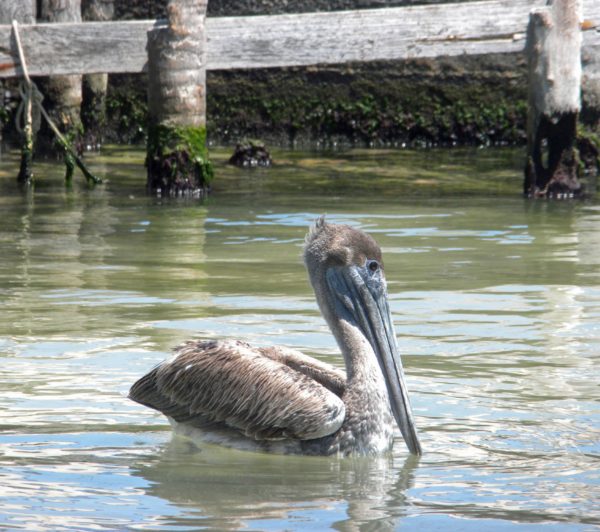 The third stop was at the Hol Chan Marine Reserve. This is a reserve on the reef and we saw a lot of great things in this area, turtles, manta rays, eels, tons and tons of fish, it was just a great place to go. The water is about 30 feet deep in a lot of areas and we could see all the way to the bottom. After this stop, it was back to the island. What a fun and exhausting trip. We are so glad we got to go!
Snorkeling On Our Own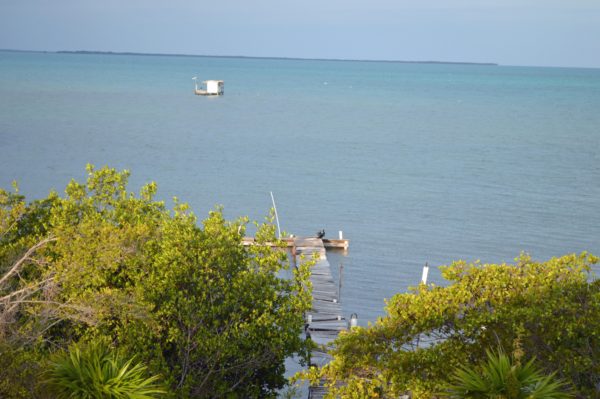 Of course, if you decide not to go on a tour, there are plenty of great places to snorkel right from the island. We went from the dock where our house was located. There is a fishing shack out there and there were tons of fish. We also snorkeled from the Split beach to the other island. It wasn't a very long way, .05 miles, but if you aren't a strong swimmer, I don't recommend it. There is a pretty strong current through there. Also, if you decide to walk on the mostly uninhabited island, we were told there are crocodiles and boas, so watch out. We didn't see any when we walked around.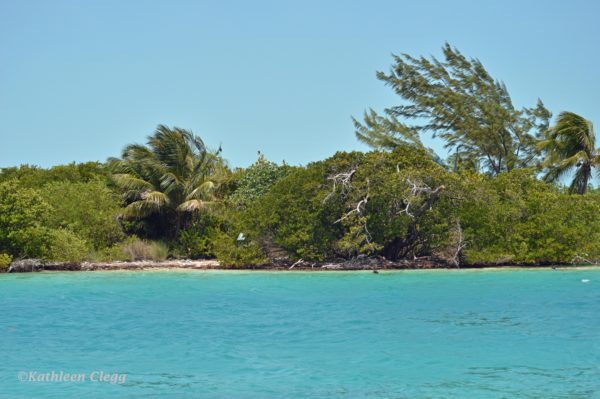 One of the other places we snorkeled was from the Split around the east side of the island, about half way down the island. We didn't take our stuff with us, so we had to go back to get it. We swam up on the tarpon we had been feeding from the water side. That was really neat. Remember, they are about 5 feet long. Wherever you decide to snorkel, you will see loads of great marine life.
This fella rode around on what looked like an old airplane wing. I never saw it out of the water, but that's how it looked from land. I wonder if he is still there.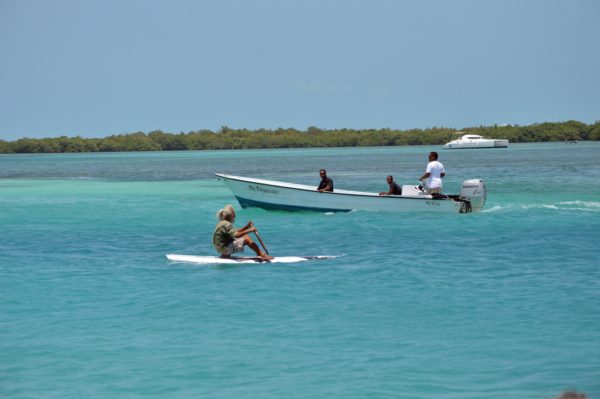 Ambergris Caye
One day we decided to fly to Ambergris Caye, to see what all the hype was about. Honestly, we walked out of the airport and walked right into noise, lots of cars and people and what reminded us of just a regular place. Nothing special. We have heard it is a beautiful place, so we figured we just had to get away from that particular area.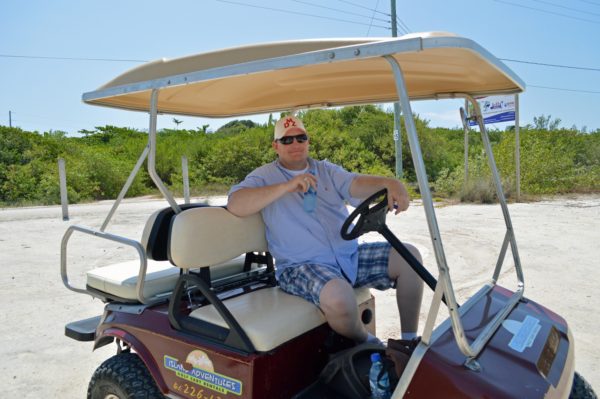 We rented a golf cart and away we went. The island is 25 miles long and is the biggest island in Belize. We didn't see the entire island because we were driving a golf cart and they only go so fast. Plus it was super hot! There are some really beautiful areas, some super expensive resorts and homes and a downtown area that was quite bustling. We were ready to go back to 'our island' pretty early and several hours before our scheduled flight.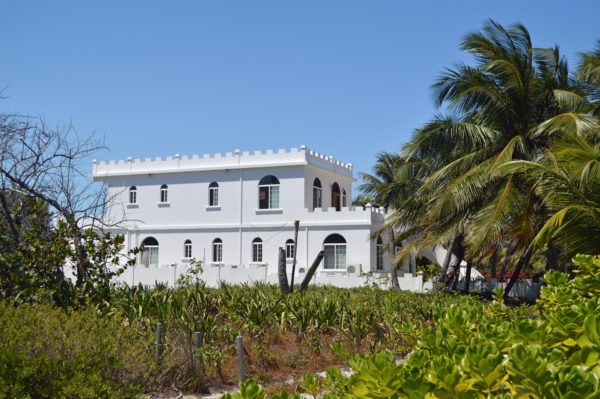 When we arrived at the airport to see if we could get on the 3:00 flight, we discovered that they didn't have a plane going over at 3:00 because there weren't any other passengers. The agent asked us if we had any luggage and we said no and then she made a few calls. She was speaking very fast and in Spanish, so we didn't understand what she was saying. If she was talking slow, I probably could have understood some of it, but not all. When she got off the phone she gave us our boarding passes and told us to wait.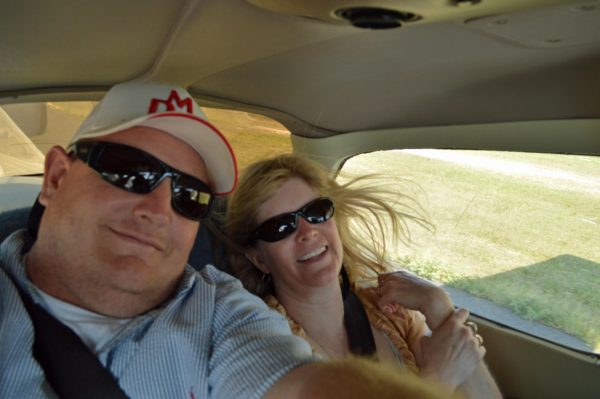 A short time later she came and got us and took us to the tarmac. She put us on a plane for just two passengers that she got to take a detour to our island on their way to the mainland, for no extra charge. I'm tellin' you, these people are so nice. When I saw the plane I was quite uncomfortable with the whole idea. However, she did something so nice for us, so I got on the plane and away we went. It wasn't too bad and again, the views are so fantastic! The flight wasn't expensive, so if you want to see something else, go for it. If you just enjoy the quiet, don't go.
Will You Go
It's been a few years since we were able to have fun and relax on Caye Caulker Belize and we think about it often.
As much as it pains me to do it, I can't recommend it enough. It was one of the best vacations we have ever been on and I'd love to go back one day. Have you ever been to Caye Caulker? Do you like a lively vacation or one that is more low key, like this one?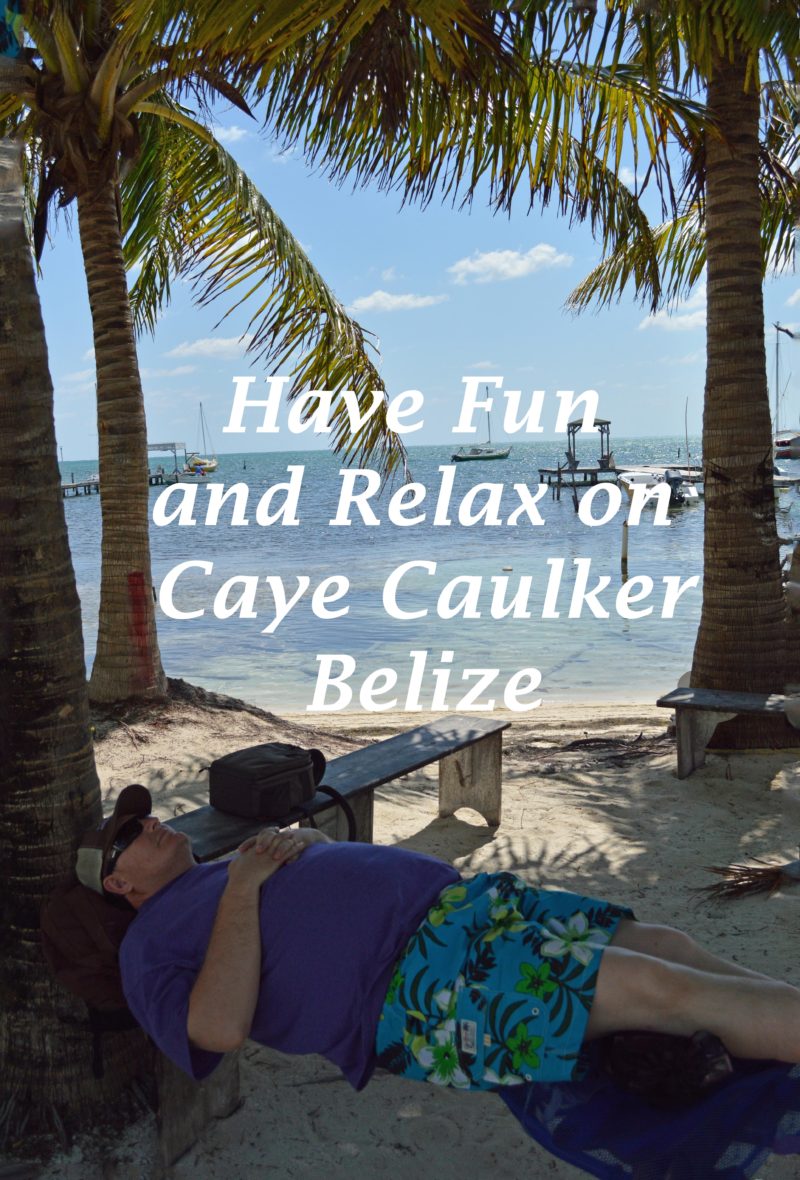 SaveSave