Vacations are a great time to explore different types of food. Let's face it, sometimes you pop something in your mouth and it is really not good. Then you make a face. So much better to do that in a place you don't frequent often. Also, vacations are no time to diet. We found some really great restaurants on Caye Caulker Belize, which you know made me a happy girl.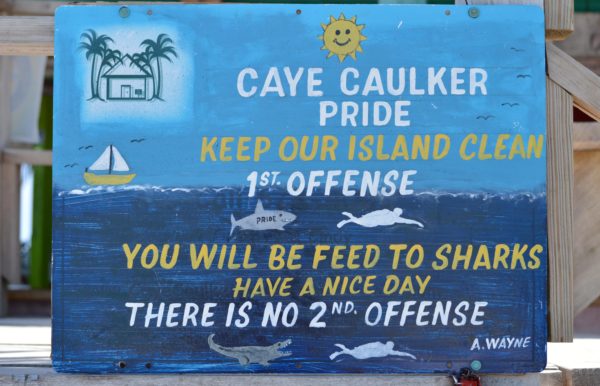 Since you're reading this post, I'm guessing that you may be planning a trip to Belize. It's a good decision. Believe me. I just love it there. You're going to want to have some idea of some activities to do while you're there.  You can find some ideas for your own trip on my post Have Fun and Relax on Caye Caulker Belize. You will find some great ideas of things to do when you aren't eating.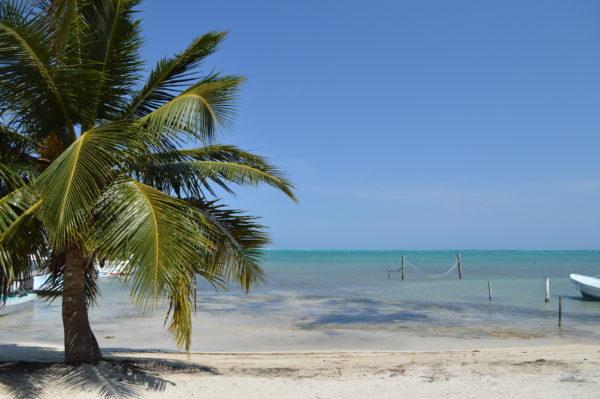 We ate at a lot of different restaurants, but these were our favorites. They are spread all about the island, but it's a small island, so you won't have any trouble getting to them. Just a warning about this post. Some of the photos aren't awesome. I took them before I knew I would be writing a post like this. Dang it.
Barrier Reef Sports Bar and Grill
We didn't actually eat here, but had pina coladas one hot afternoon. We really love those things. The bartender put a very small amount of Hershey's Strawberry Syrup in the glasses and swirled it around before she put the drink in the glasses. It made it a little sweeter and it looked pretty too.
Rose's
Our first night on the island,  we ate at a place called Rose's. It was quite good, except for the green beans covered in baked beans. I didn't like that at all. Green beans are one of my favorite foods too, so I don't know why they ruined them with the baked beans on top. Other people must like it though or they would quit doing it. Maybe I'm just a green bean snob.
At Rose's, you walk up to a table and pick the piece of seafood you want and the dude throws it on his grill and cooks it up for you.  I hate seafood with a passion, so I had chicken. It was good. My husband had the fish and liked it very much. The rice tasted different, good, just different. We determined that it had coconut milk in it.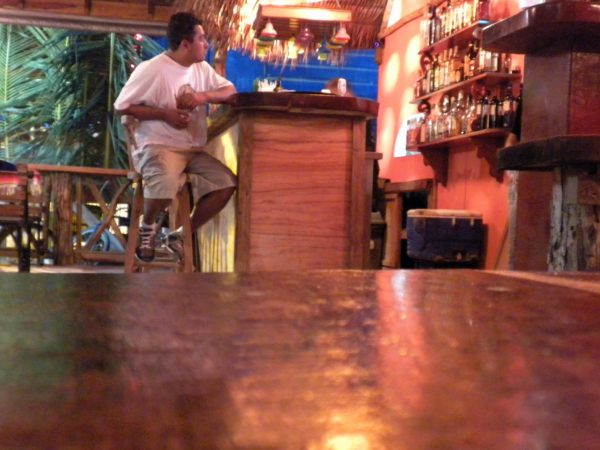 Wish Willy's
If you happen to go fishing on Caye Caulker, some of the restaurants will cook your fish for you. We did this one night with fish that my hubby caught. The place we went is called Wish Willy's. You eat in his yard.  Willy cooked up Nick's fish on the grill and added some rice and veggies, for about $5.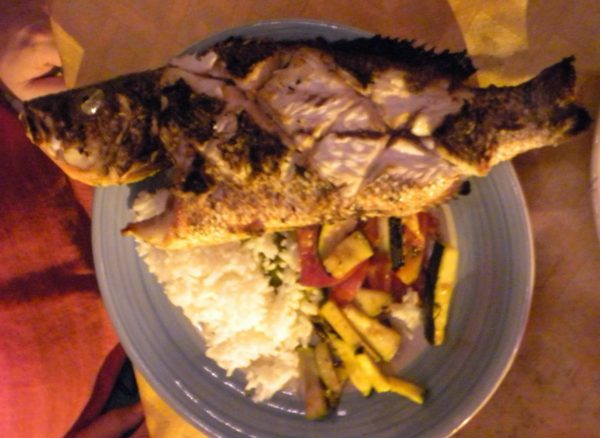 Not surprisingly, I had chicken. Doesn't it look fantastic?! The other time we ate at Wish Willy's I had pork chops, which was also really great.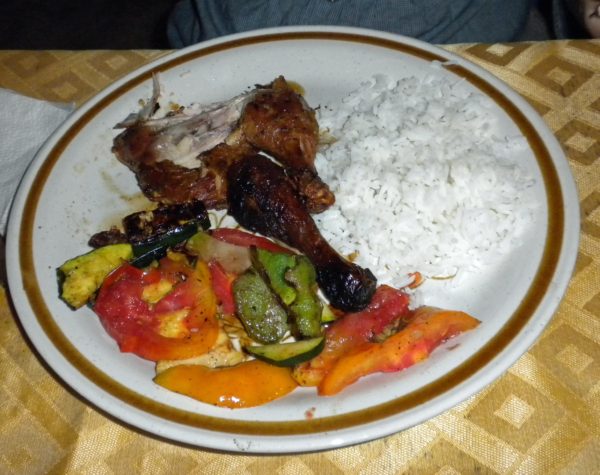 Want to read a funny (sad) story? The morning before we went to Wish Willy's the first time, we had been walking around looking at stuff and found these chickens in the photo below.  When we got to Willy's place and after I had cut into my chicken, I realized they were one and the same. I asked Willy for confirmation and he assured me that one of the chickens I had seen in the morning was sitting on my plate. I had to really force myself to take that first bite, but it was really good.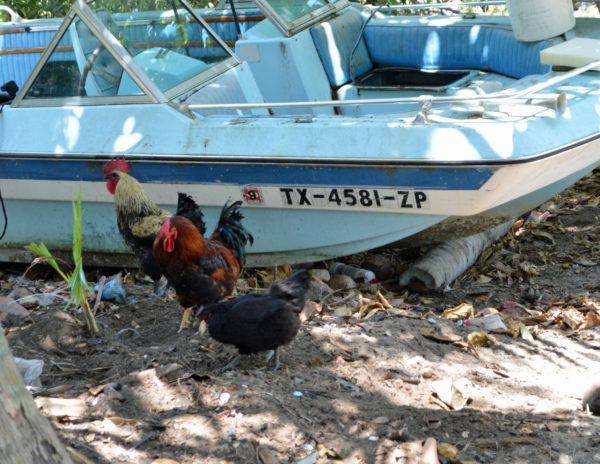 Pasta per Caso (Sandro's)
When we ate at Pasta per Caso, it was called Sandro's and holy smoke it was so fantastic. It's an Italian restaurant and the owner at the time we went is from Milan, so it was authentic Italian food. Nick had shrimp Alfredo and I had lasagna. Wow! I'm so glad we went there. If you go to Caye Caulker, go to this restaurant for sure!!
We went to Sandro's more than once. I think 3 times actually.
Amor y Cafe
Breakfasts most days was at Amor y Cafe. It's a cute like restaurant that serves simple food. We had fresh juice most days and it was really great. Their menu is below. The prices in US dollars is converted to about half of what is on the menu. We really enjoyed it.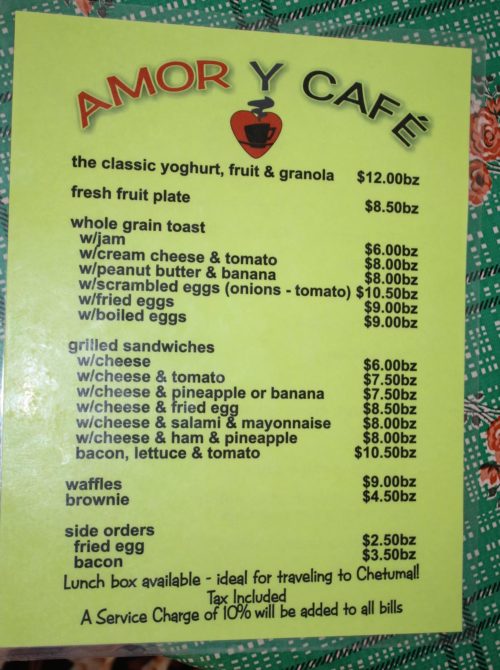 Brisas Del Mar
I had actually forgotten about this restaurant until I saw the photos. It was a fun restaurant, with this silly sign. Our friends spent a few days with us in Belize and this was one of the places we went.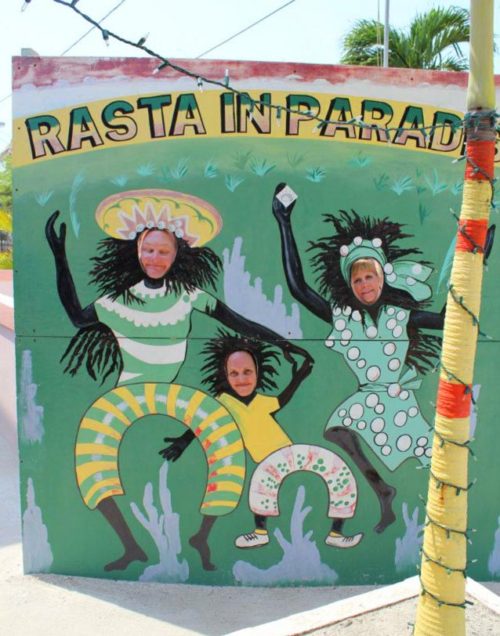 They had ceviche there, which Nick loved so much. They served it in a conch shell, which was a great touch. I didn't eat it, but those chips were good.
I made up a recipe for shrimp ceviche when we got back and he loved that too. You can find the recipe HERE.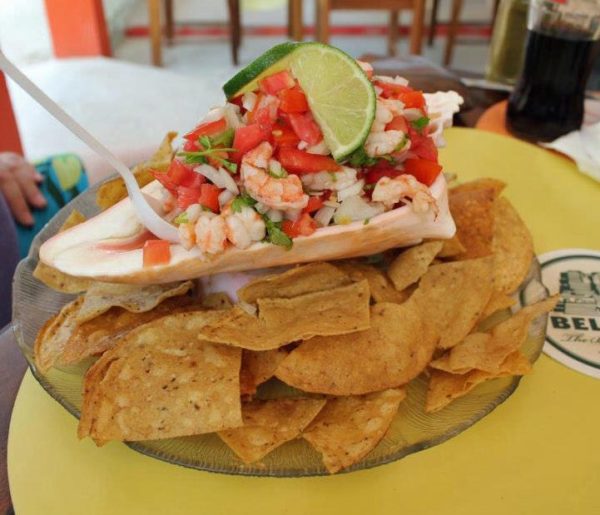 Everything we had was really great at this restaurant. I had a ginormous burrito, Kar had a burger and I think Ben had ceviche too.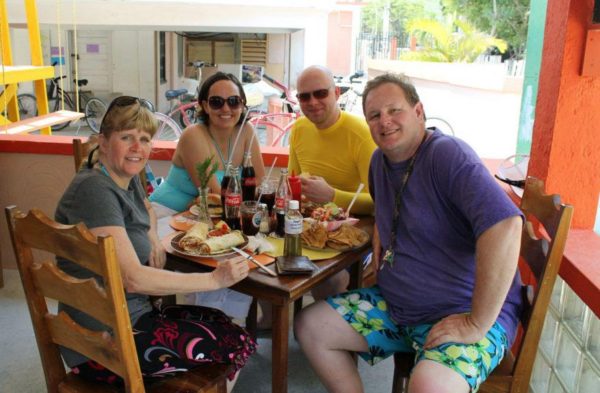 Rainbow Grill
On our last night on the island, we went to this great place called Rainbow Grill. It is right over the water and if you get there early enough, you can watch the sun go down. We didn't get there early enough. Nick and Ben had a fish dish of some sort and Kar and I had a chicken dish. Imagine that. Both were very good. This restaurant is a little higher priced than the others, but not too terrible.
Chinatown Grocery Store
If you just need some groceries, the Chinatown Grocery Store is a good bet. You won't find everything you will on the mainland, but you can get some bread, butter, snacks, pasta and the makings for pina coladas. The grocery store is owned by a Chinese family and they were quite helpful. We had just been living in China, so they were surprised when we spoke a little Chinese to them. Very little by the way.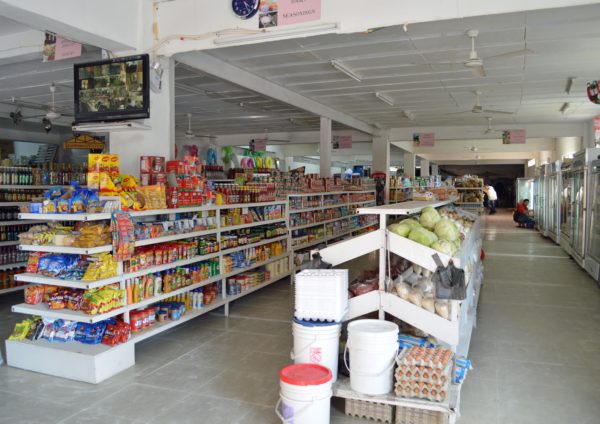 BONUS TIP!
Dessert. You have to have dessert on vacation. On our second night we discovered little ice cream shacks, which is awesome when it's warm. We would take a little walk around after dinner and then stop at a shack and have the most amazing coconut ice cream. It's not just coconut flavor either. It actually has coconut in the ice cream. Do yourself a favor and get some! So good and the perfect dessert.
Those are my picks for some great restaurants on Caye Caulker Belize. You will love your trip! When will you be going?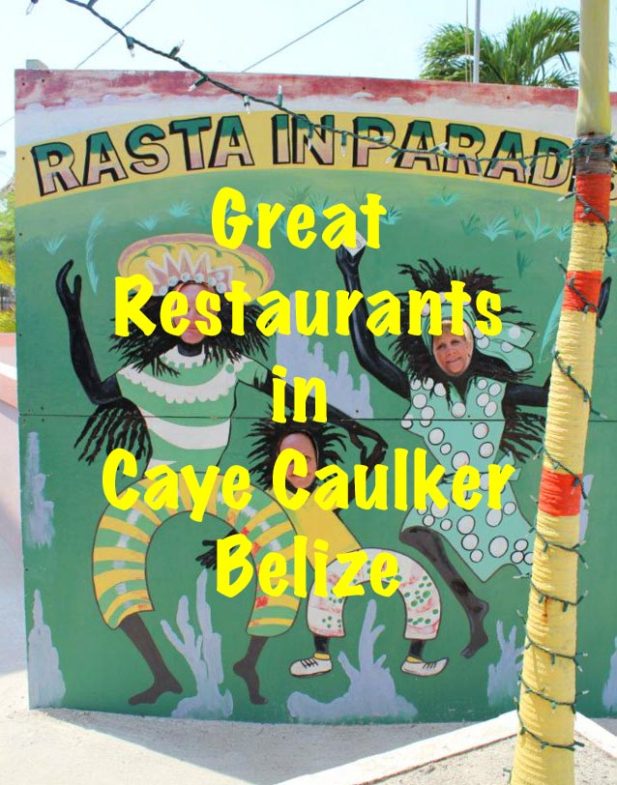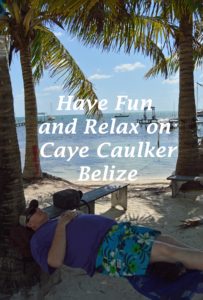 Caye Caulker Belize Activities
SaveSave
SaveSave
SaveSave
SaveSave
SaveSave
SaveSave