When you're in the Tulsa, Oklahoma area, it's hard to miss all of the things aimed at the Historic Route 66. The Heart of Route 66 Auto Museum in Sapulpa, Oklahoma sits squarely on it and is only one of the things in Sapulpa that you should see.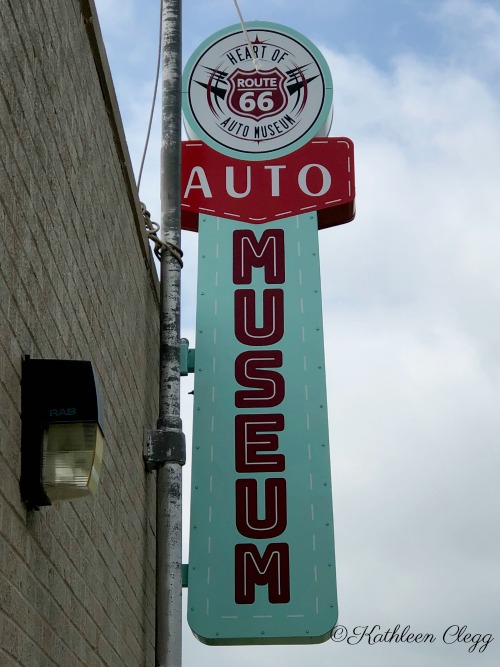 Heart of Route 66 Auto Museum Sapulpa Oklahoma
First, a little history.
When I was a teenager living in Albuquerque, my dad had this blue '72 Chevy S-10 pick up truck, with very odd shifting. Even though my parents were divorced and I lived with my mom, he let me take it out on the weekends sometime. I got just a little attention driving that truck and thus became my love affair with old cars. Now, anytime I'm in a new place, I look for old car museums.
I found out about the Heart of Route 66 Auto Museum in Sapulpa when I was investigating things to do and see. I set out and a cloudy day, with my camera and bottle of water and off I went.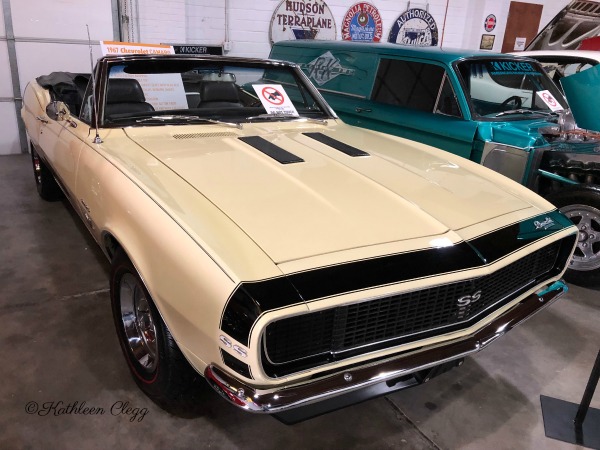 When you first enter the museum, you will be greeted by a friendly worker who will be happy to tell you all about the museum. There are three rooms of cars for you to look though. Each will have sign with information describing what you are seeing.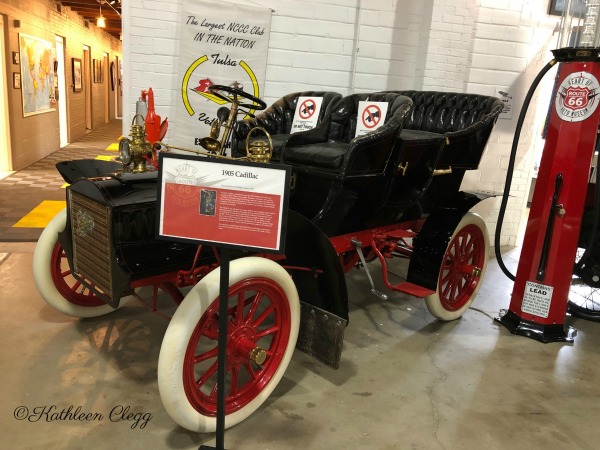 One of the things that I was impressed with is that many of the cars are loaned to the museum for a time.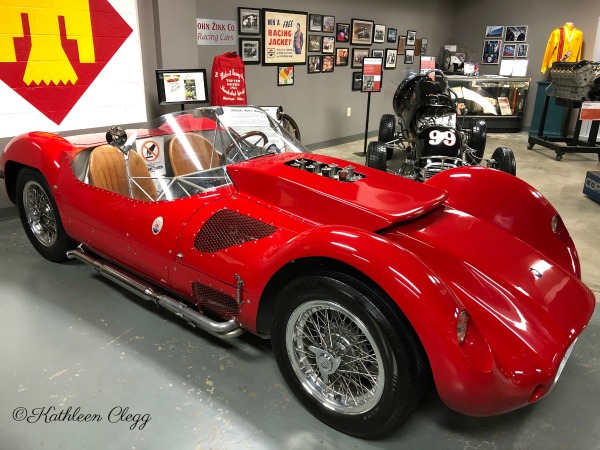 This 1957 Chevy struck me right off. I'm not sure if it was the color or the actual car. Isn't it a beauty?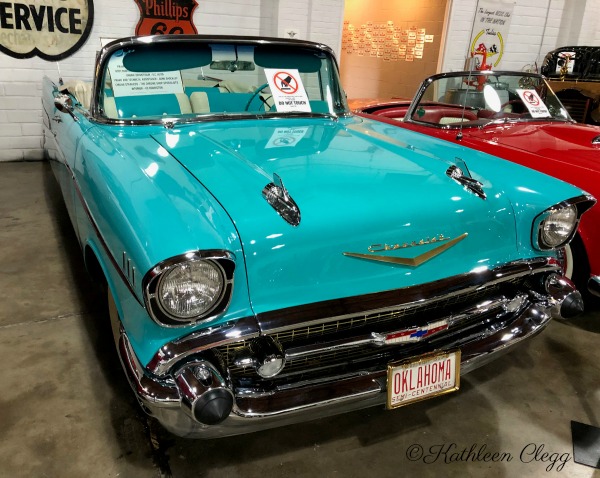 This 1958 BMW Isetta is the same kind of car that Steve Urkel drove in the television show 'Family Matters'. Have you seen that show?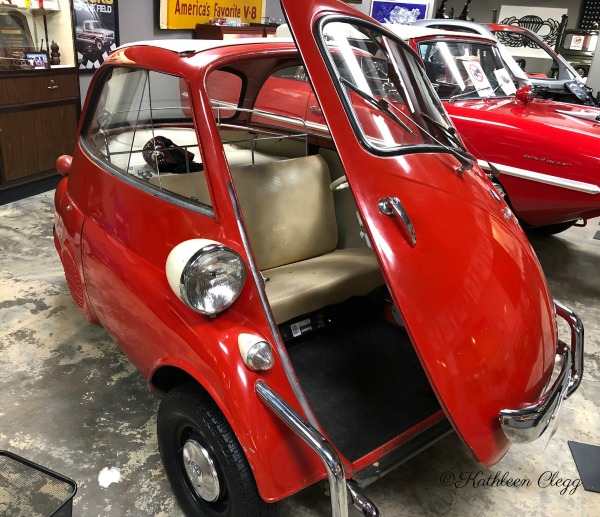 The Route 66 Auto Museum in Sapulpa is also home to the World's Tallest Gas Tank and it sits right outside, at 66 feet tall.
Visit Tuesday through Saturday 10-4 or Sunday 12-4.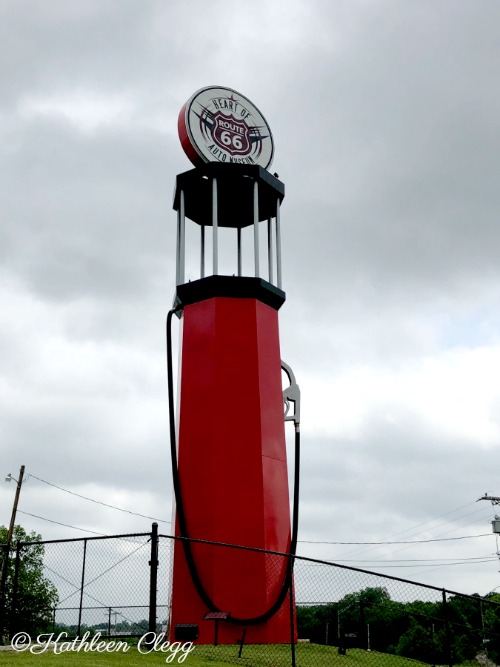 Rock Creek Bridge
I'm not good with north, south, east and west, but if you come out of the museum and meet up with Route 66, turn right and drive just few minutes and you will find the Rock Creek Bridge on the right side of the road. The bridge is closed, but it's a great place for photos.
The Rock Creek Bridge was built in 1921 to serve the Ozark Trail. The bridge became part of the highway system in 1926, when Route 66 was initiated.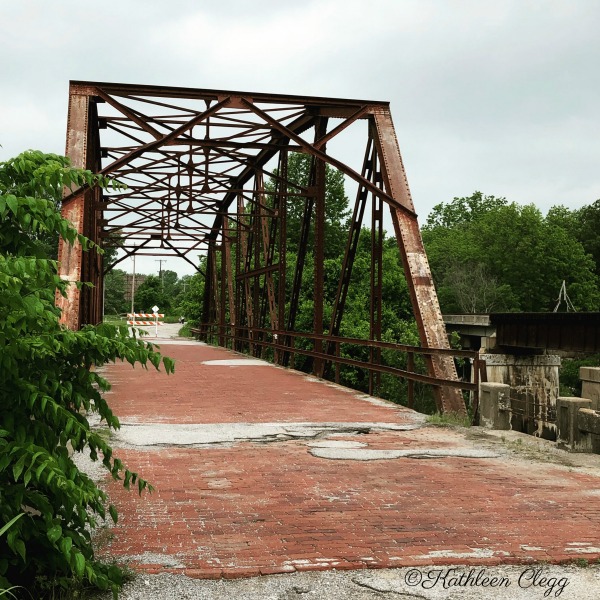 Interesting Sculptures around Sapulpa
Sapulpa has many interesting things to see around the town. After you leave the Route 66 Auto Museum, take a drive around and see what you can find. This Crossroads of America sign is located where Route 66 and Highway 75 meet.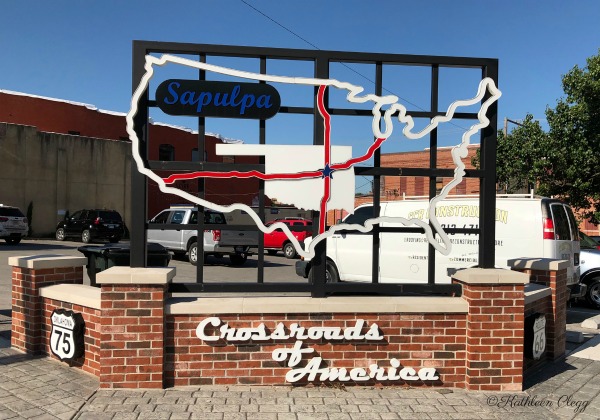 You can see the Guardian of the Plains Buffalo on Route 66, just as you are coming into town. Created by artist Jim Gilmore, it was dedicated November 16, 2007.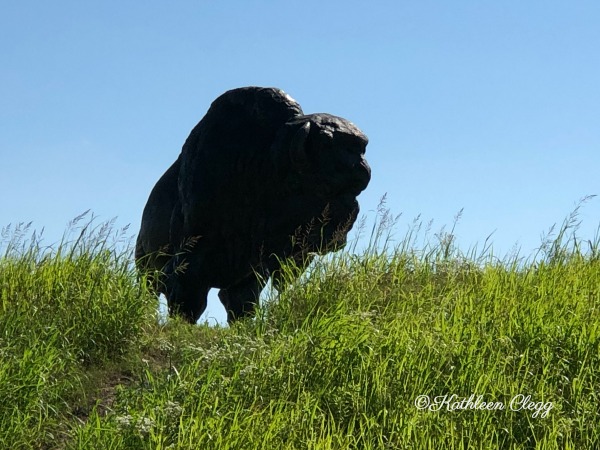 This is a fun sculpture, also located on Route 66, of a beer, pizza and soda. This is located just after the buffalo, on the same side of the street.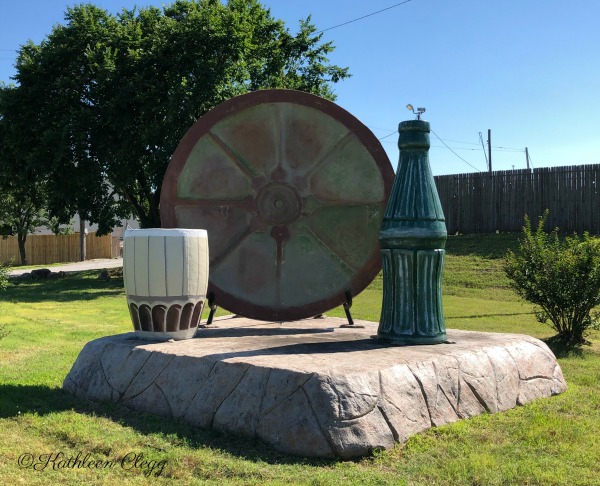 The Mini Statue of Liberty is currently located just in front of the Domino's Pizza on North Mission Street. I was reading up on her and apparently she moves around, so keep your eyes peeled.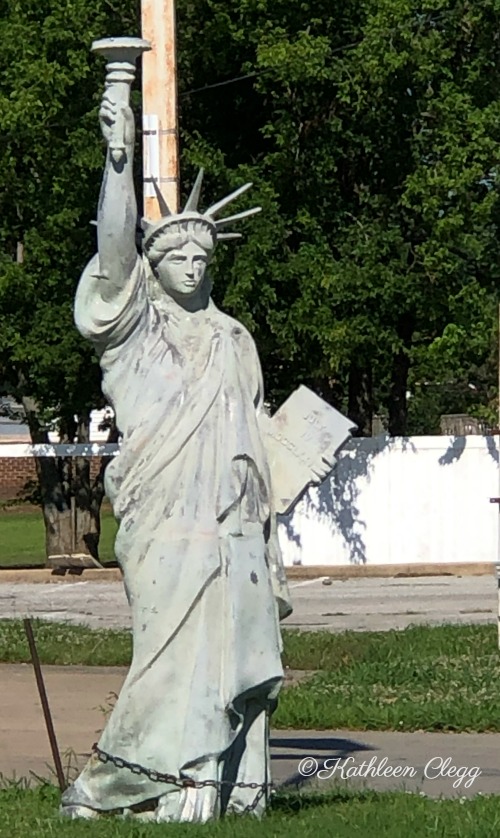 Tulsa Sapulpa Union Railway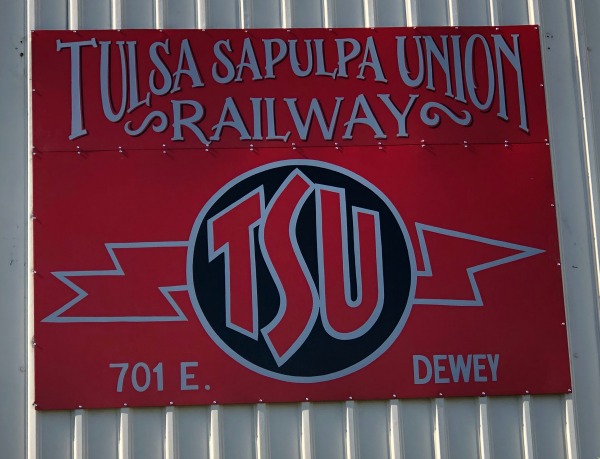 I have a little story about the Tulsa Sapulpa Union Railway. I read about their train cars that are beside their building and of course, I wanted to see them. When I arrived, it looked like their office was closed and the gate was locked, but the gate that went around back was opened. I went around looking for someone to ask if I could look at the train cars, but found the cars before I found a person. Of course, I was already there, so I took some photos.
As I was coming back around the building, a man stepped out and I explained to him what I was doing. He very kindly asked me if I wanted to see some engines that are still in operation. Of course I said yes and I went inside with him. There were other people there and I noticed a bunch of televisions showing the grounds. They watched me the whole time. HA! How embarrassing.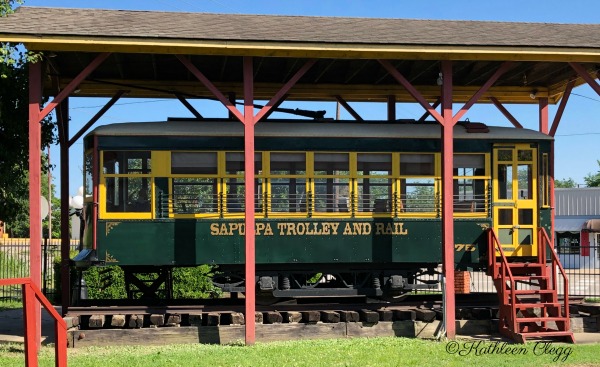 These first three photos are the older cars and trolley they used.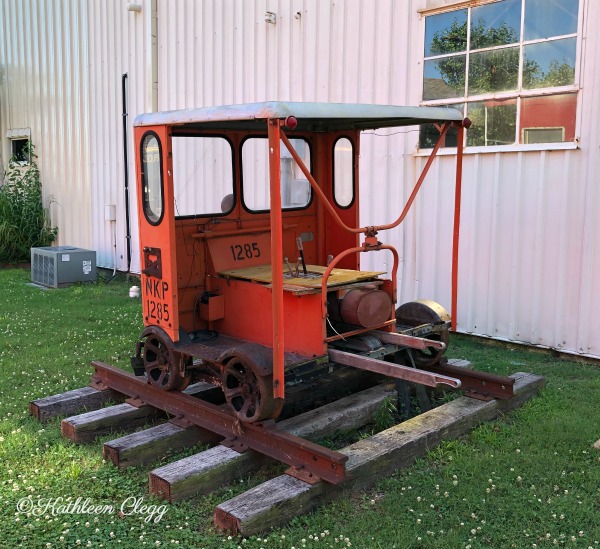 These next two are the operational engines. The man told me they have one that leaves Sapulpa and one Tulsa each day. I have a friend who is an engineer on one of these out of New Mexico. So neat to see them up close.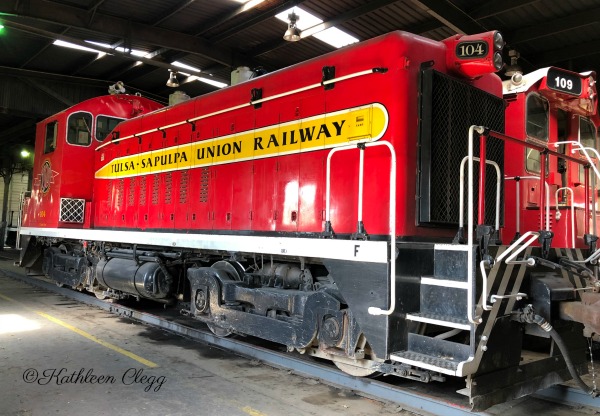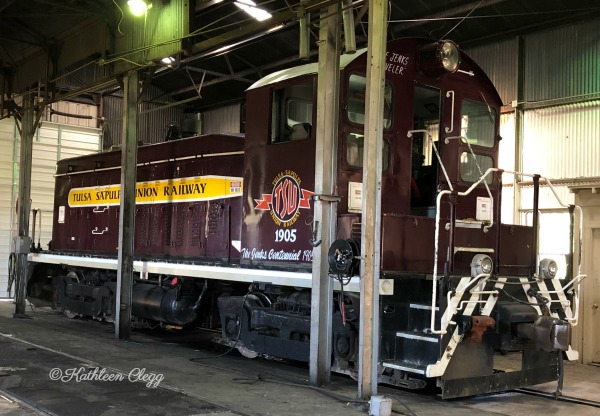 Sapulpa Murals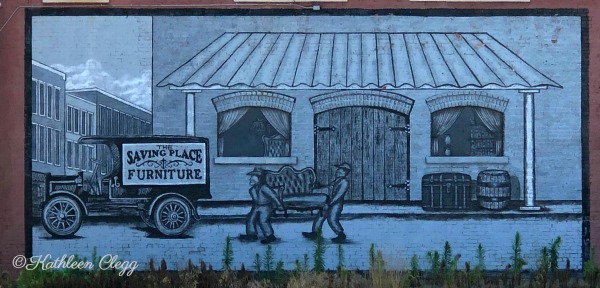 I love street art, as you can tell by this post about Memphis street art. I'm sure there are more, but these are the two I saw.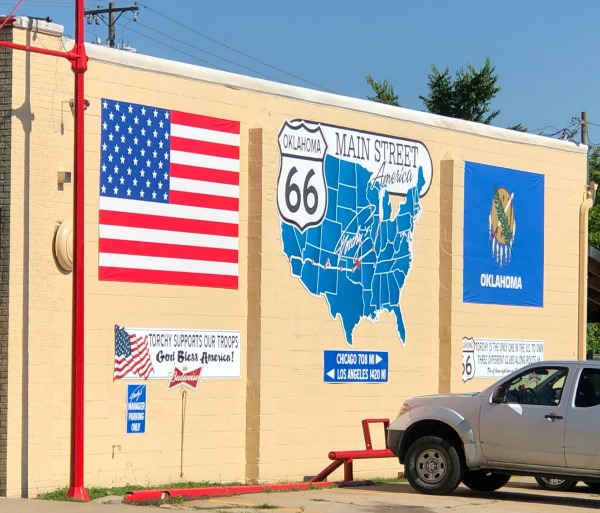 Kiefer Castle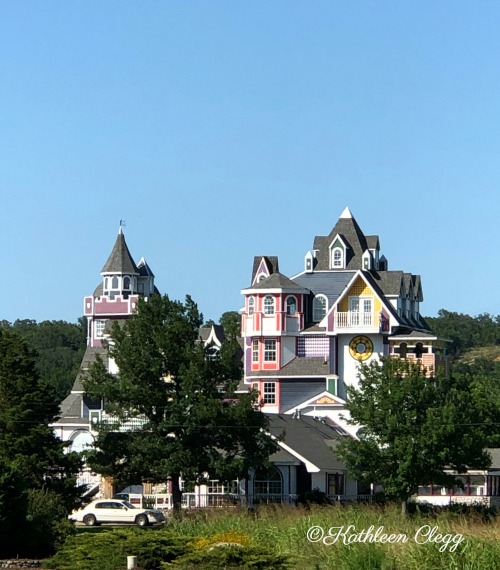 I've actually been to Sapulpa twice. The first time was a rainy day and as I was driving through the tiny town of Kiefer, this castle came into my view. Holy smoke. The first time I went to Sapulpa, I had to leave right after the museum because I got word that our neighborhood was being evacuated due to the river we live next to running over. Everything turned out fine for us, so I promised I would go back on a sunny day.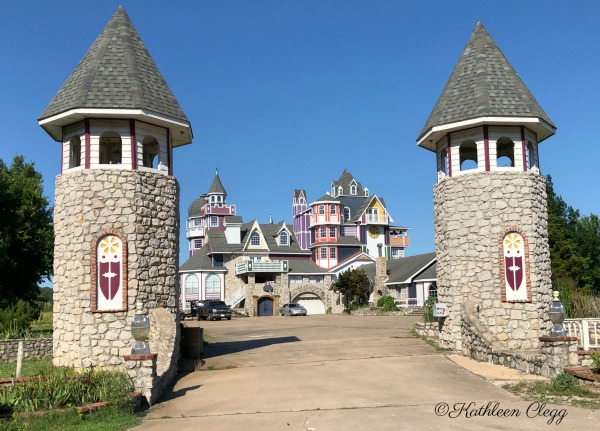 I decided to go past the castle again and I like the way these pictures turned out so much better because the sky is so blue and clear, which makes the colors pop more. I also found out some information about the Kiefer Castle.
The castle started as a small, regular house and over time, the owner has been adding onto it. At this point, he doesn't know how many rooms or the square footage is in the house, but he loves it. The owner doesn't want to be identified, but by all accounts, he's a really friendly and nice person.
I hope that I have convinced you to visit the Heart of Route 66 Auto Museum and the rest of Sapulpa when you visit Tulsa. Be sure to drive through Kiefer either before or after Sapulpa. They are both really worth the few hours you will spend.