Memphis street art is something to behold. You can walk around downtown and see a new piece of art almost everywhere you look. I've seen street art in a lot of the places I've been, but I don't think I've ever seen it to this extent. The street art in Memphis embraces the history of the area in so many of the murals, that it makes you glad that the artists have not forgotten the past of the city.
We've been in Memphis about 5 months now and one of the things I really love about the area is artistic streak that seems to be in most things here. Even visiting a local outlet mall yesterday, I saw a huge guitar as a centerpiece. To be sure, there is a lot to love about the history of Memphis, the music as an example. However, there have also been some really dark times as well, slavery and the murder of Dr. Martin Luther King Jr as examples.
Look through the photos below for a walk through some of the history of Memphis, depicted by some incredible artists. I took all of these photos and researched the information across several sources to bring you the best information possible.
South Main Street
Artist: Micheal Roy – design by Derrick Dent
There are a lot of references to civil rights in downtown Memphis. As I said, Dr. Martin Luther King Jr was murdered here. The motel where he was murdered, The Lorraine Motel, is now the National Civil Rights Museum. Of course, there was also slavery here, so there are places like the Underground Railroad Museum where you can learn about the horrible practice. This is one of the murals referencing civil rights and the fight that has been going on for so long.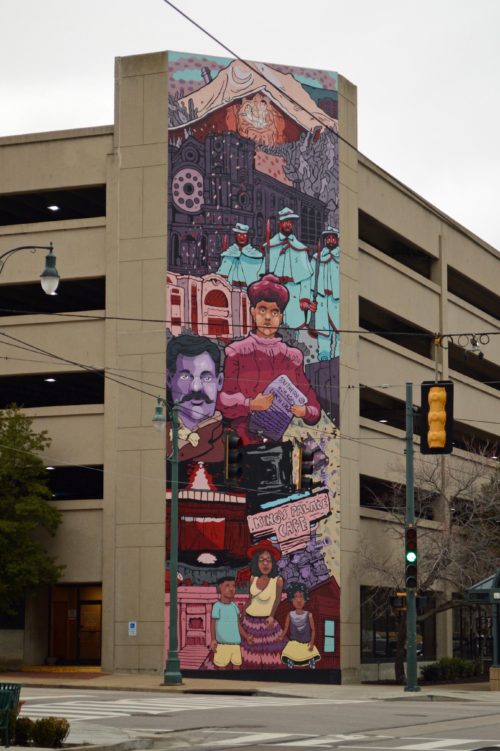 Artist: Marcellous Lovelace with BLK75
In 1968 there was a sanitation strike where the workers carried signs such as these. During this strike, Martin Luther King Jr gave his final speech in the sanitation workers behalf. The march is depicted on this mural and also at the National Civil Rights Museum.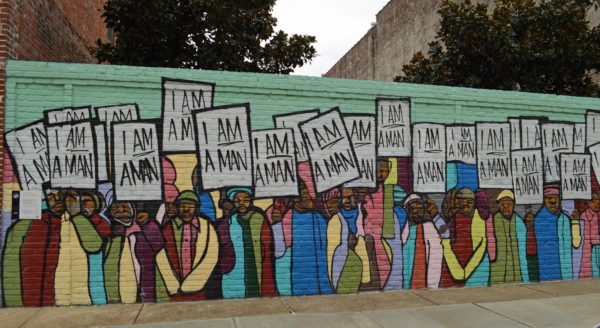 Artist: Unknown
Memphis, Tennessee is named for Memphis, Egypt.   I didn't even know there was a Memphis, Egypt until I moved here. There are several pyramids around Memphis, Tennessee, with a huge one owned by Bass Pro Shop. You can read about that pyramid and it's history on my post about fun shops in downtown Memphis.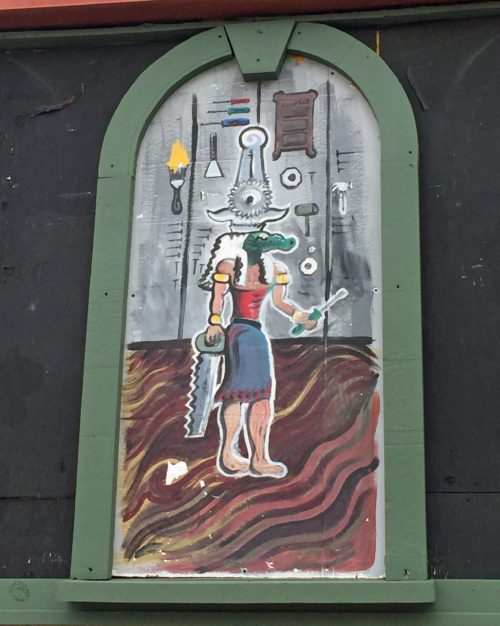 Someone, at some point, painted these murals and hung them above a shop door. Don't you love them?
The detail is so intricate. I really love them!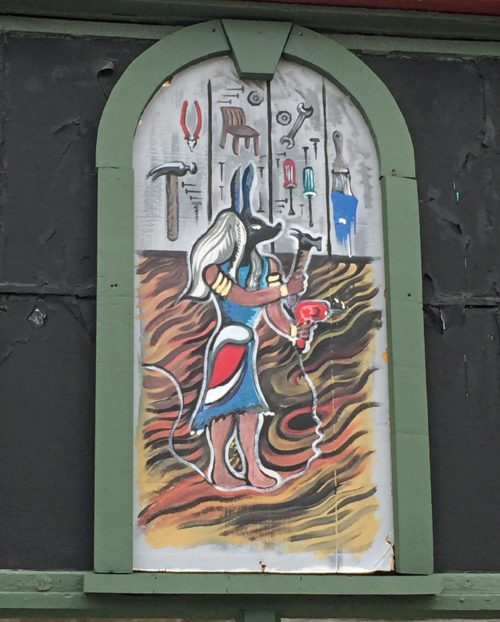 Songs that sing about Memphis are on this mural. I didn't realize there are so many.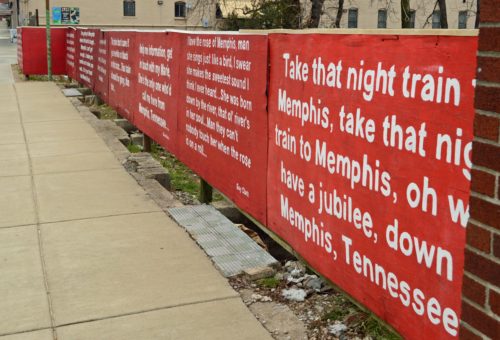 I find myself singing this one a lot when we are walking around downtown.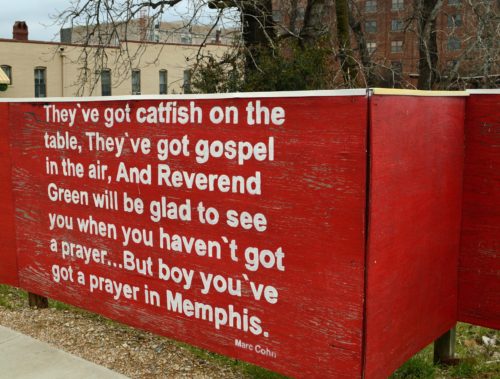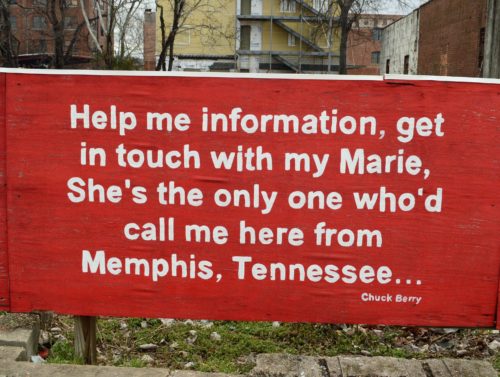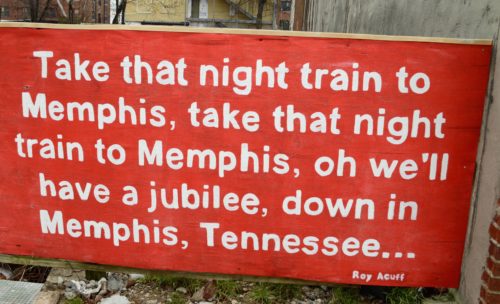 Artist: George Hunt – 1983
I didn't find any other information about this mural, except that it appears to be one of the oldest murals in the downtown area.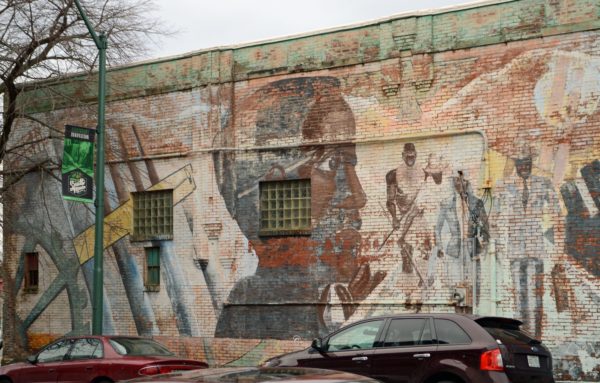 North Main Street
North Main Street is blocked off to vehicle traffic, although there are trolley tracks, so keep your eyes open. There are shops and restaurants along the street, as well as murals along the way.
Artist: Damon Lamarreed and Pugs Atomz

Artist: The Assasin Duo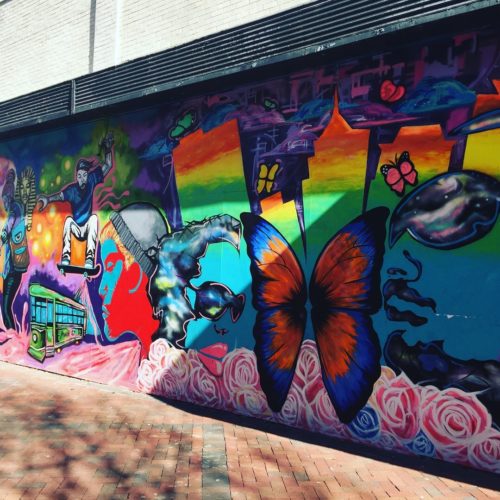 Inside the iBank building, at the Main Street entrance
I wasn't expecting this mural. We went in the building looking for donuts. Sadly, I have a mad sweet tooth.  I'm really excited to take a riverboat ride if it ever warms up, so I snapped a photo. This is the photo that made me decide to write this post.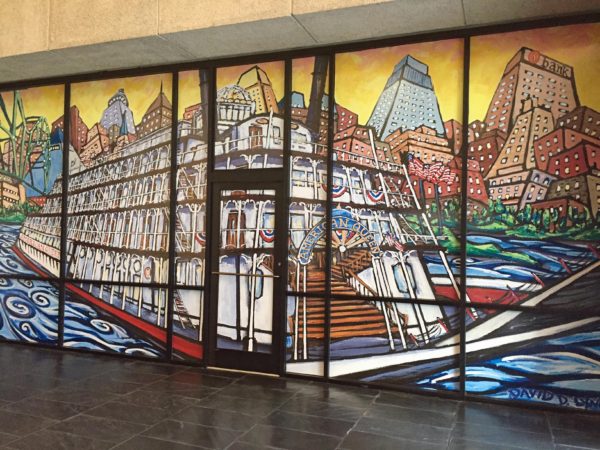 Phone Boxes on Main Street
There are several phone boxes along Main Street. They are painted so fun. So much better than ugly phone boxes.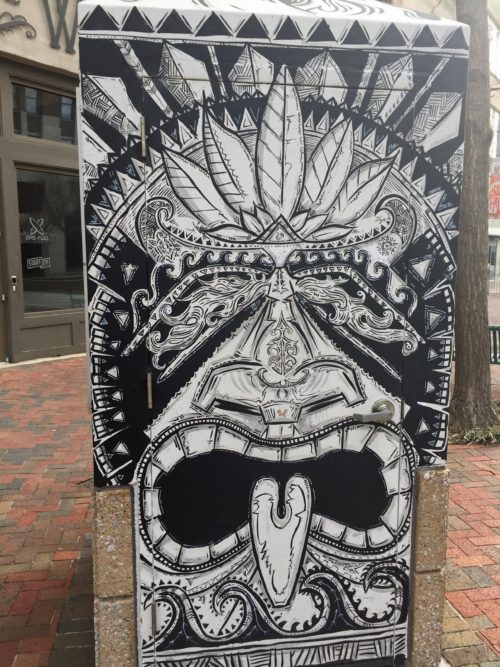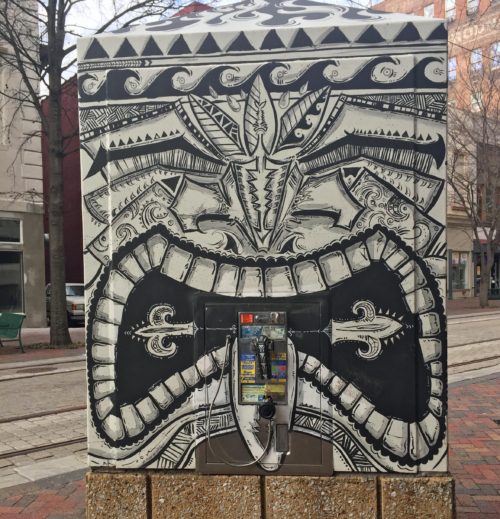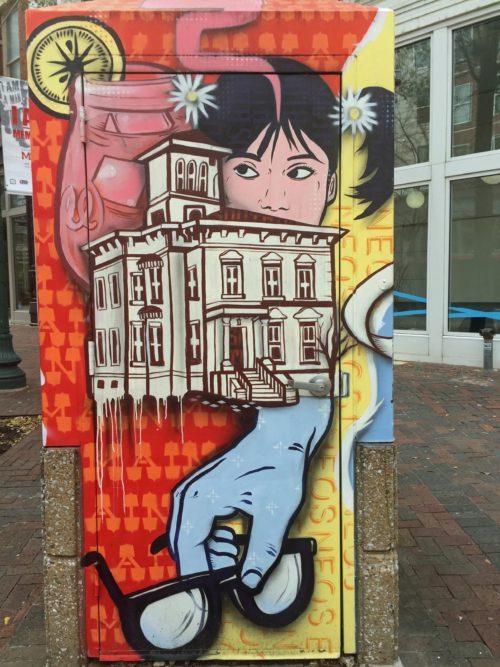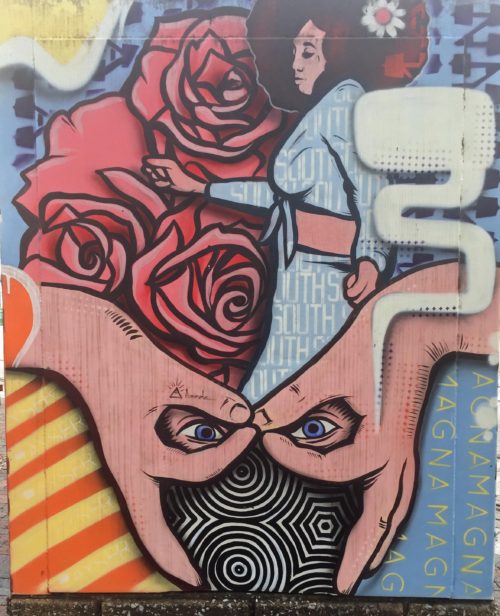 This phone box has the hair styles of various famous people. Isn't it fun? There are different styles on each side of the box. There is even the style of Elvis. I don't know how I don't have that photo.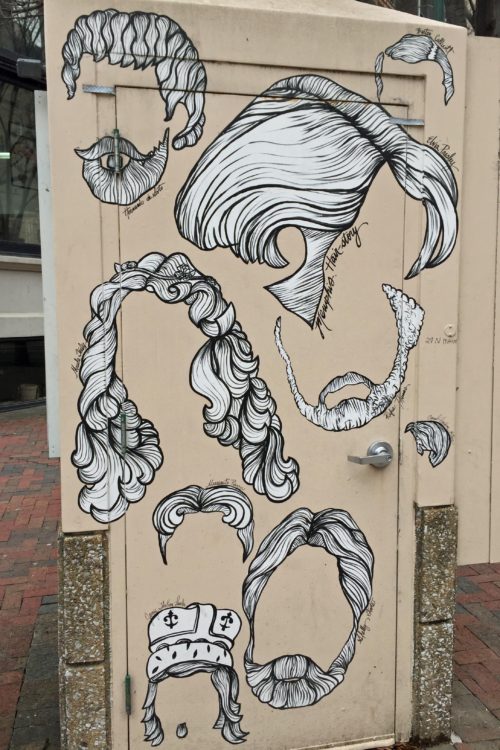 Beale Street
There are a lot of "I Love Memphis" murals around the city. This one happens to be on Beale Street.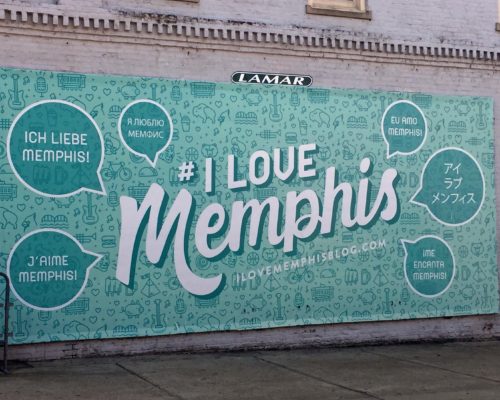 Do you recognize this from the song "Walking in Memphis" by Marc Cohn?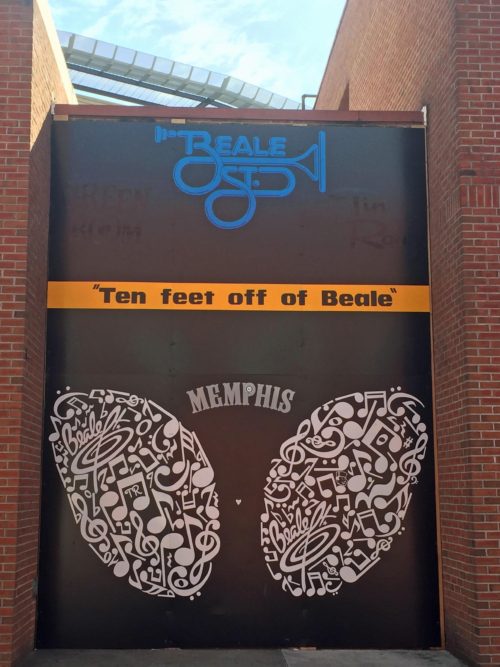 This mural is on the downtown police station, at the beginning of the blocked off to traffic part of Beale Street.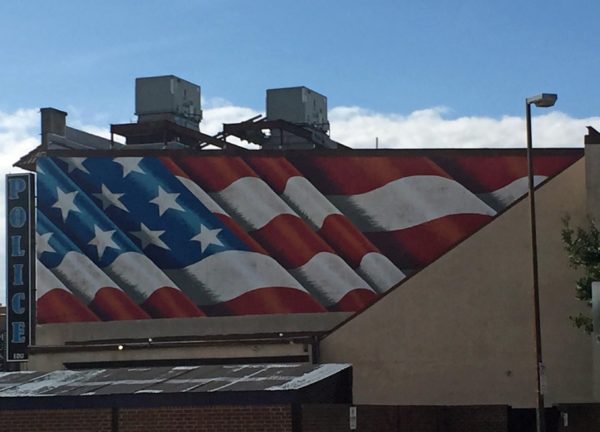 Gibson GuitarTown Guitars
Gibson Guitars are made in Memphis. They made these guitars that are on Beale Street outside of some of the bars. Aren't they neat looking? I'm standing next to one so you can see how tall they are. I'm 5'5″.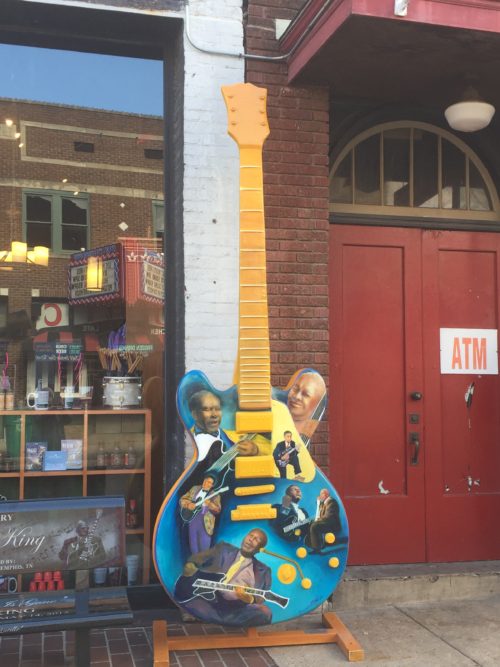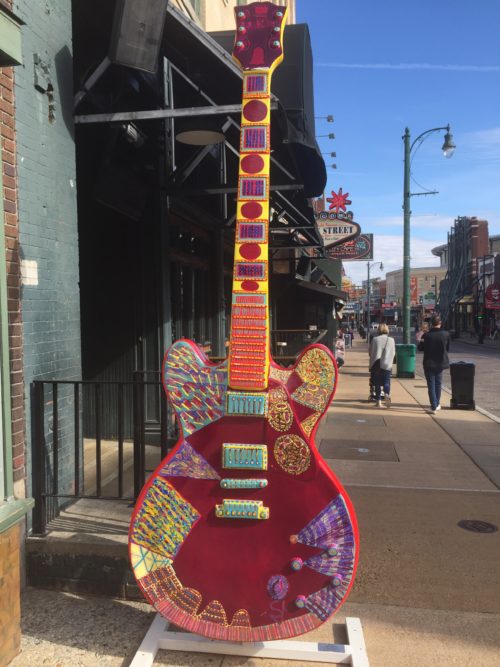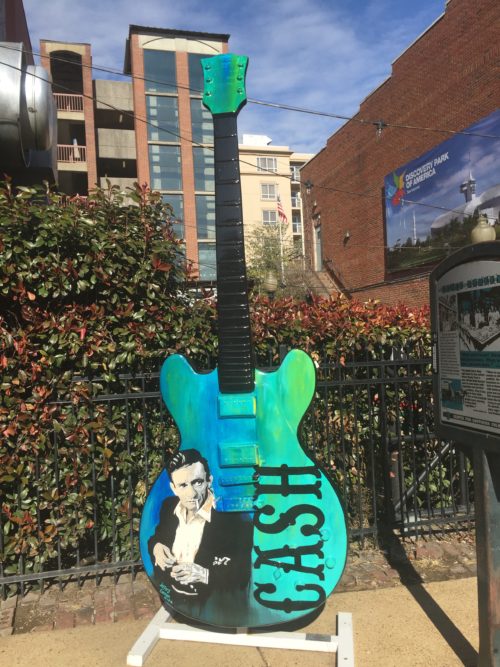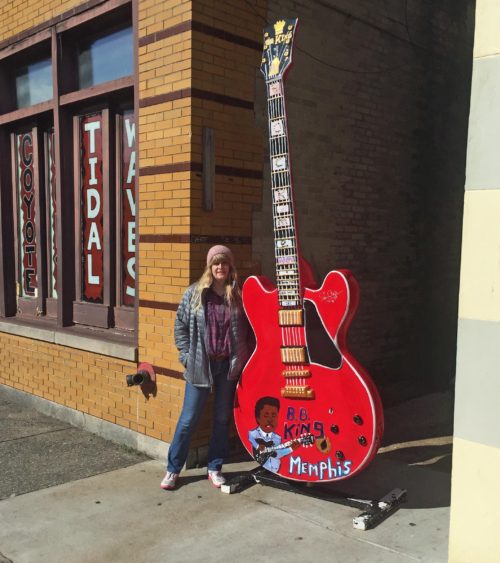 South B.B. King Blvd
Artist: George Hunt
I noticed that this person has the same name as the person who painted one of the oldest murals and wondered if it's the same person or they are related. unfortunately, I didn't find any information on this set, I just found his name on one of the paintings.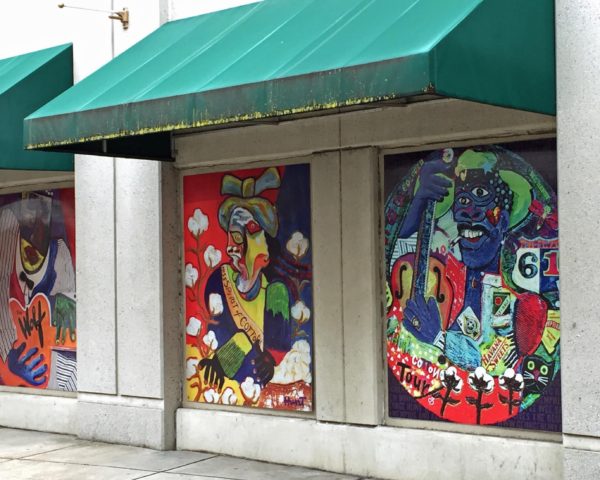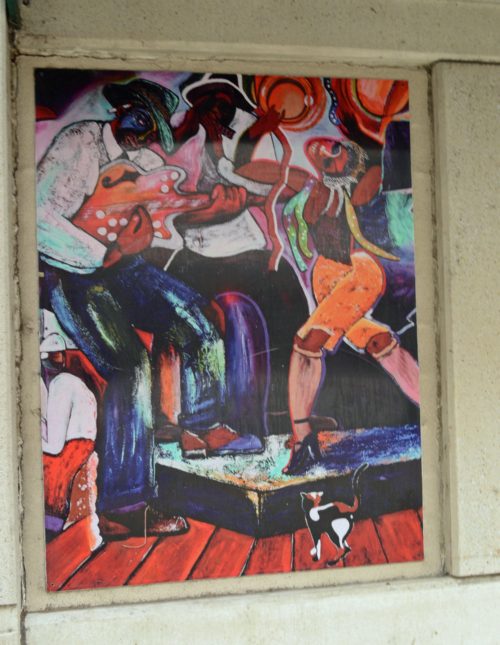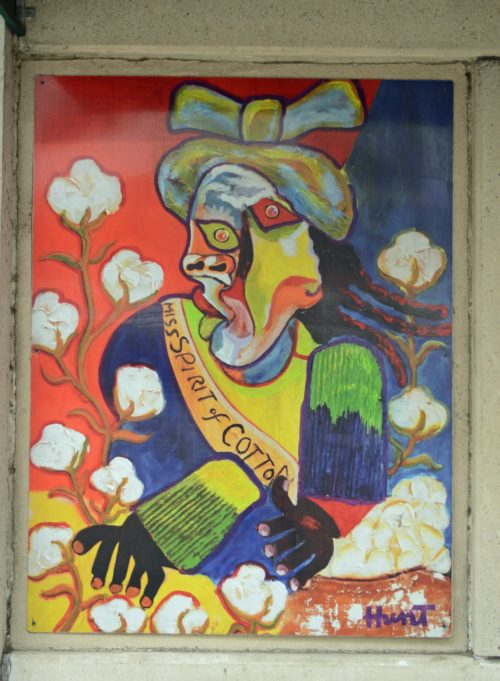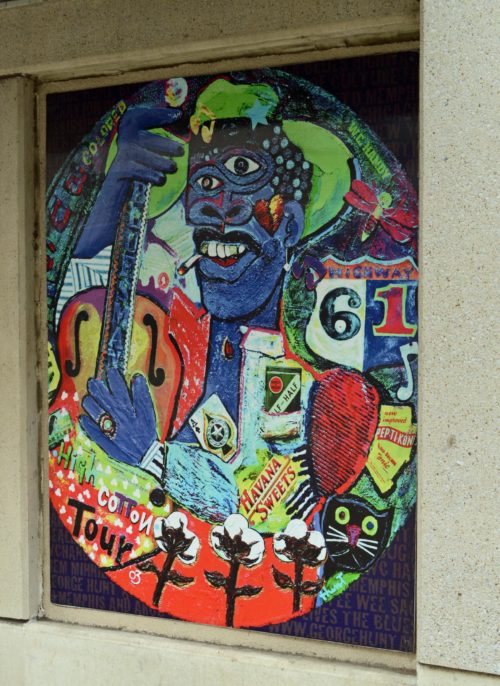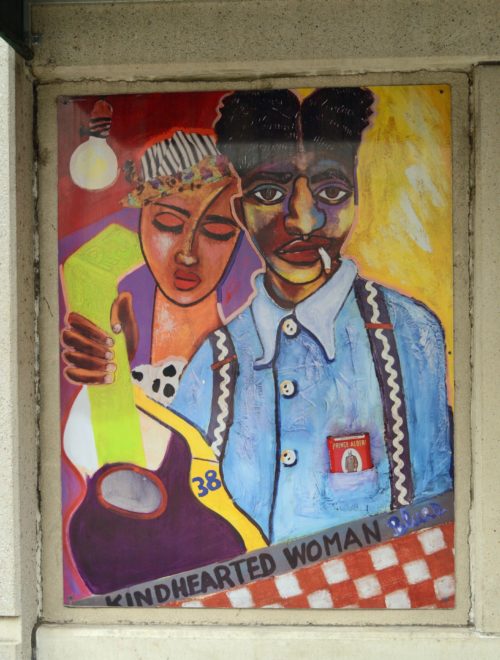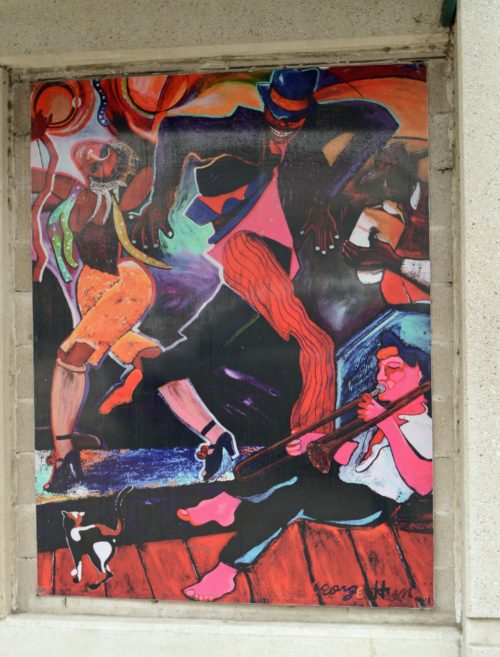 Rendevous Alley
Artist: Brandon Marshall
This mural is down an alley, in front of a restaurant called Rendevous Charlie. We ate there one time, their barbecue nachos were amazing. When we came out, people were taking turns getting their photo taken in from of this mural. I went back during the day for this photo.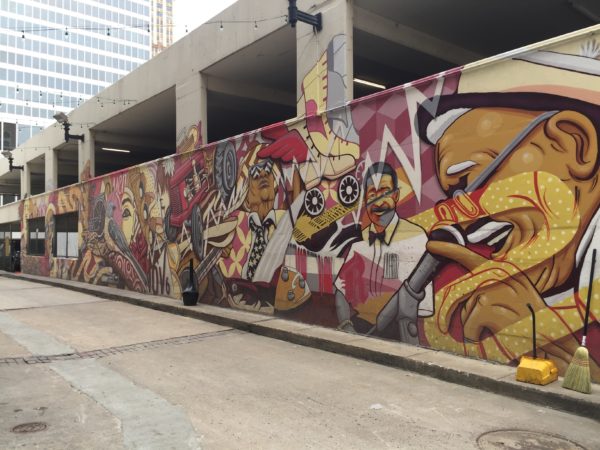 Madison Ave
Kyle Taylor, Brandon Donahue, and Brandon Marshall
These murals are very close to our house and wrap around the Sterick building, covering about 2 blocks. The artists were "inspired by the work, the big ideas, the soulful struggles, and the elbow grease that has made, and is making, Memphis what it is."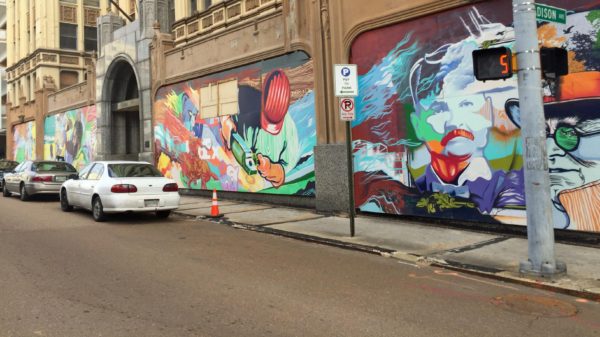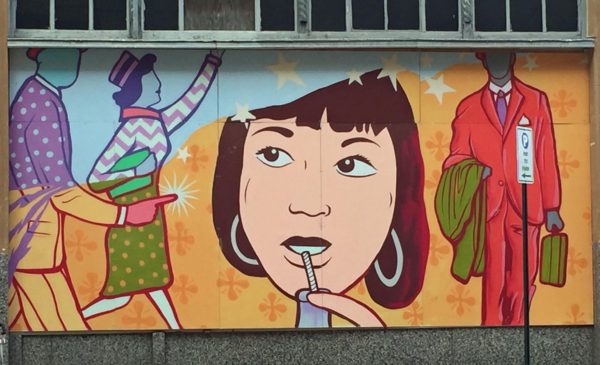 This one is probably my favorite of this set. I'd love to see it without cars in front of it, but so far, no luck.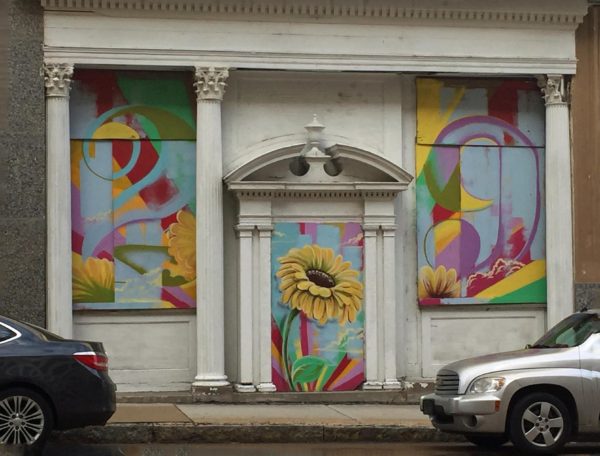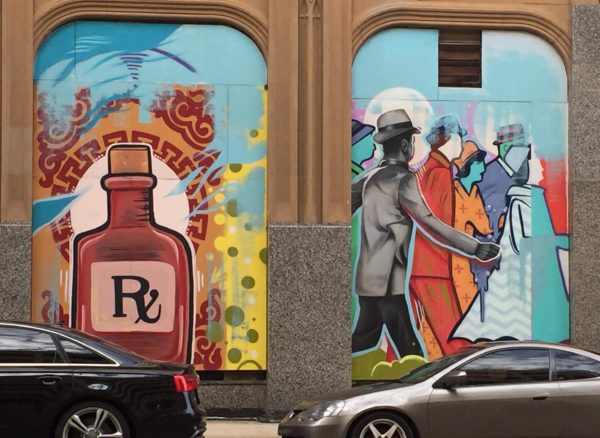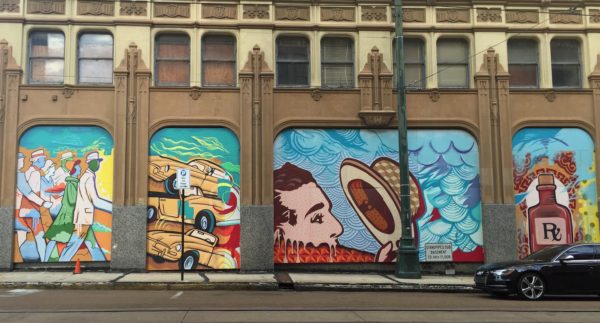 Madison Ave Trolly Station
Cynthia Metcalf, Jeanne Seagle, and Lea Holland
At the trolley station in front of Auto Zone Park, there are tile mosaic murals that I just love. Aren't they fantastic?!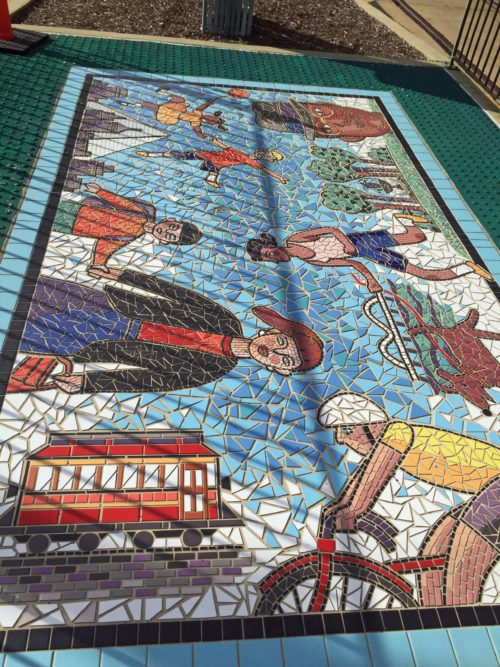 Even the poles are done up.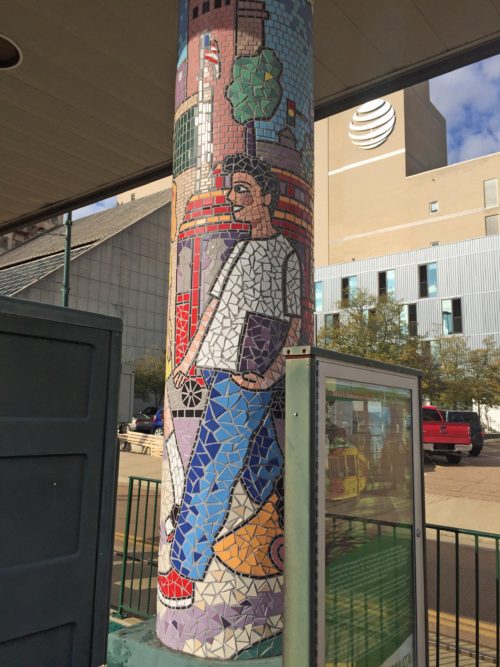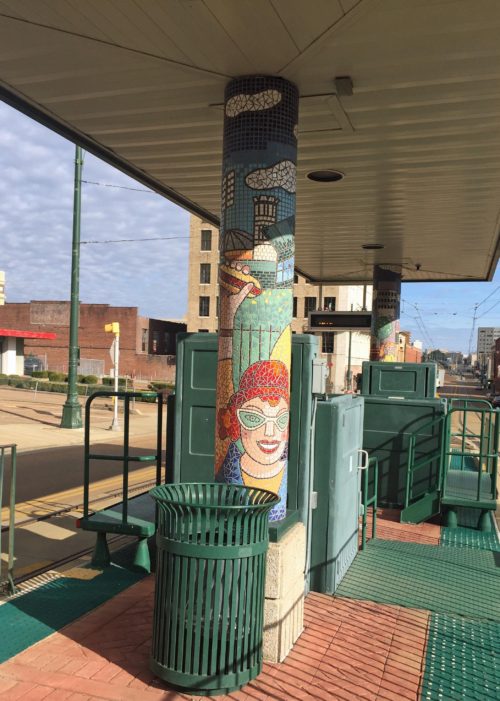 Jeff Zimmerman
This mural is visible from the Memphis Redbirds stands at Auto Zone Park. You can also see it from Madison Ave.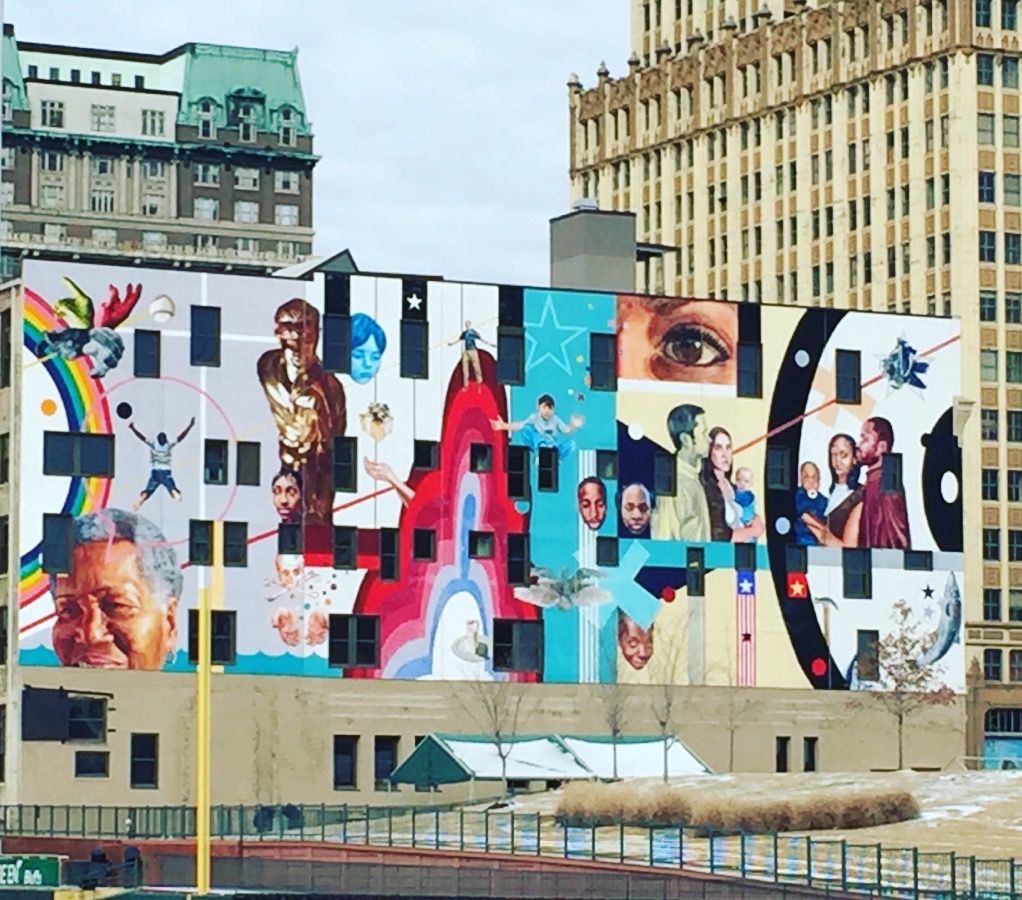 Union Ave
These next two are at the Vista Inns and Suites on Union Ave and 4th Street. I could see them from the street, so I walked in and took the photos. I didn't find any information on them though.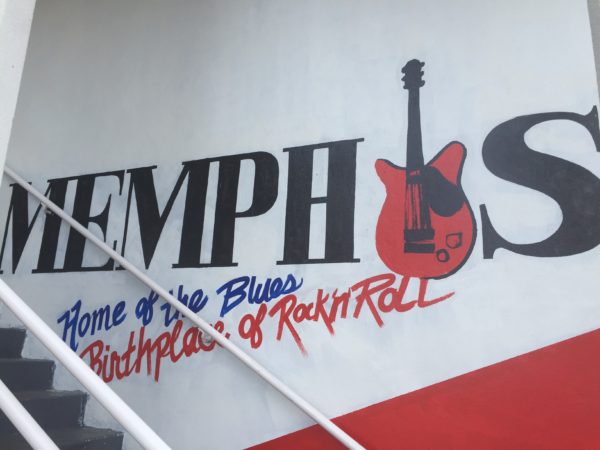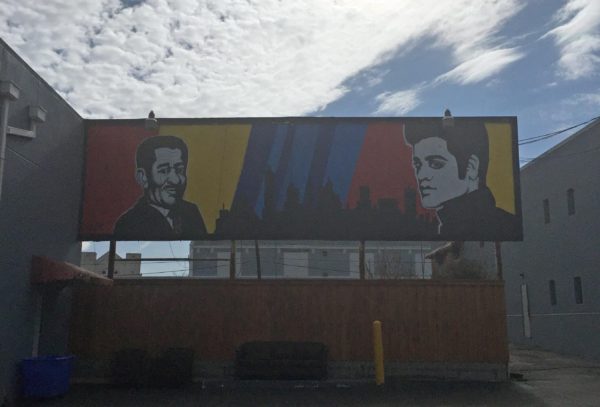 Barbora Alley
Joseph Boyd
Don't you love how bright this one is? It's called "It's Beautiful Where You Are". See the bird on her finger?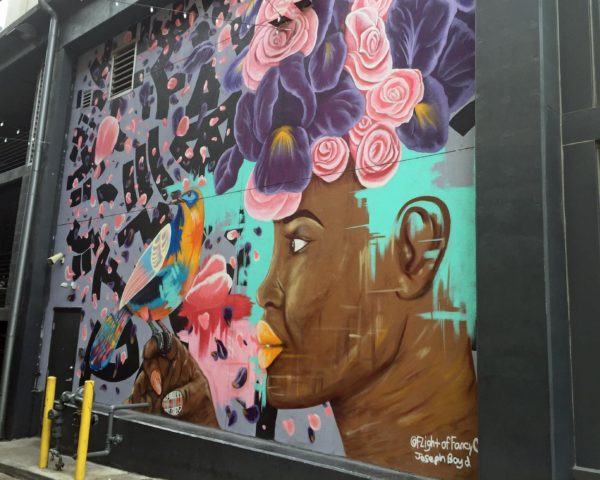 Artist: Christopher Reyes and Michael Roy
These artists also go by the names of Birdcap and Ninjacat.  I read if you go back at night, this mural is even better. I need to do that.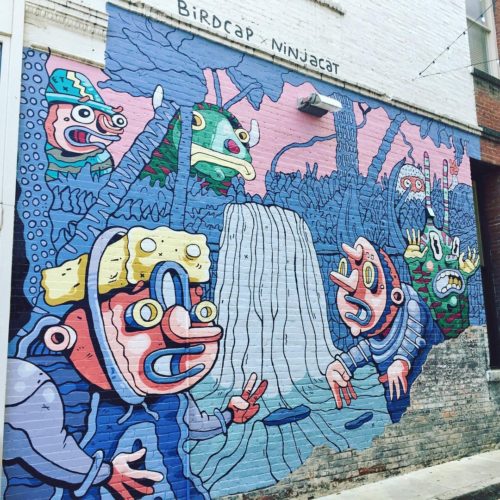 Artist: Marcellous Lovelace
The title of this piece is "Soul Color" and honors some of Memphis' most famous musicians. Wouldn't it have been wonderful to be in Memphis during their time?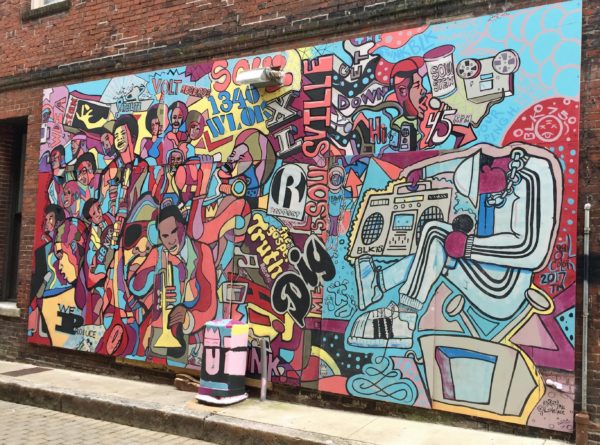 Artist: Lawrence Matthews
This piece is titled '1968' and shows the role Memphis played in Civil Rights. It's actually one of my favorite murals because of the way it was created. If you look closely, you will see it is made from book pages of great people in the history of African Americans.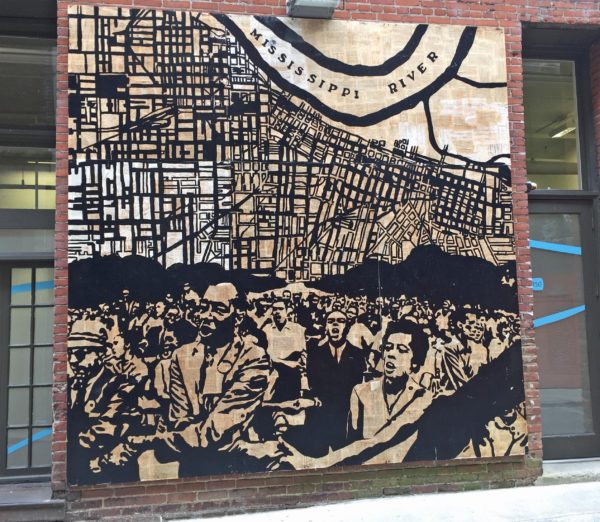 This is one place I took a photo and you can see that it is from "The Life of Fredrick Douglas, an American Slave".  This was one of my favorite books I read in high school. What a brave man he was.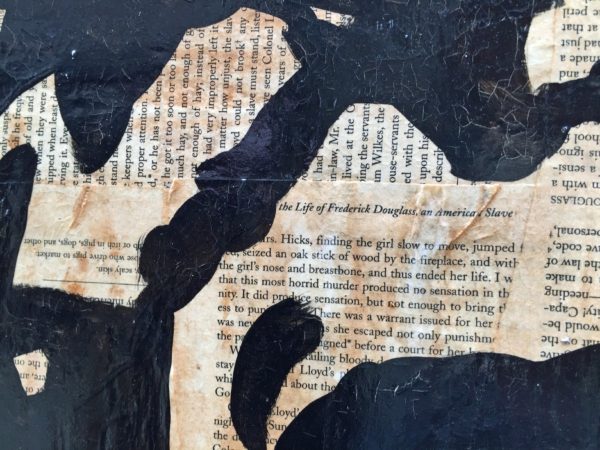 There are many more murals around Memphis and I may write another post about another neighborhood. I just have to get to another neighborhood with my camera. I really loved exploring and researching these murals. The artists are so impressive to me.
Do you like street art? Where have you seen the very best, in your opinion? It's all subjective, isn't it?