The Big Texan, in Amarillo, Texas, is apparently the place to go when traveling on Route 66. When we were going on our road trip, using Route 66 as our guide, we had so many people tell us to stop and have a meal. This is not a sponsored post, but is our honest opinion.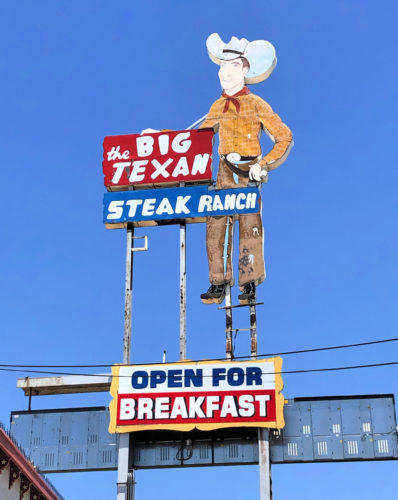 The Big Texan
A Brief History
The Big Texan was established on 1960 on Route 66 and called in guests with a 60 foot neon cowboy sign. By 1969, it was time to move to a larger location, but still on Route 66. The new location featured a gift shop, old western saloon, memorabilia and even strolling musicians to go with the 300 seat banquet hall.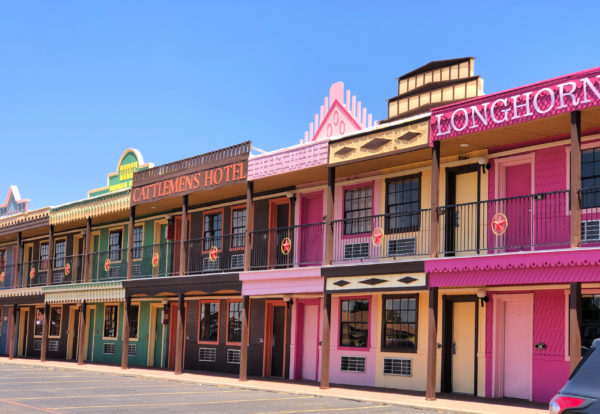 A great fire destroyed much of The Big Texan in 1972, but the owner, R.J. Lee rebuilt it ever bigger and better, adding an arcade and more seating. A hotel was added in 1983, pictured above, with western theme rooms for the guests and even a swimming pool shaped like Texas.
Mr. Lee passed away in 1990 and his sons took over. They vowed to keep the western theme and make it even better. They serve over 500,000 meals to a steady stream of tourists each year.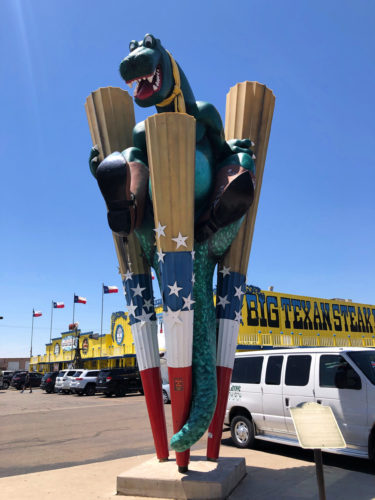 72 OZ Steak
Want to earn your meal for free? The 72 oz challenge might be the route for you. We didn't actually see anyone trying it while we were there, but it's a thing. Really. The rules are you eat a shrimp cocktail, backed potato, roll with butter, salad and a 72 oz steak within one hour. If you can't eat it all in that hour, you have to pay the $72 for the meal. You are welcome to take the leftovers home with you. If you think this sounds like something you want to do, read the rest of the rules to be prepared.
The show Man vs Food, from The Travel Channel, featured this challenge on their debut show. The host, Adam Richman, completed the challenge in 29 minutes!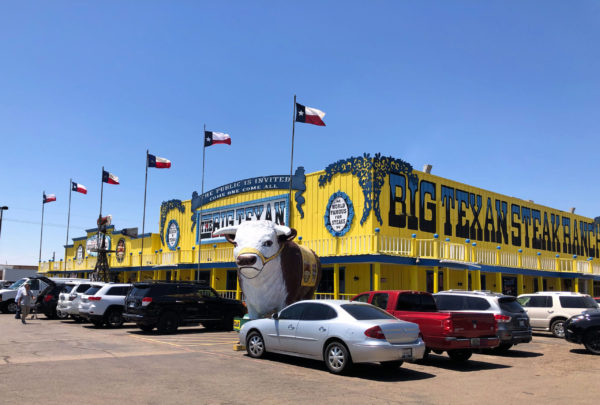 Take a Walk
When you arrive, check in and then walk around and check things out, both inside and outside. There are some fun things to see. Don't forget the arcade for some gaming fun.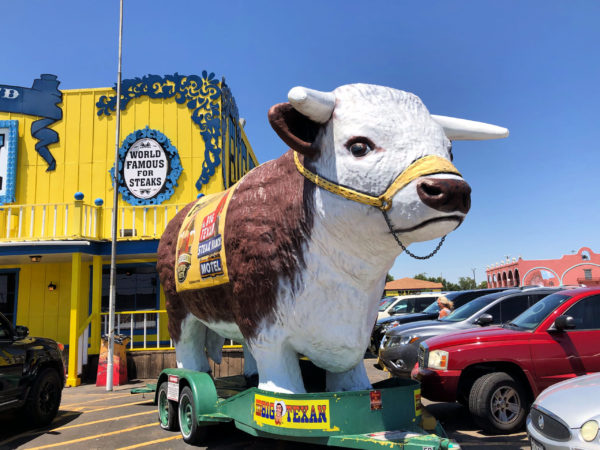 The facade of the buildings are really bright and cheery. There are also some fun statues around the grounds.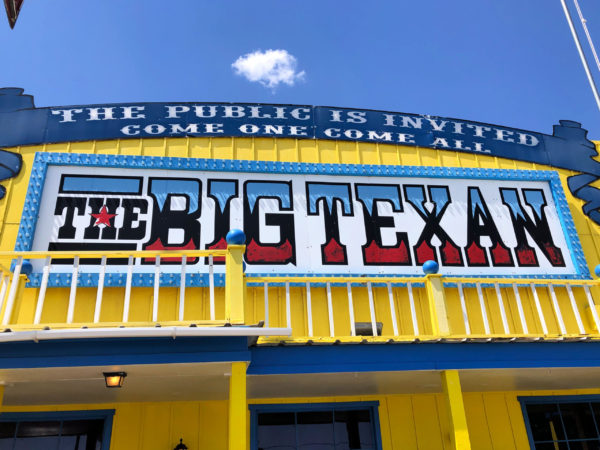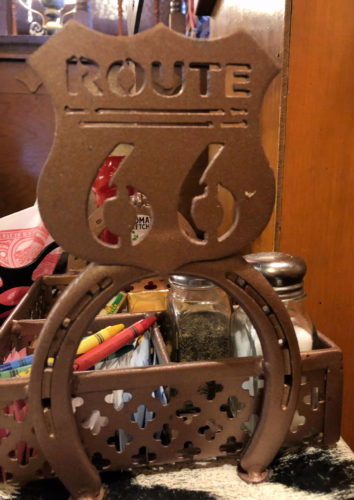 Decor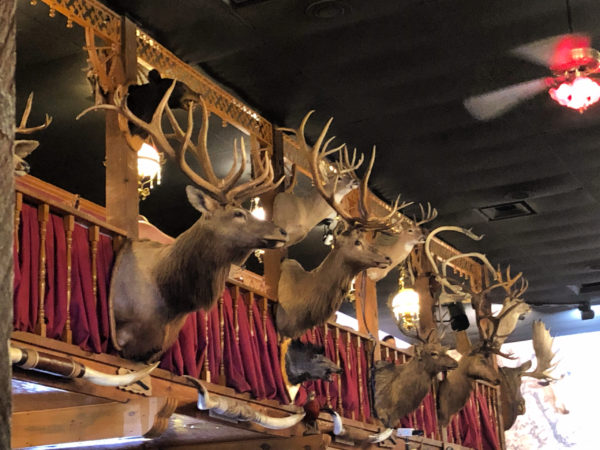 Inside the restaurant, you will find a lot of people sitting everywhere and it's honestly a little loud. There is also usually some sort of music being played. In true western form, look up for a peak at the animals hanging on the wall. There are lots of them.
We stopped for lunch as we were driving by and our wait was about 30 minutes.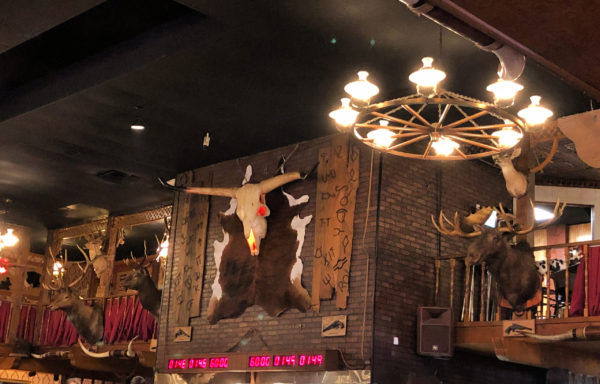 Food
We obviously stopped for the food. Here is my opinion. It was fine. Not amazing, but fine. I think The Big Texan is a place you stop for the experience. There was a good menu, with plenty of choices and the prices aren't bad. Also, I have a gluten allergy, and was able to find something to eat with no problem. Our waiter wasn't awesome and got part of my meal incorrect, but it was still gluten free, so I ate it. My daughter had the same opinion about her food.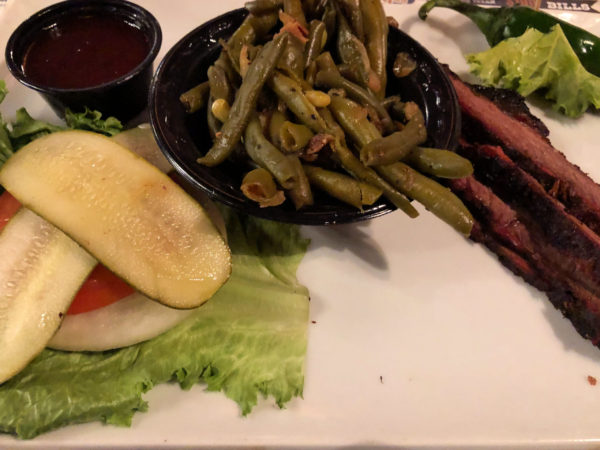 If I were driving by again, unless I was with someone who wanted to stop, I wouldn't stop again. I'm happy for the experience once though. So, give it a try and just enjoy the experience. Let me know if you try that 72 oz challenge. Do you think you could eat all 72 oz? I know for sure I can't. 6 oz is about my maximum. Be sure to visit Cuervo, New Mexico to walk some of that food off.