My Top 10 Favorite Restaurants in Martinique
While we lived for a year in Martinique, we were able to try a lot of different restaurants. To be honest, we didn't actually eat out all that often. Martinique is a pretty expensive place to eat and I enjoy cooking, so I cook almost everything we eat. However, a year is a fantastic amount of time to fit in quite a few restaurants. These are my top 10 favorite restaurants in Martinique.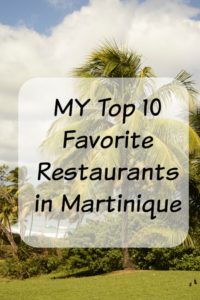 Food is an important part of most vacations. I know that we like to experience the local cuisine when we visit other states and countries. We are fortunate in that since my husband's job moves us all over the world, sometimes for long periods of time, we are able to sample a lot of the local restaurants when we are on living in different places.
We tried a lot of other restaurants over the year, but these were the ones we liked the best. Others we really hated. I remember sending a text to my dad and step-mom telling them that we tried another restaurant we wouldn't be taking them to when they visited. That was a 60 Euro bad meal. However, I also remember sending a couple telling them we found a good place.
Some words of instruction on restaurants in Martinique. Most restaurants are open from noon until about 2:00 for lunch and 7:00 until about 11:00 for dinner, although if you look them up online, the hours will say 1200-2300. Some places won't seat you if you show up within an hour of closing. Plan on at least 2 hours per meal. Also, if you are in Martinique during holiday time, make a reservation because even if the restaurant looks empty, they often won't seat you without the reservation.
Local Flavors
The food in Martinique is sort of a mix of French, Caribbean and Creole. It's an interesting combination. The Columbo spice is used in a whole lot of dishes and it has a very distinct and usually great flavor. They also use a lot of local fruits on their plates or in their desserts. Honestly, that was my favorite part.
MY Favorite Restaurants.
My top 10 favorite restaurants in Martinique are based solely on my own tastes, there is nothing scientific about it. I've included the website or another contact site for each restaurant to help with contacting them.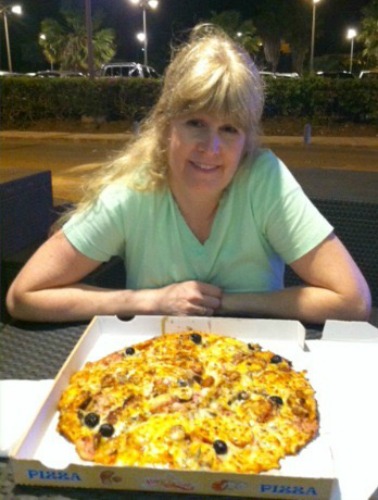 Snack Al Dente (website) – This is a chain, so there is more than one, but the location in Point de Bout is where we went. They serve pizza, pasta, salads, paninis and desserts. They are one of the less expensive places that we tried and we ate there about once a month.
The Crew (website)– Fort de France – This is a really neat restaurant, which looks like a ship inside. I ate here three or four times, for lunch and enjoyed it each time. They have some really great salads.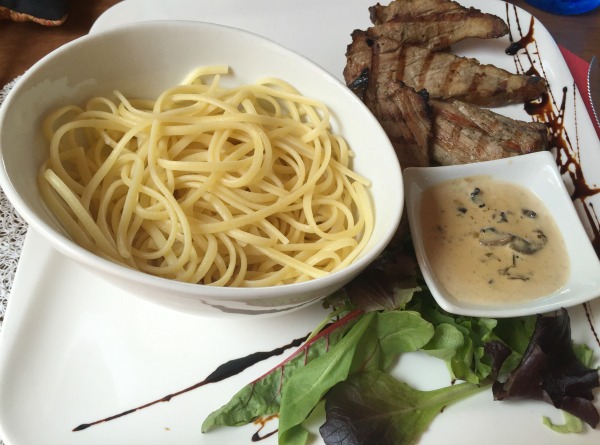 Le Black Pearl (website)– Fort de France – The first time I went here, I didn't actually like what I got. However, I gave it another chance and really loved it that time. I had the pork medallions Our friends loved the hamburgers. It's right downtown, across the street from the ferries and cruise ships. It is pirate themed, with some drawings I recognized from The Pirates of the Caribbean movie.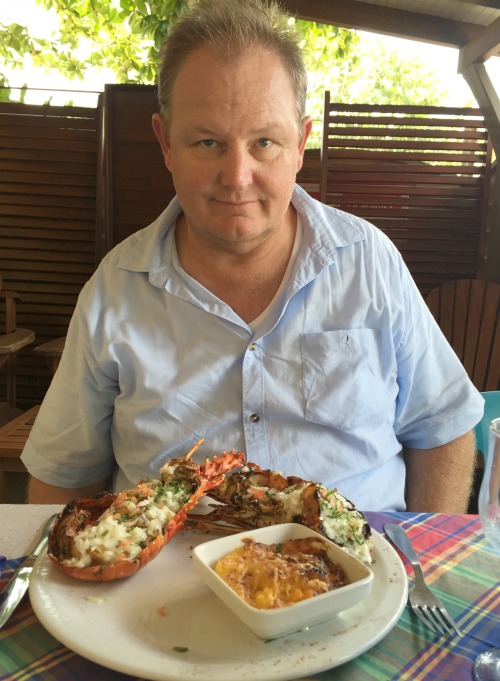 Pignon Nouvelle Vague (website)– Trois I'lets Anse a l'ane – This restaurant is right on the beach and everything we ate there was really great. It is primarily seafood, but there are other choices for non-seafood eaters, like me. My husband ate his first lobster on the island here and enjoyed it very much. They also have a huge seafood platter that is perfect to share. (My husband looks a little Jack Nicholson in One Flew Over the Cuckoo's Nest in this picture. We had been at the beach all morning and just stumbled on this restaurant for lunch. We were happy we did.)
More Favorites
Lili's Beach Bar (website)– Schoelcher, Fort de France – What a great location for a restaurant, right on the beach, as in the ground is the sand. The food is very good and the service, while slow, is good. We enjoyed it the times we have been very much. It is located at the l'hotel Bateliere. It's a great place to meet friends and sometimes they have live music.
Kokoarum (website)- Le Marin – What a treat it was when we found this restaurant. It is located on the marina in Le Marin. We had been in Martinique about six months and I hadn't found a burger I loved in all that time. Kokoarum has amazing burgers that we all loved. I don't eat a lot of burgers, but every once in a while, a burger is what I want. The service was good and friendly. They also have free wifi.
Hippopotamus (website)– Le Lamentin at La Galleria – Hippopotaumus is more on the expensive side and you never want to go there if you are in a hurry. They are very slow. Having said that, all of the food we ate was excellent and the servicers are fairly attentive. The chocolate mousse is excellent. Seriously, save some room.
Even More Favorites
Pineapple (website)– Village de la Poterie, Trois I'lets – My daughter and I went to this restaurant because the restaurant we wanted to go to was closed. We were pleasantly surprised. They have a good assortment of salads and juices, in addition to other things. This is another great place for a burger. It is located right on the water, so the view is lovely too.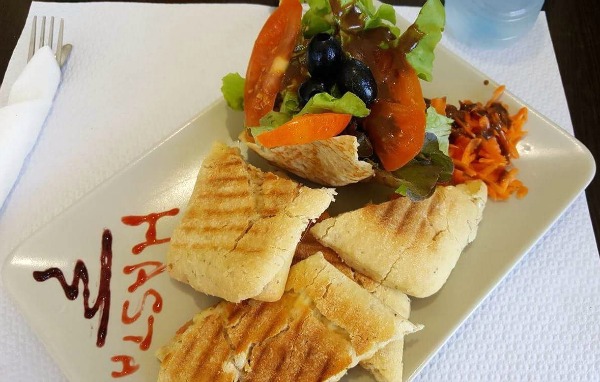 Hasta La Pizza (website) – Fort de France – Located across the street from the tourist information booth, this is the perfect place to take a break from exploring. They offer pizza, salads and paninis. I actually had my first Panini ever here and it was really good. It's a great lunch spot and one of the less expensive places we ate on the island.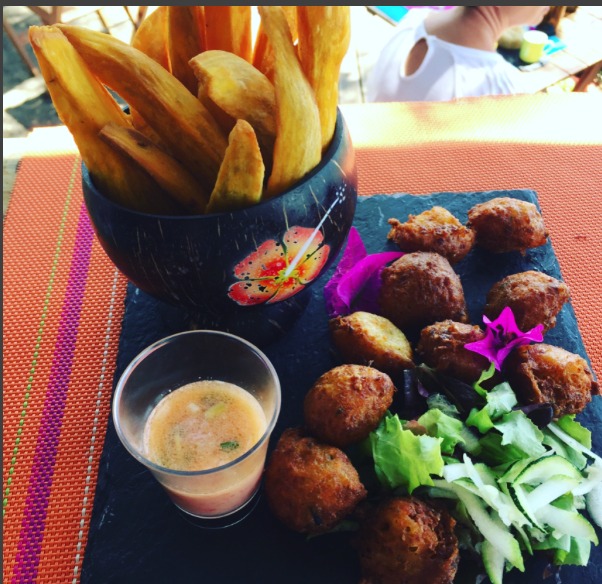 Otantik (website)– Saint Anne – A tiny restaurant on the side of the road, but also on the water, Otantik serves Caribbean food, with vegetarian and vegan options. It was really quite good and I'm glad for the lunch we enjoyed here. Try the acuras, in different flavors. Our lunchmate was a rooster that walked around cleaning up the floor and begging for food, kind of like a dog. He was perfectly friendly though.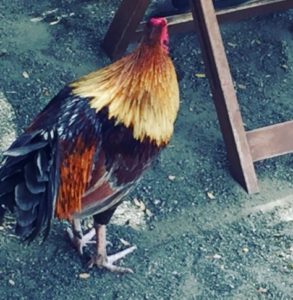 Bonus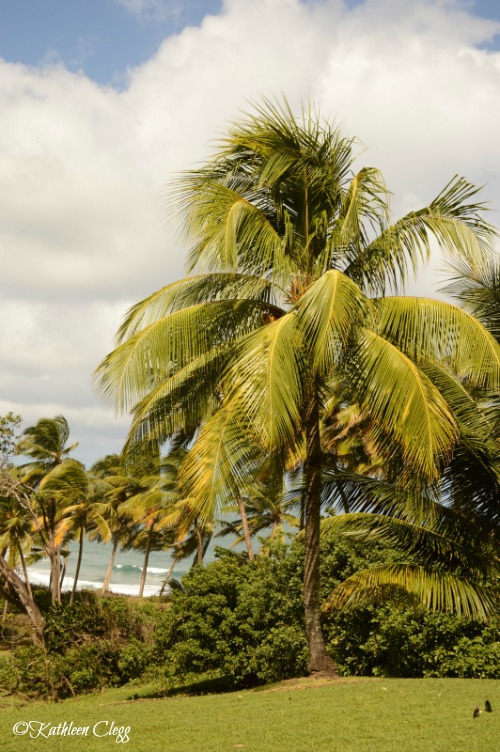 Le Point de Vue (website)– Saint Marie – If you're traveling on the Atlantic side of the island, which I highly recommend, stop in at Le Point de Vue for lunch. It is only open from 11:45-2:45, so keep this in mind. It sits just off of the ocean, which you can hear as you eat your lunch. However, there are trees blocking most of the view, which is odd to me, but probably helps with the wind. We all enjoyed our food and their Passion Fruit Panna Cotta was amazing.
Where Will You Pick
I find that even when I'm eating foods I usually eat while traveling, like pizza or burgers, different places put their own spin on them.  They almost never taste the way I expect them to taste. Usually that is really a fun thing, but sometimes not so much. I'm not the bravest eater, but I do enjoy trying new things on occasion. Try some of my top 10 favorite restaurants in Martinique.  Do you enjoy trying new types of restaurants when you travel? Do you like trying the local cuisine or do you stick to your regular foods?
Want to read more articles on Martinique? Here are my Top 6 Snorkeling Beaches in Martinique!
SaveSave