Memphis, Tennessee is celebrated for three things, barbecue, civil rights and music. We took a trip to the Memphis Music Hall of Fame to explore Memphis music history and learned quite a lot about the musicians who got their start in Memphis.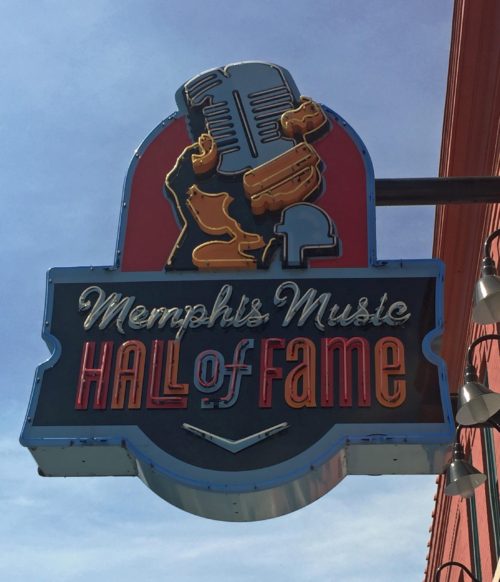 Memphis Musicians
There are actually quite a few musicians who got their start in Memphis. I didn't realize all who did. Very interesting.  I took loads of photos while we were there. I can't share them all here, but here are some, along with a little information to whet your whistle and make you want to visit too.
ZZ Top
The first thing you see when you start to explore Memphis music history are these drumsticks from Frank Beard of ZZ Top. I love ZZ Top.
When I was a teen they came to the city I lived, Albuquerque, New Mexico. I was so excited, saved my lunch money and bought a ticket to see them. On the day of the concert, it snowed so bad, something that was really unusual for Albuquerque. I didn't know how to drive in the snow and I got in an accident on the way to the concert and missed it. I was so sad. All those missed lunches for nothing. No one got hurt, but it took awhile to get on the road again. So sad.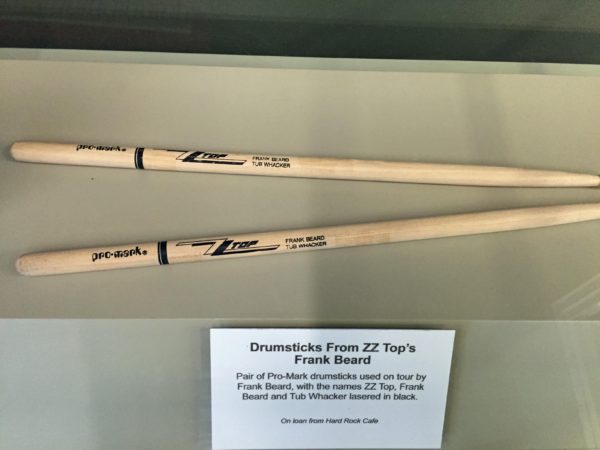 Isaac Hayes
Isaac Hayes was a "style pioneer in a class all his own" according to Variety magazine. Looking at these outfits, I'd have to say he did break some ground in the fashion area.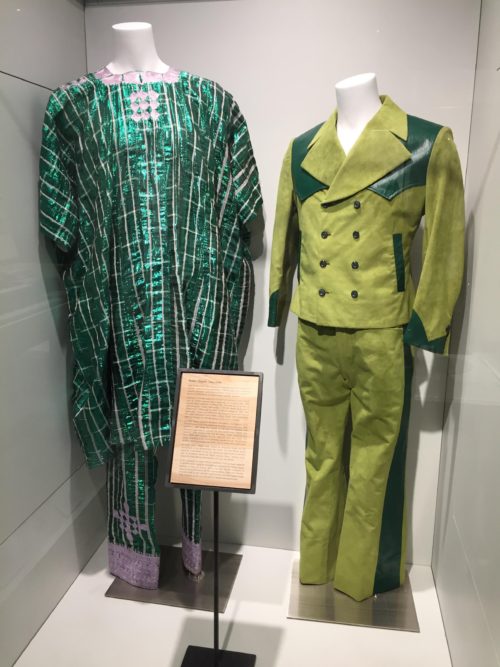 This piano was used by Isaac Hayes and the record on the bottom right is the test pressing of the "Theme From Shaft", with a hand-typed label that reads, "26 July '71". The song was released that September. If you don't know that song, you can listen to it on YouTube.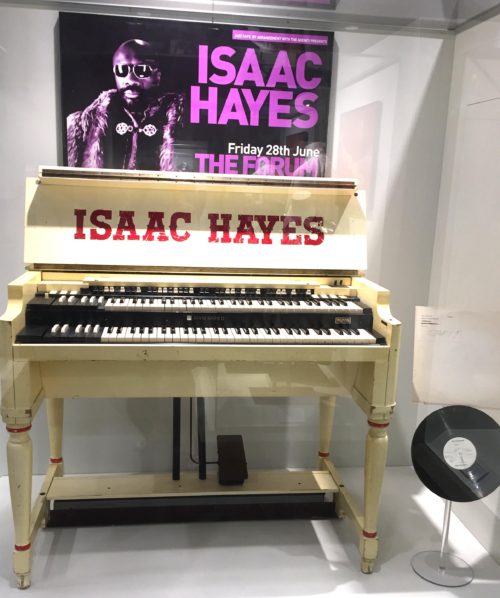 BB King
This guitar is BB King's. He was born in Mississippi, like Elvis. When he was 22 years old, he hitchhiked to Memphis to pursue a music career. It worked and he is known as the King of the Blues. In downtown Memphis, on Beale Street, there is a BB King restaurant and a trinket shop.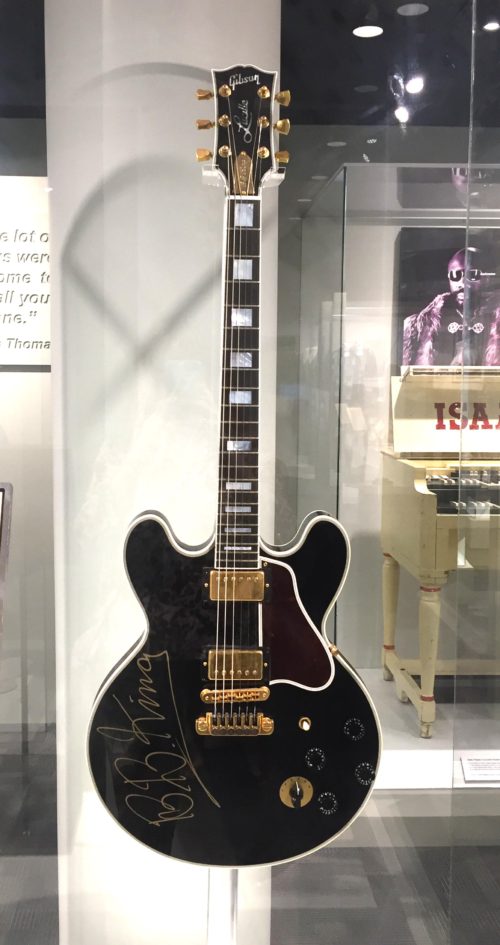 Justin Timberlake
For those of you who are younger, did you know that Justin Timberlake was born and raised in Memphis, Tennessee? It's a true story. They are pretty proud of him here. This is his Tom Ford tuxedo, which he wore during the American leg of his 20/20 tour. I didn't see the tour, but some of you might have.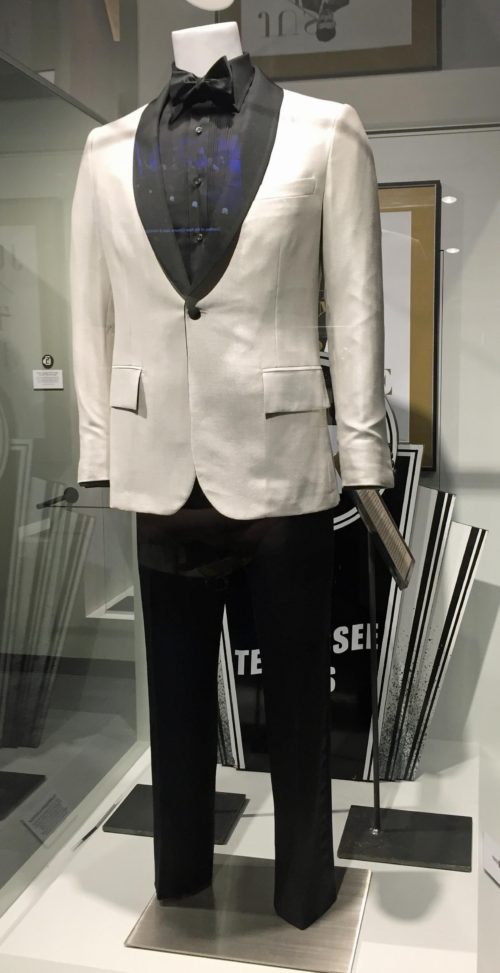 Jerry Lee Lewis
Do you know who Jerry Lee Lewis, rock's original bad boy, is? Want to see his car? Here is half of it. It's a custom 1983 Cadillac El Ballero. The other half of this car is on Beale Street at Jerry Lee Lewis's Cafe & Honkey Tonk.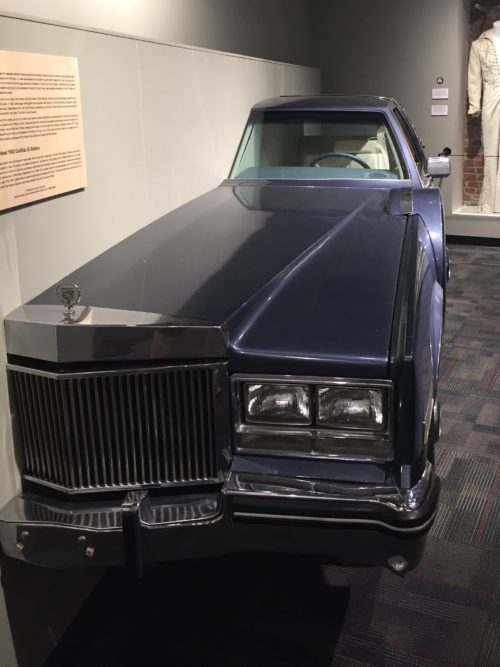 Johnny Cash
The Man in Black moved to Memphis is 1954 where he sold appliances while he studied to be a radio announcer. He recorded his first record at Sun Records in 1955, "Hey Porter" and "Cry, Cry, Cry" and continued to record from Sun Records until 1958, when he left for Columbia records.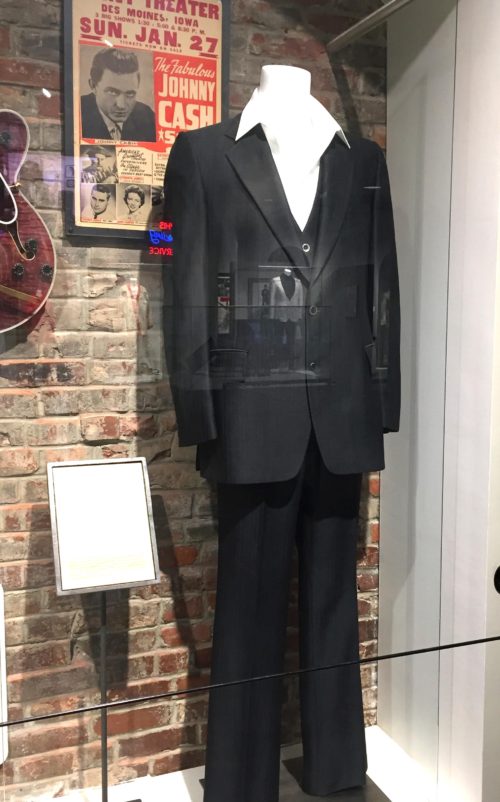 Elvis Presley
There is quite a bit of memorabilia from Elvis to see when you explore Memphis music history. Elvis was born in Tupelo, Mississippi in a tiny house in 1935. I took my kids there one time and he comes from very humble beginnings. He moved to Memphis with his family when he was 13 years old.
In 1954, he began his music career at Sun Records and recorded the first rock and roll record, which changed the music world. I read some thoughts of other musicians, like Frank Sinatra and they weren't very nice. Elvis is known as the King of Rock and Roll, although he also sang beautiful gospel music. Elvis also starred in a lot of movies and served in the U.S. Army.
This display kind of cracked me up. It's the first mobile phone and was for Elvis Presley! This one is from about 1968 and came with an attachable antenna. Want to carry one of these around?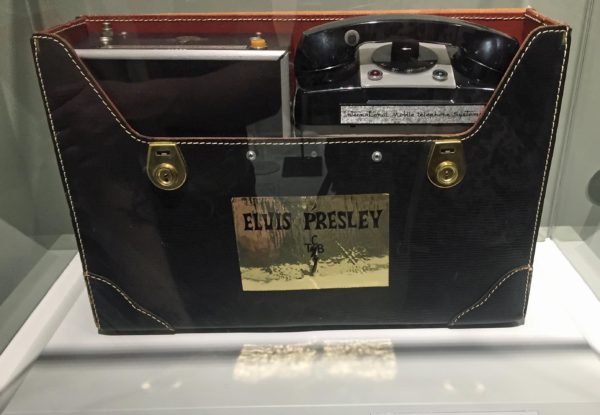 This is one of Elvis's many outfits in the museum. I really don't love it, but he must have. I think I'm not flashy enough for things like this.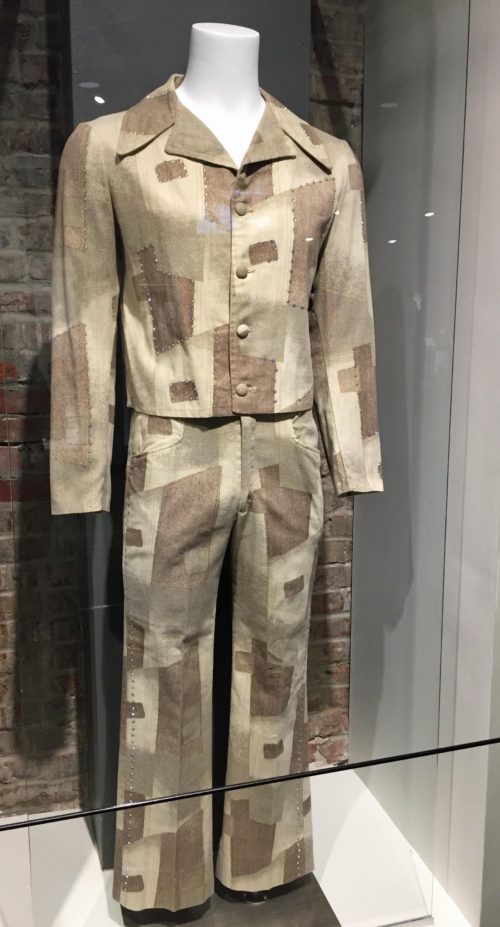 This is a jump suit that Elvis performed in and is actually one of them more simple jumpsuits.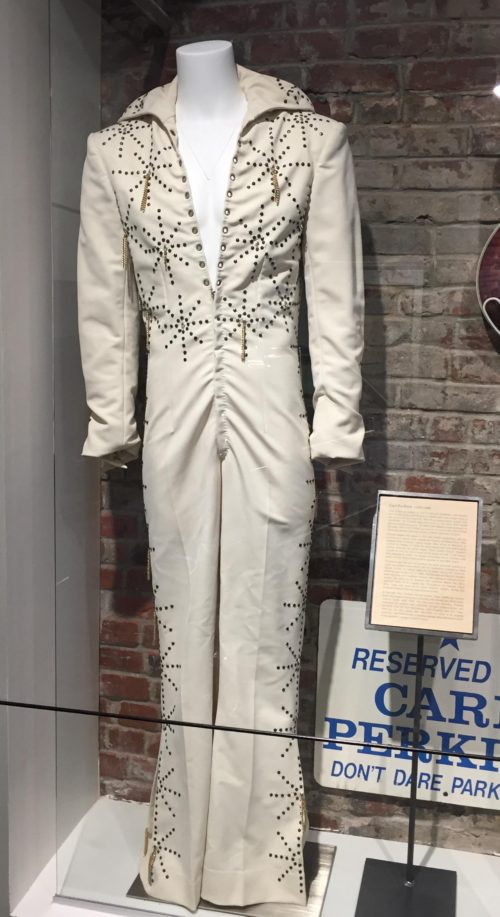 Lasky Bros
Next door to the Memphis Music Hall of Fame is Lasky Bros. clothing shop. It's known as the "Clothier to the King" and where Elvis did indeed have is clothes made. Johnny Cash's black suit above was also made at Lasky's.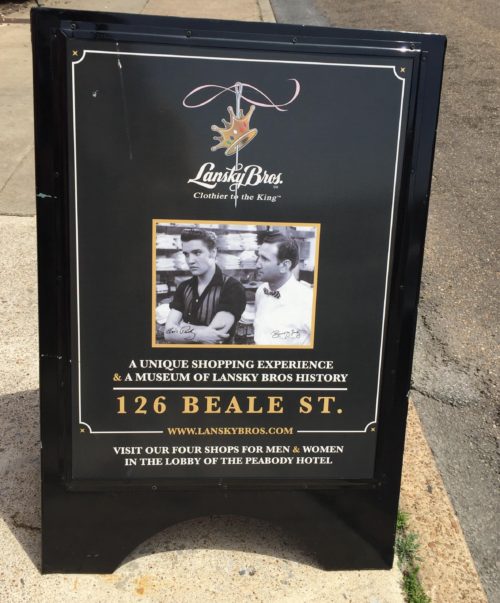 Elvis had a black leather jacket from Lasky Bros and they currently sell replicas for sale. My cute daughter, who looks good in literally everything she puts on, tried one on. She's a cutie and lots of fun to explore with when we travel.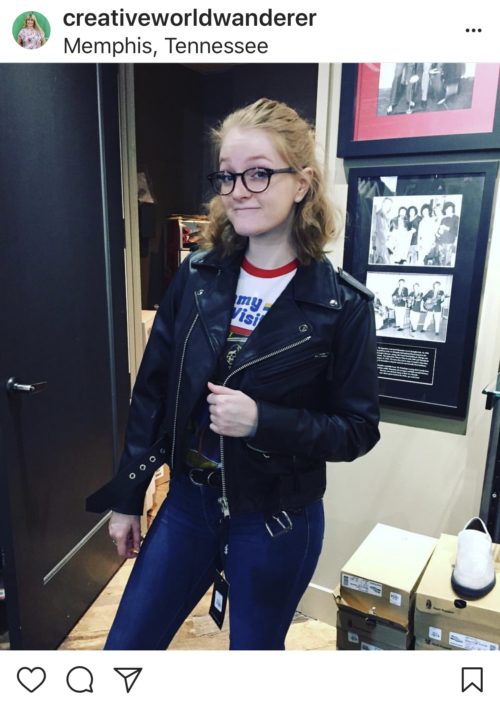 This is Elvis in his jacket. It looks like he's singing a song to me. Don't you think?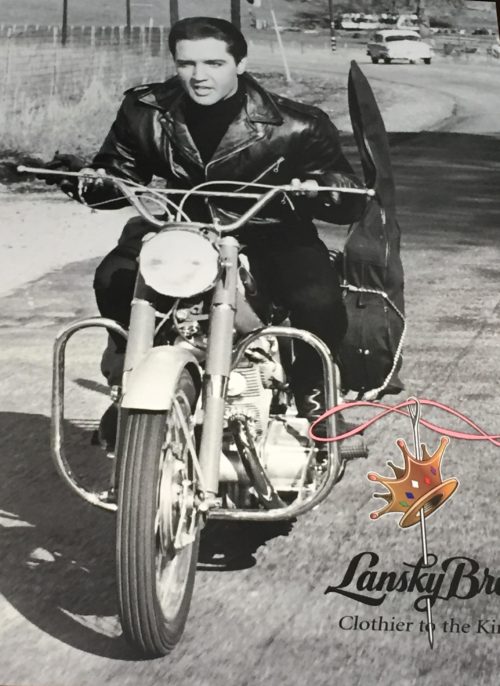 Visiting the Memphis Music Hall of Fame takes about an hour and is located right downtown, next to the Hard Rock Cafe.
There is so much music history to explore in Memphis. Our next stops are Sun Records and of course, Graceland. Are you a big music fan? If so, you many need to add Memphis to your bucket list.
PIN FOR LATER OR TO SHARE PLEASE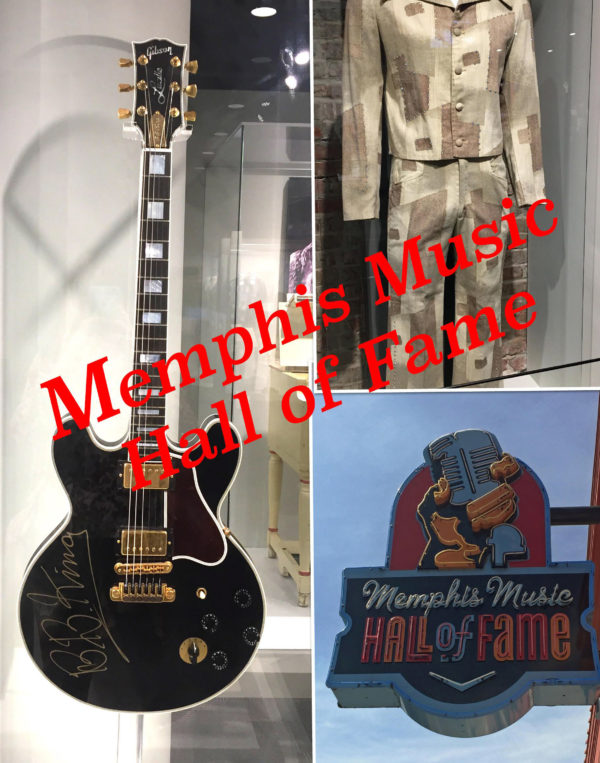 Want to know more about Memphis, Tennessee? Check out these posts.