Historic Route 66 is full of fun things to draw your attention and imagination. When driving into Catoosa, Oklahoma on Route 66, you won't be able to miss The Blue Whale! When you see it, be sure to stop and look around.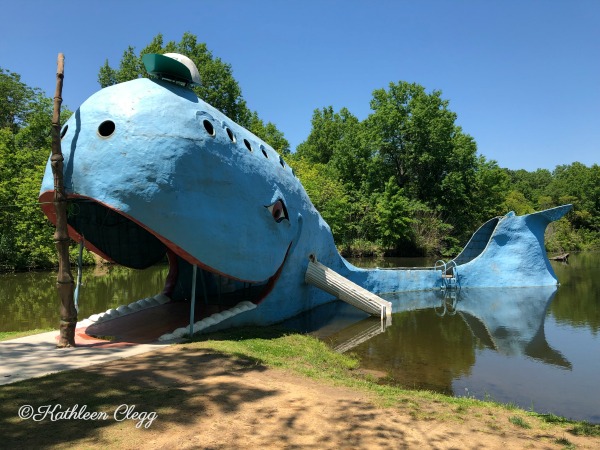 The Blue Whale
History
The Blue Whale on Route 66 was built from 1970 to 1972 as the brain child of Hugh Davis and an anniversary gift to his wife, Zelta. He enlisted help from his friend, Harold Thomas, on welding the frame of the whale. Hugh himself hand mixed the cement that would later be painted blue.
When the blue whale was complete, he opened the grounds to people six days a week, from 11 until dark, to swim and play to their heart's content. In 1988, due to declining health, Hugh closed it down to the public. He died two years later.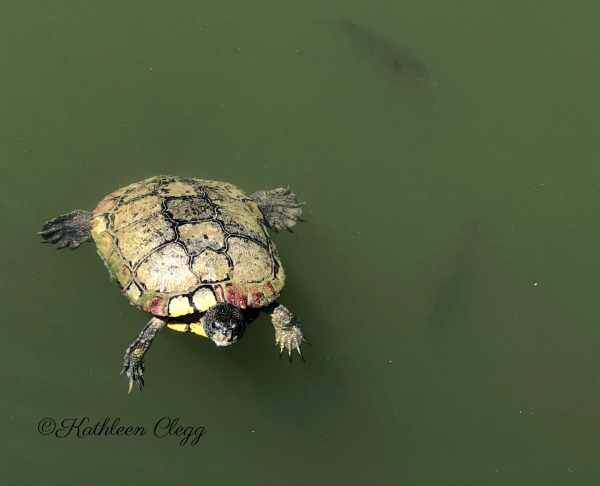 In 1997, the Catoosa Chamber of Commerce began refurbishing The Blue Whale and when Zelta died, in 2001, it was left to her daughter, Dee Dee. It is now open to the public and free of charge. Yay!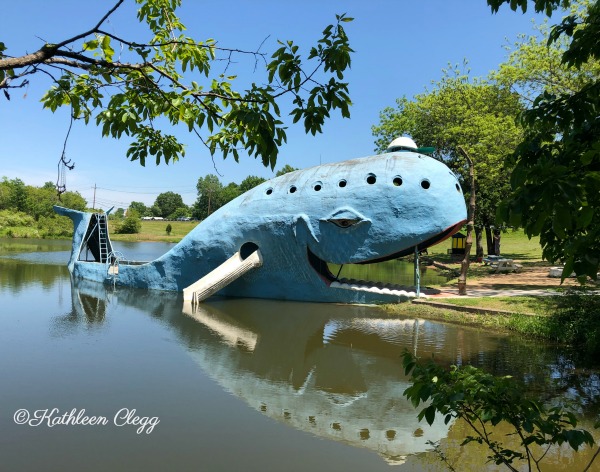 What to do at the Blue Whale
When you arrive at The Blue Whale, you may think you can take 5 minutes and move on. I think you should give yourself a little more time.
At the whale itself, you can climb to the top of the tail and also inside the head of the whale.
After you've looked through the whale, take a few fun photos for your memories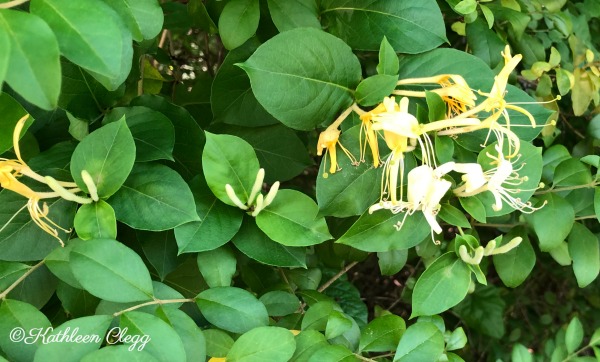 If you've planned ahead, you can have a picnic and have lunch at one of the picnic tables.
Do a little fishing in the pond. Catch and release only.
Stand on the whale and watch for turtles. There were quite a few of them.
After lunch, take a short hike on the trails to settle your food. The trails are easy enough for kids.
See if you can find some honeysuckle and show your kids how to suck the sweetness out of the flower.
Stop in at the gift shop and see the souvenirs. The person that works there will tell you lots of stories about the place and the family.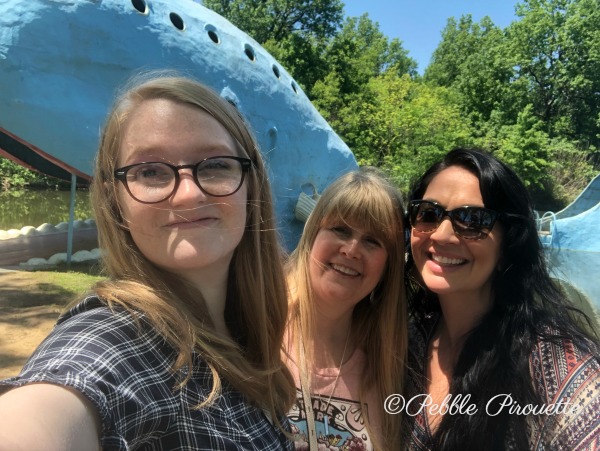 The Blue Whale isn't an all day excursion, but we had fun there and if you're driving on Route 66, it's a great place to stop. They even have bathrooms, so you can take care of everything in one place.
We actually went out of our way to see The Blue Whale and I'm glad that we did. Our little trip was a lot of fun. If you're looking for other fun things to do in Oklahoma, visit my Oklahoma page. There's sure to be something that strikes your interest. I'm still adding to it too. Have you seen anything like this in your travels?