It was February and so very cold and dry in Idaho. Stepping out of the airport into the warm, humid air and beautiful palm trees was the reward for all of the long hours of work and cold. Ah, Mexico; you captured my heart.
We have visited Mexico three times over the course of six or seven years, always in February.  The first two times we stayed in All-Inclusive Resorts in Playa del Carmen, which was great for us, although I wish they had a non-alcohol option to save us some money.  The third year, we stayed on the island of Cozumel, which we loved. This post will briefly cover the first two visits and go more in depth with the last visit, covering 11 must see attractions in Cozumel Mexico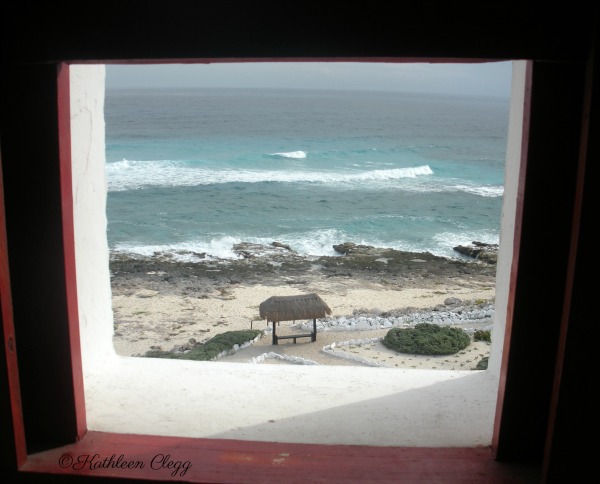 Year One
Our first trip to Mexico was one of those package deals, where you get the plane ticket and stay in the all-inclusive resort, for us, Riu Playacar in Playa del Carmen. We bought the package on a whim, on an incredibly cold Idaho day. The best whim ever!
The hotel was bright and cheery, the food was good and it was right on the beach, with plenty of activities for us to enjoy. I looked it up recently and it looks like it has been renovated or redecorated, but it's still lovely.
One of our activities for this trip was to visit Chichen Itza Mayan Ruins, which was such an impressive place. We were some of the last people to climb the Kukulcán pyramid and see the Chac Mool statue before they closed it to people climbing up. If you visit the area, I highly recommend it.
Our favorite thing we did on this trip was to take the ferry to Cozumel and visit Chankanaab Natural Park. More on the park later, but we loved it. Of course, we had lots of beach time too. Yay!
Year Two
Our second visit, we stayed at a hotel that I believe has either closed or been bought out. Too bad because it was a nice place, but not on the beach and it had less options.  We visited Tulum Ruins and Xel-Ha, which is a water park type of place. We enjoyed both places a lot. Since we enjoyed Chankanaab so much, we visited there again too.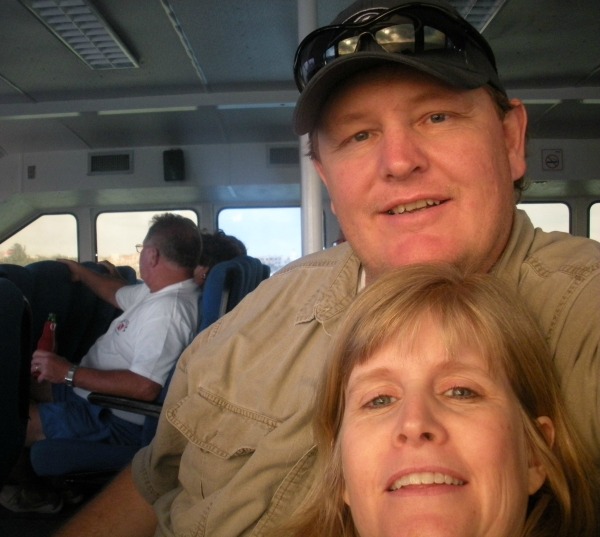 11 Must See Attractions in Cozumel Mexico
Since we loved Chankanaab Natural Park so much the first two times we visited Mexico, we decided to stay on Cozumel for our next trip.  A great decision for sure. We flew into Cancun, got a taxi to the port in Playa del Carmen and rode the ferry to Cozumel.  You can fly right into Cozumel, which we will do if we go again, because that ferry ride made me really sick.  That's me above, trying not to puke.
Must See Historical Sites
Chankanaab Natural Park
This is my favorite place to play and explore, that I've been to, in Mexico. The snorkeling is really great, with underwater statues and clear water. There is also a place roped off with shallow water for kids to play.  Be aware of strings hanging out of your swimming suit. A fish got ahold of the string on my husband's suit and pulled him around in the water before he got away. My husband is not a small man, so they are strong.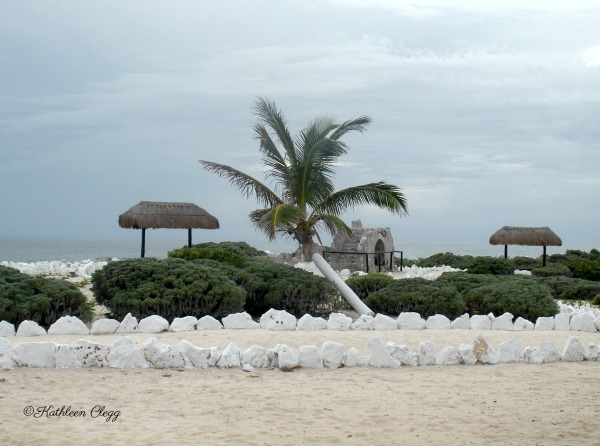 There are ruins at the park, so make sure to plan in some non-water time to walk around and explore. When we went one time, there was a lady cooking what she said was authentic Mayan food for the visitors to taste. I don't know what it was, but it was pretty tasty.
Chankanaab has locker rooms, places to eat, and snorkel equipment for rent. You can also swim with dolphin, go on a zipline or go to a seal lion show, although we haven't done any of these things.
Be sure to bring reef friendly sunscreen. You don't want to buy it there and you really need it.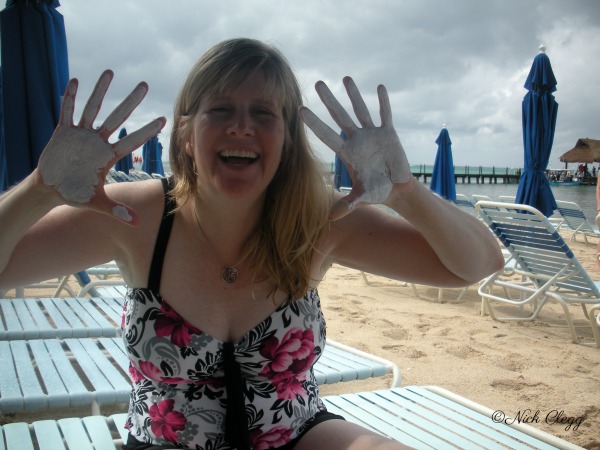 Rent a Car
Rent a car for the day and drive around the island. Spend time at these next two places.
Faro Celarain Lighthouse
On the south end of the island, sits the Faro Celarain Lighthouse. You can climb the stairs up to get amazing views of the beach and sea. For your information, it's 141 steps up.  My husband is a numbers guy, so he counted.  It's away from the town, so you won't have views of the town, but the sea views are so fantastic.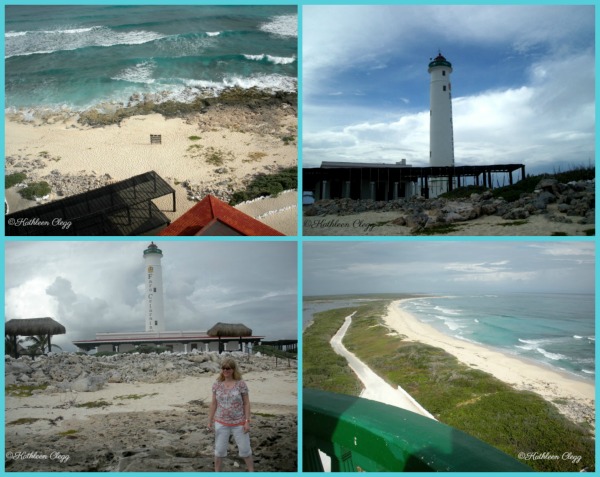 Walk around the beach when you come down.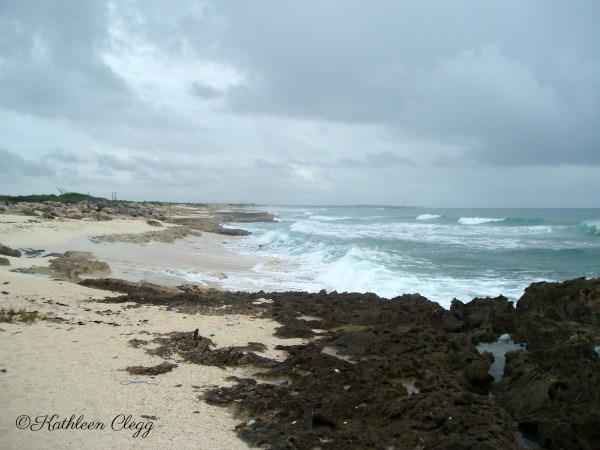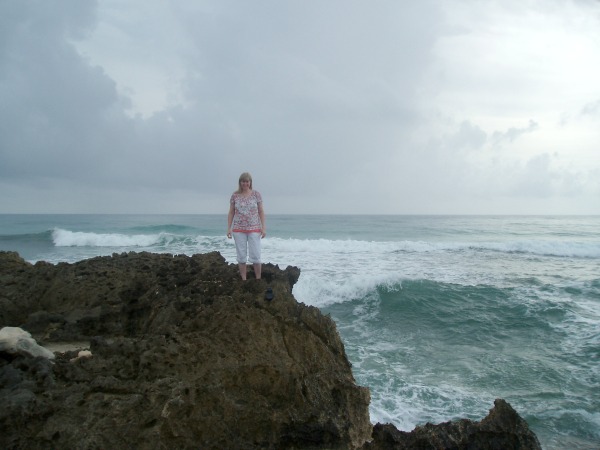 San Gervasio Zona Arqueologica Mayan Site
We did not know this site existed before we drove up on it, but it was a happy find.  Both of us really enjoy exploring the Mayan sites.
From their website, "This archaeological set has been considered the center of pilgrimages where the Mayan worshiped the Goddess "Ixchel". Besides being a Mayan sacred center it was a strategic site for commerce and the politic development of the area."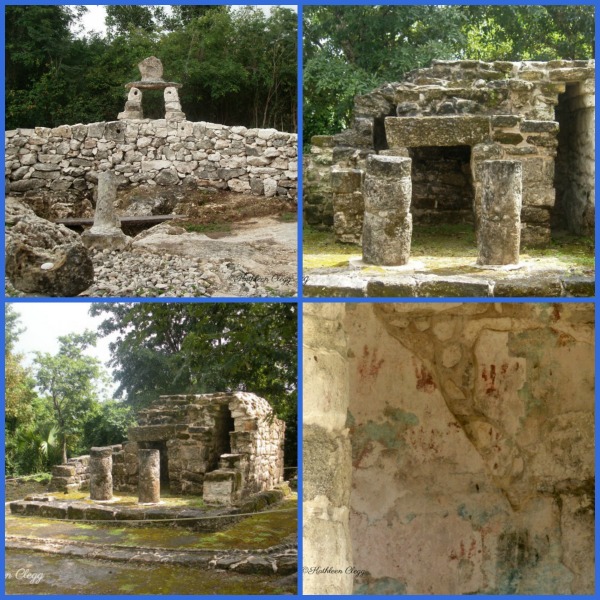 Do you see the tiny hands, "Manitas", imprints on the walls of this lower right photo? I thought they were very cool.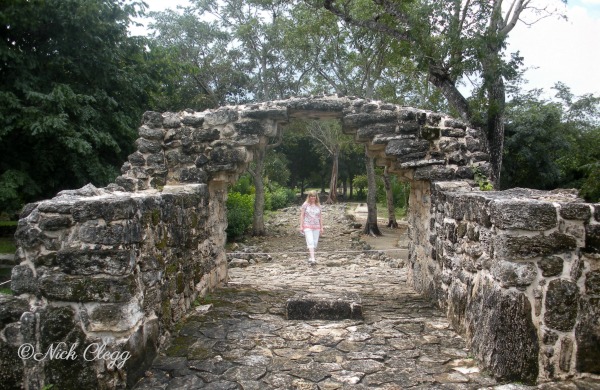 Can you see the lizard?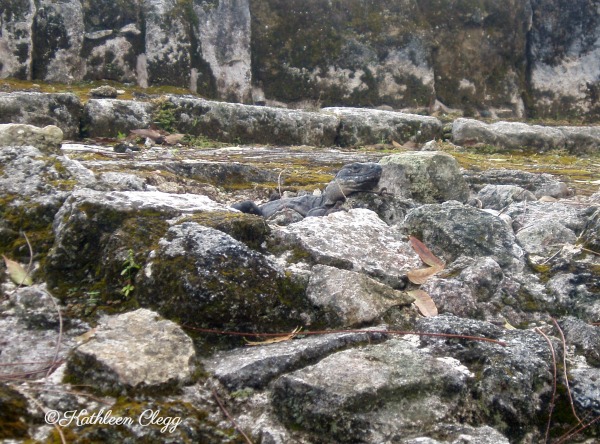 Must See Water
Go Deep Sea Fishing
My husband loves to go deep sea fishing and I sometimes go along.  There are several places on the island that will take you out.  We saw this U.S. Coast Guard ship patrolling the waters, but weren't sure why they were there. Any ideas?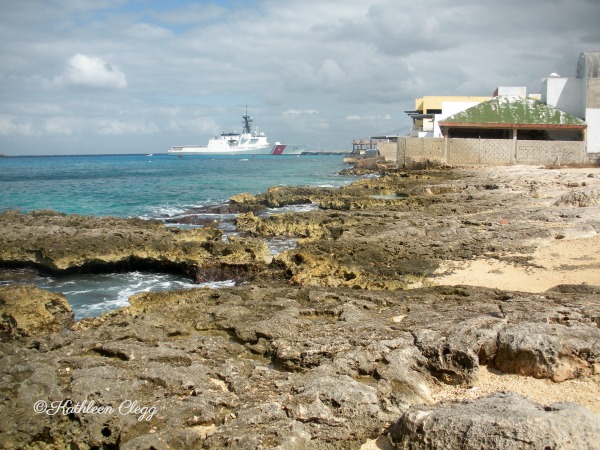 Walk Along the Waterfront and View Statues
This was a fun things to do on a breezy afternoon, although, it was warm because it's Mexico. Don't forget your sunscreen.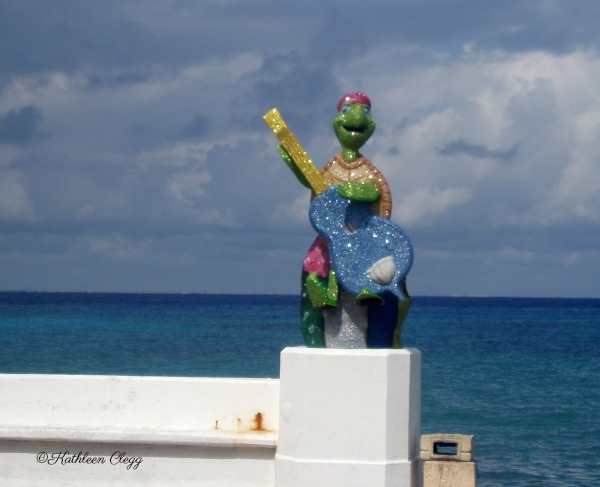 Keep your eyes out for lizards! We found this beauty.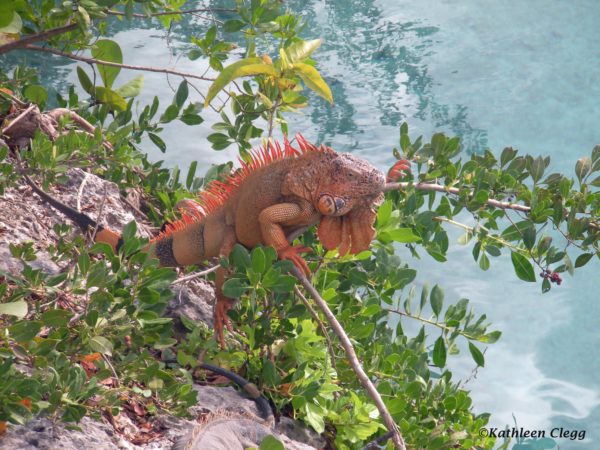 As you're walking around, respectfully explore the cemeteries. They have some pretty neat sites.  If you see a funeral happening, come back later.

Try out SCUBA Diving
We love to snorkel. Serious. Our one and only SCUBA experience happened off the waters of Cozumel. There are plenty of companies on the island who will take you out, beginner or experienced.
Our experience was an explorer experience and it was just my husband and I with 2 instructors, so you would think all would be well.  The water was rough and rolled us around a lot. I panicked. The poor guy held my hand the whole time.  Don't go if the water is rough. I'd love to try again sometime, but I don't know if I will or not.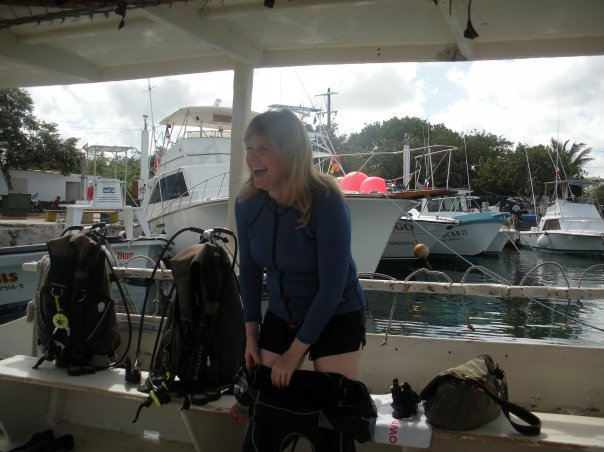 Must See Downtown
Do a little shopping in San Miguel
If you need some trinkets for the poor saps freezing at home, the town of San Miguel, which is the only town on the island, is the place to go. Be sure to barter some and if you have the time, don't shop when there's a cruise ship in port. You will get better deals.
Eat Amazing Food at La Mission
Out of all the places we've been, our very favorite place to eat in the world is little restaurant of La Mission. We found it the first time we went to Cozumel and return every time.  They have this cheese skillet stuff with tortilla chips that is beyond amazing. Everything we've had has been delicious and sometimes they even have a roaming mariachi band that's fun to watch.  You can make reservations online if you want.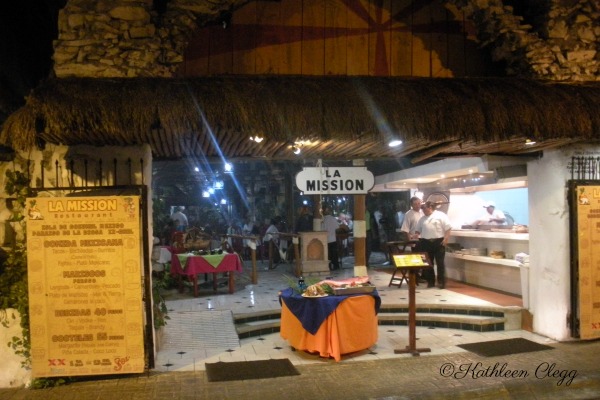 Drink Some Pina Coladas at the Zacalo
In the evening head to the Zacola (Central Park) and have dinner and pina coladas.  We don't drink, so they made us some without alcohol. There are several places to choose from for your enjoyment. Stick around and people watch or just enjoy the night walking around.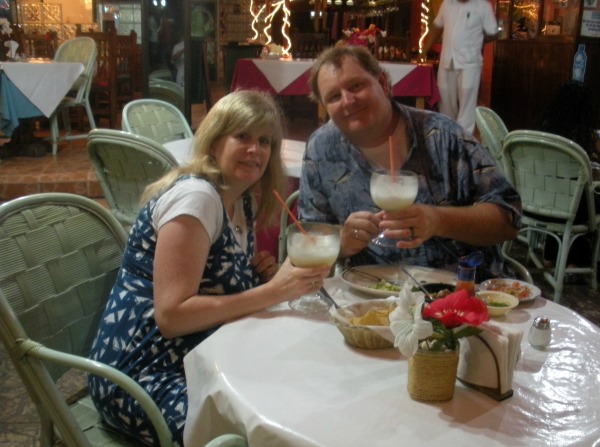 Next Trip
There are some places on Cozumel that are new since we were there last that I want to try out should we go again. I'm pretty sure we will too because writing this has made me want to take a trip back.
Cozumel Pearl Farm
Cozumel Pearl Farm is a family run business where you can snorkel and find pearls. They will provide the boat ride for you to get from San Miguel to their farm.  There is even an overnight experience option. That would be so awesome.
Visit the Kaokao Chocolate Factory
Chocolate is my favorite. Love it! The Kaokao Chocolate Factory Tour takes you through the process of making chocolate, all the way to tasting it. Yay! I will absolutely be visiting here.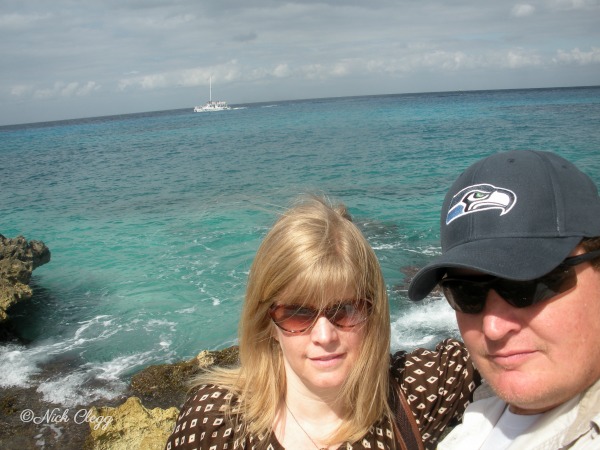 Where to Stay
There are loads of hotels and all-inclusive resorts on the island, however, we went a different route for this trip. We stayed at Casa deja Blue and it was really our first experience staying in a place with a kitchen. It was perfect for us because I don't like eating out every meal. There is a grocery store down the street, within walking distance and even a lady next door who will do your laundry. Perfect.
Casa deja Blue has a separate bedroom, or if you need, two bedrooms, a living room, full kitchen and bathroom. They also have smaller rooms without a kitchen, if that's what you want. It was very clean and comfortable and has a pool as well. Also, the owner, Dennis, was very nice and helpful. I highly recommend it.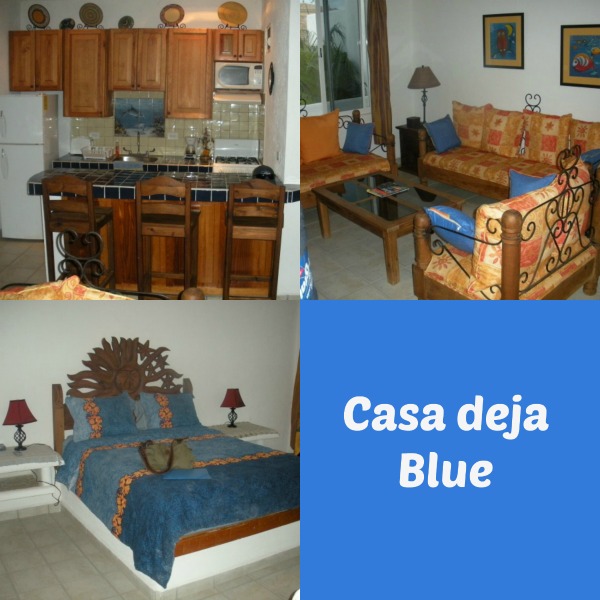 These are my picks for 11 Must See Attractions in Cozumel Mexico.  It's a place I can go back to often. There aren't a lot of places that I want to go back to because there are so many other places I haven't seen yet. This is one of the few. Have you been to Cozumel? If so, what was your favorite thing to do?
Check out this post for a tropical vacation packing list. Not everything is something you would think about.
PIN FOR LATER OR TO SHARE WITH YOUR FRIENDS PLEASE!