Each year we take a trip to Alaska to work on our cabin. It's a working vacation for us and we really love it. This year, I finally convinced my husband to take an Alaska Highway Road Trip to get to our place. I had been wanting to take this trip for a few years, so I was pretty excited.
If you follow me on Instagram, you know we got this cute little puppy just before we left Memphis, Tennessee.  My husband really wanted a puppy and my condition was that if we got one, it would travel with us wherever we go. So, we loaded the pup, our daughter and all of our stuff up in the truck and we were off.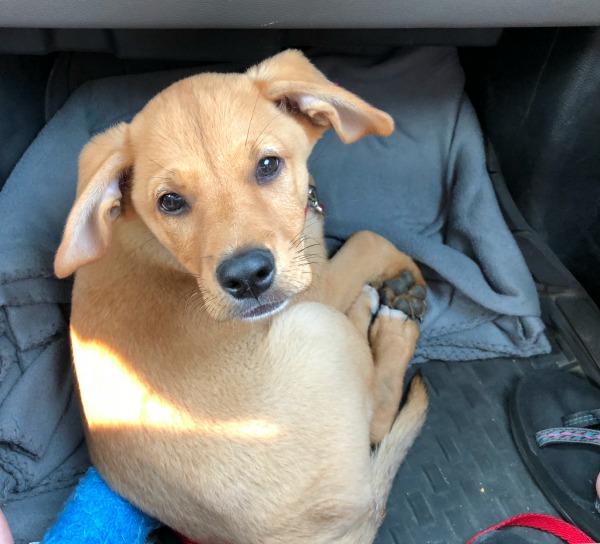 We were pretty packed in the truck because we had things we needed in Alaska, as well as things for our trip. Our plan was to not use hotels along the way, so we needed lots to keep us alive.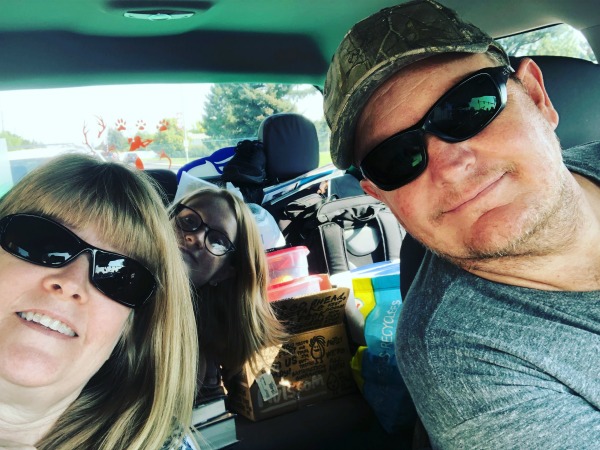 We stopped in Idaho Falls to regroup and gather some things we needed and then we headed north. Our trip took us through Montana and then into Canada at Sweetgrass, Montana.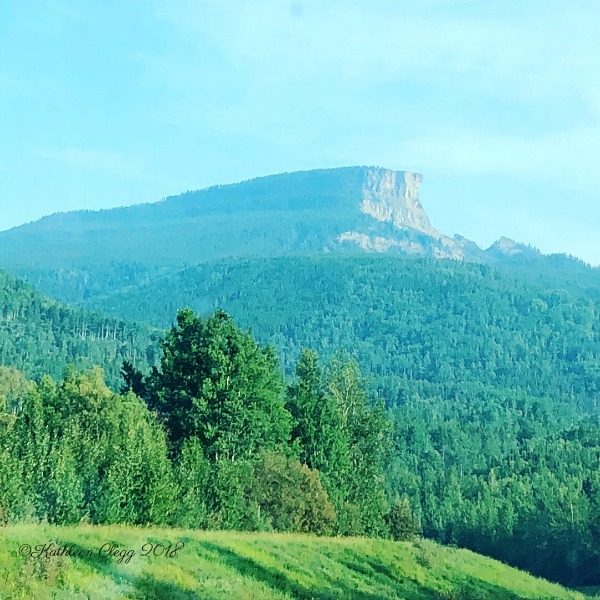 Dawson Creek BC
In all honesty, there wasn't a lot we were interested in photographing until we reached the start of the Alaska Highway. We weren't really sure what we would find when we hit the Alaska Highway, but we were excited just the same!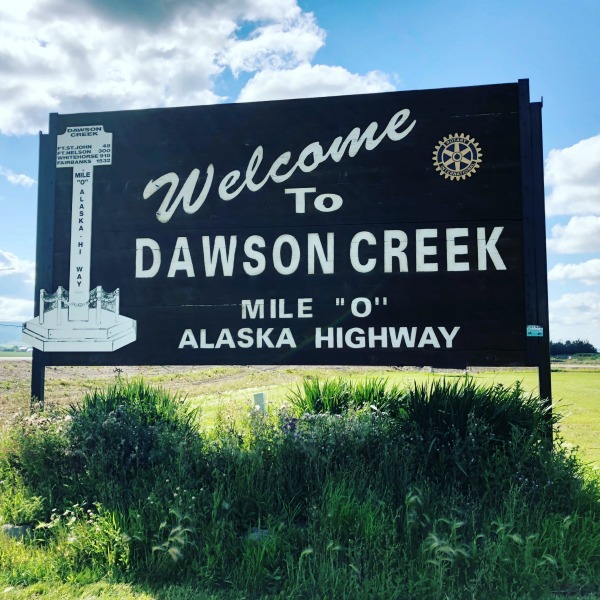 In Dawson Creek, British Columbia, you will find a couple of signs telling you you're entering the Alaska Highway. The adventure is about to start!! I've never seen the show Dawson Creek, but when we got there, I wondered if it was the same place. Anyone know?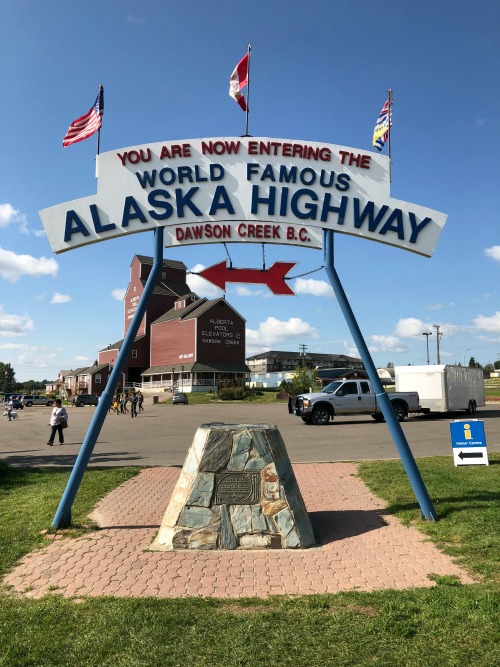 Alaska Highway
As I said, we weren't sure what we would find once we reached the Alaska Highway. We had heard that the roads aren't very good and that there isn't much on them. This is what we encountered most of the way. Much better than we thought, and not much traffic. SCORE!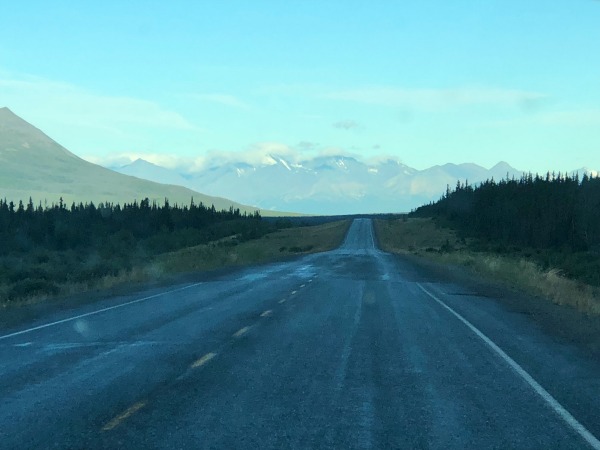 Before we reached the Alaska Highway, we made a list of the animals we wanted to see on our month long adventure. It was a list of 23 animals. We ended up seeing all but 4 over our month. A couple we were surprised about because we had seen them right by our property in the past and didn't this year.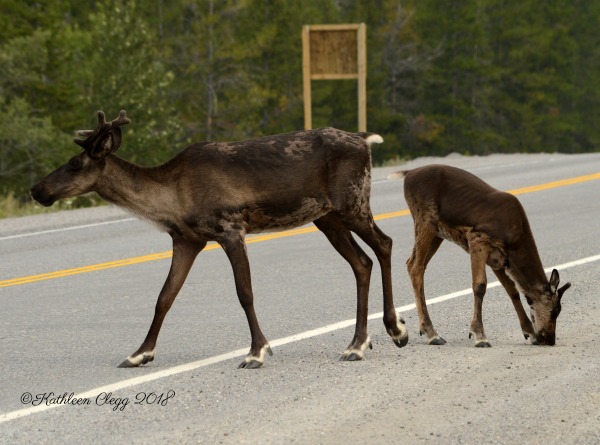 This mom and baby caribou was obviously right in the road. I show you this picture so you see why you should watch for wildlife. Since the road goes through their home and there isn't civilization, they are just out in the open to see.
This stone sheep was spotted on Stone Mountain in Stone Mountain Provincial Park and was just off the road, but up a little bit when I took this picture. She was looking right at me for a maybe two minutes. Such a neat experience.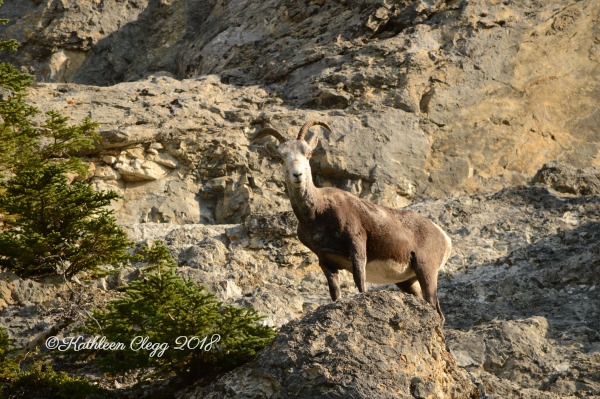 Yukon Territory
The Yukon Territory is more of the same open spaces with the occasional small town in the mix. We spent the night in our truck going to Alaska every night but one.
One fateful night, we stayed in a hotel in Fort Nelson and I won't even tell you the name because it was so bad.  I was given the key to our room and I walked in on someone because they gave me a room someone else already had. That should have been my warning that the hotel would be bad. Sometimes I'm a slow learner though. If you decide to take this trip, shoot me an email and I will tell you the name of it so you don't stay there.
On the plus side, we stay in an RV park one night called Pioneer RV Camp in Whitehorse. That was a great place and I would recommend it.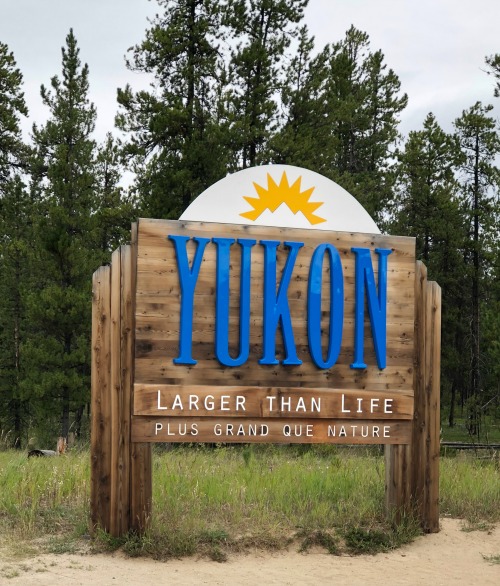 We saw this cute 'little' black bear enjoying some berries. My husband said it's probably about 200 pounds and could kick my behind. I stayed very close to the truck to take the pictures, just in case it came my way. Thankfully, it did not.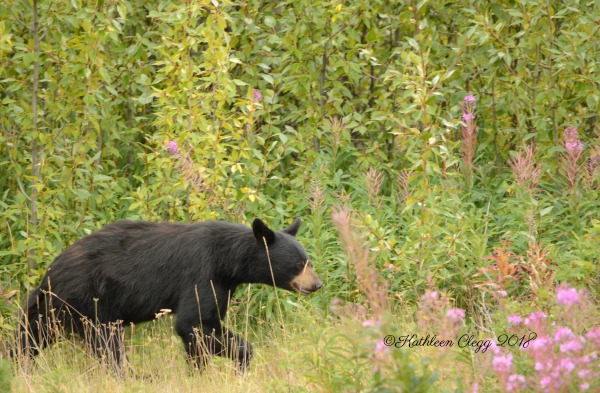 The Alaska Highway follows the south side Kluane Lake and it is a huge lake and so beautiful. There are loads of places to pull off and take some photos, so be sure you snap to your heart's content.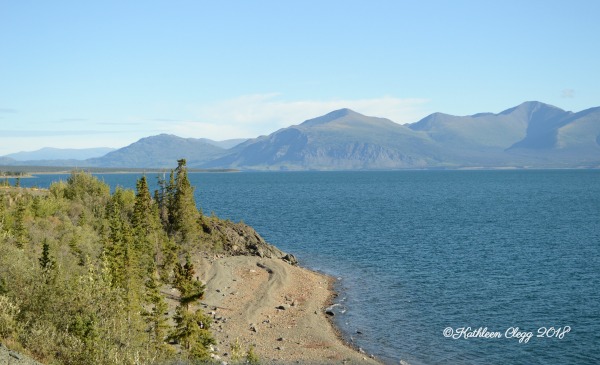 If you have a fishing license and pole, Kluane Lake has a lot of large lake trout and whitefish, so maybe you can even catch some dinner. Be sure to check the regulations on the area so you aren't breaking any rules.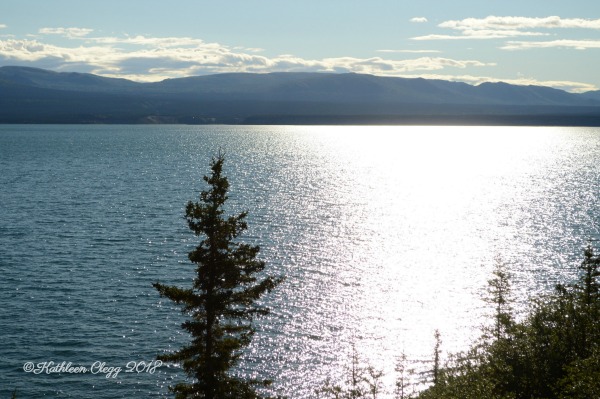 Alaska
Finally, we hit Alaska. Our behinds were pretty numb by this point. This was day 4 in the car. Of note about reaching Alaska. When you exit Canada, there are about 30 miles in no man's land, although I think it's actually jointly owned, before you hit the Alaska immigration. You shouldn't stop or get out of your car.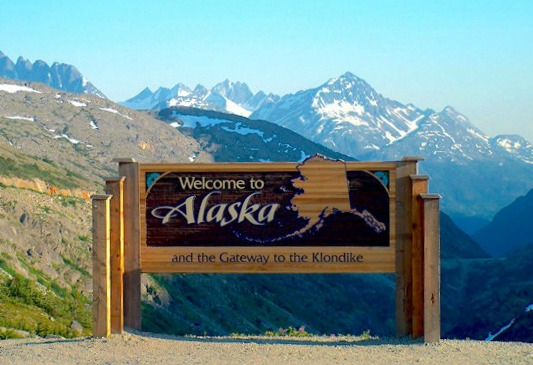 In August and September, the animals are fattening up for the long winter months ahead. This mom and baby moose are no exception. They would stop and munch on the grass every few steps. It looks like the mom is hustling baby along, doesn't it?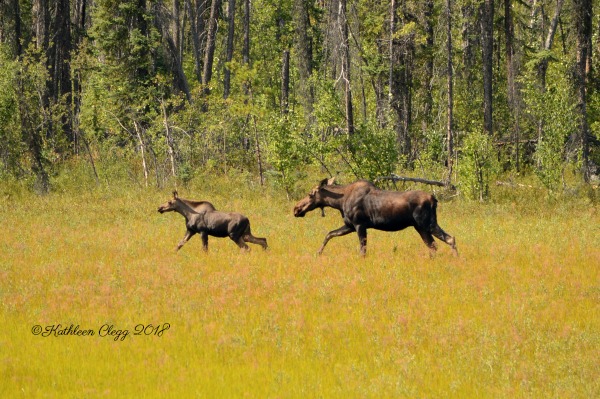 On a clear day, you can see the snow covered mountains in the distance. This day, it was raining pretty good, but the lake was still pretty. Lucky us, it also had a rest area attached!

The Way Back
After spending our month in Alaska, we were sadly leaving and heading back to reality. It's always hard to leave a place you love. We had some bad weather and some good weather on the way back. Luckily, when we stopped at the Yukon River for lunch, the weather was fantastic. I was able to capture these photos during our break.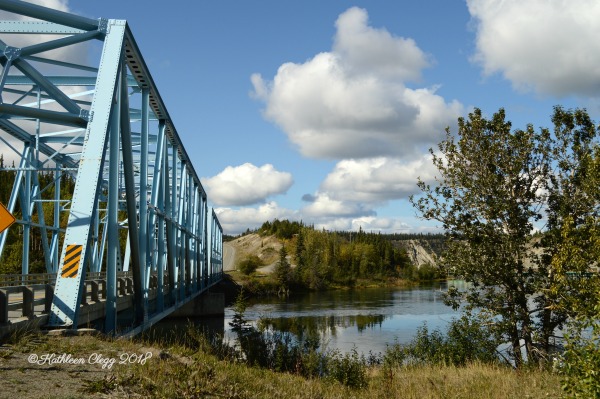 Water photos are one of my my favorite kind of photos to take. If you looked at my memory card from my camera or my phone, you would be able to tell because I take so many pictures of the water.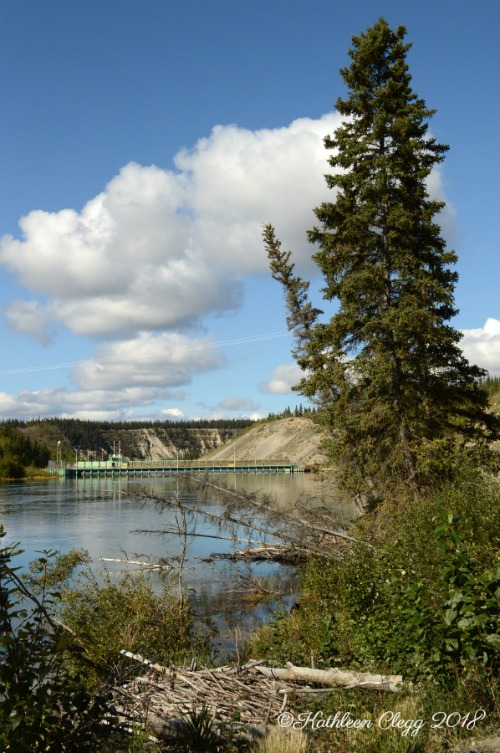 Personally, I thought these turned out really nice. Kind of shocking really, since I had a puppy pulling on his leash. He wanted to take a swim.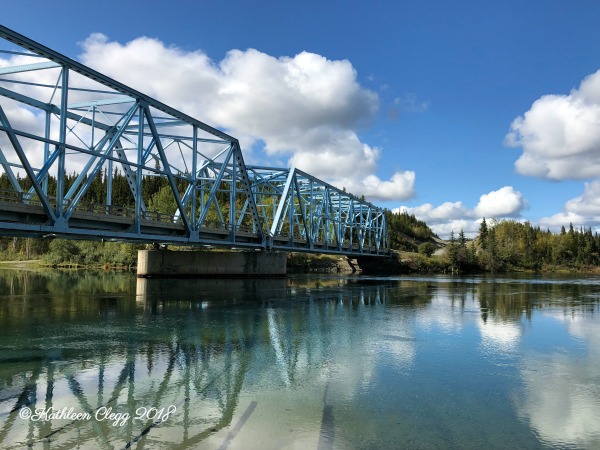 Bison are pretty plentiful on the Alaska Highway. We saw a few herds and some loners too. This fella was one of the loners. They are so huge.
Coming back, we stayed in a motel called Talbot Arm Motel, in Destruction Bay. After our experience at Fort Nelson, we weren't expecting much, but our daughter was super sick, so we had to stop. It was a really horrible night for her, but we were pleasantly surprised by the motel. It wasn't a five star place, but it was clean and warm. It's what we needed.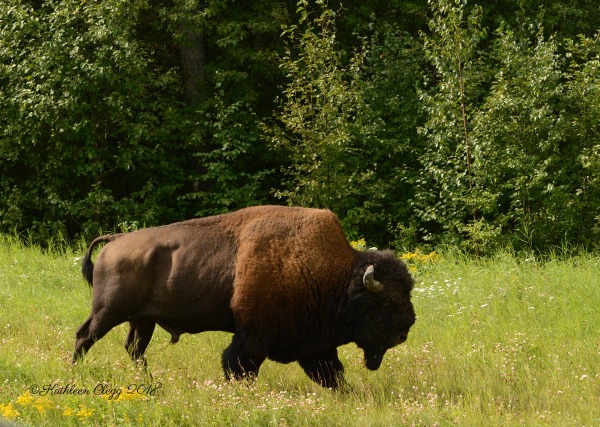 Watson Lake
In the town of Watson Lake, which is in the Yukon, there is the World Famous Signpost Forest. It was started in 1942 by injured GI, Private Carl K Lindley from Danville, Illinois, who was brought to the aid station to recuperate. In 1942, there wasn't a town of Watson Lake, but a military air base and airport.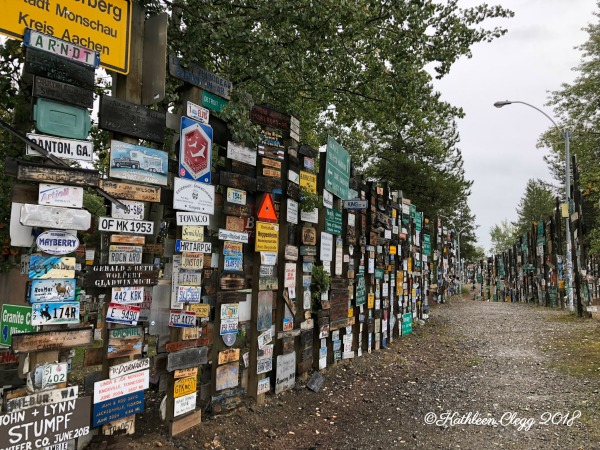 Private Lindley's commanding officer assigned him the task of painting the directional sign and while he was doing that, being homesick, he decided to add a sign to his own hometown. This Signpost Forest has over 72,000 signs now, although some say there are over 80,000 signs.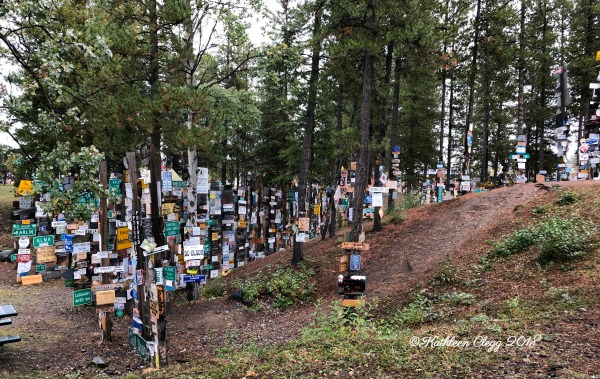 The day we were driving through, it was super rainy and cold. My daughter and I decided to get out and walk around anyway. How often do you see something like this?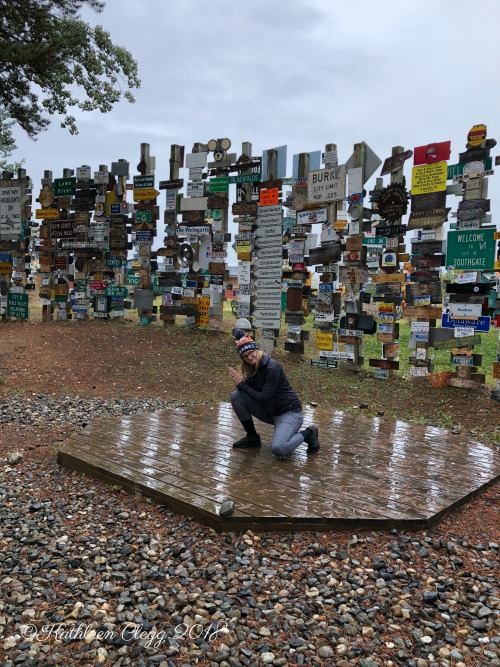 That's just me, on a bridge in the Signpost Forest.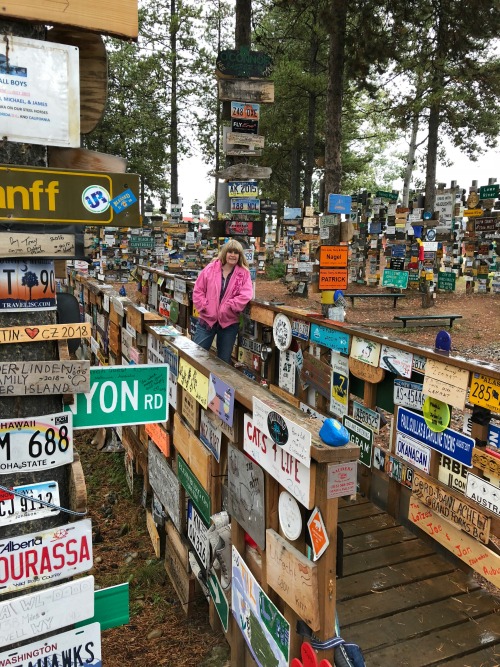 We saw another black bear on the way back through. This one was a little bigger and not as close, but we saw it anyway. I'm always so excited to see animals in the wild.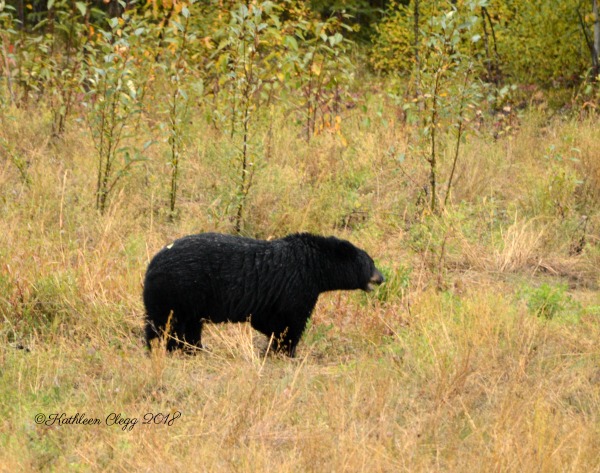 Remember that tiny puppy at the beginning of this post? This is him five weeks later. He was growing so fast. Check out my Instagram to see him now. Still super cute, but he is really getting big. He has the longest legs.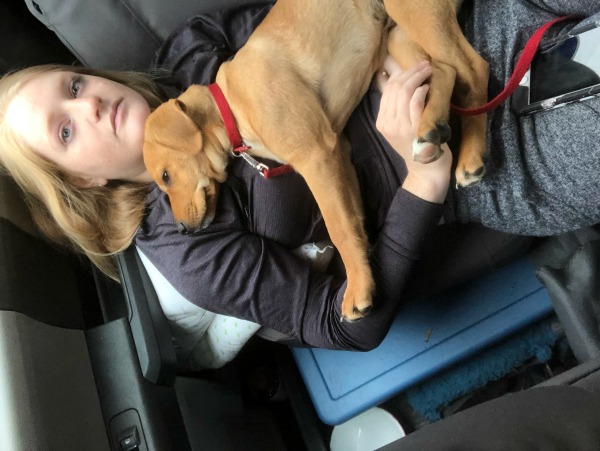 Tips for Your Road Trip
Fill up your fuel tank before you leave the United States. Fuel cheaper in the U.S.
Take plenty of food, water and blankets with you in case you get stranded. Towns on the Alaska Highway are far apart.
Pay close attention to your fuel because, again, towns are far apart.
Take an extra 5 gallons of fuel for emergencies.
Take a camera. You will want to take lots of photos.
Watch for wildlife and don't approach!
Bring toilet paper and wipes. Bathrooms are few and far between. Not all rest areas have bathrooms.  I hope you can squat.
Take your time. I wish we had a couple more days. Our next trip we will schedule in the extra days.
Bring a tent if you don't want to sleep in your vehicle. However, be aware that there are bears, so don't put anything with a scent in your tent.
Have bear spray and know how to use it. It could save your life.
Do not bring pepper spray into Canada. It is illegal and they will ask you if you have it and take it if you do. Bear spray is okay though.
If you have a tablet, upload some movies on it. You can't drive for every waking hour and will want something easy to do before bed.
Bring a small camp stove to cook simple meals on. We did soups and chili. You can cook them right in the can and eat out of the same can, so no dishes!
Get yourself a copy of MILEPOST 2018 (or whatever the latest year is). It details your trip, tells you where towns, hotels, rest areas, etc are located. It's quite helpful. (PS that's an affiliate link)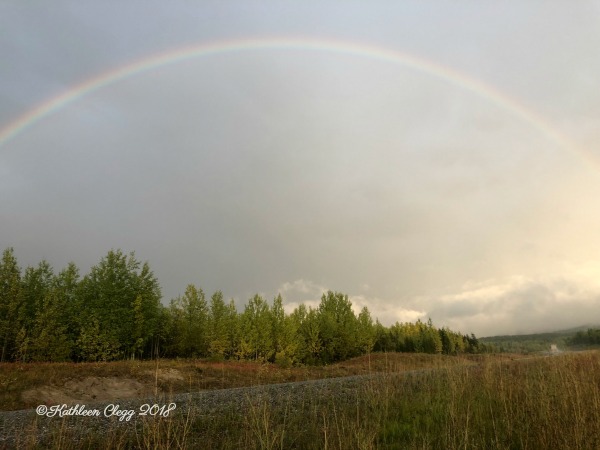 Conclusion
Our Alaska Highway Road Trip added four days onto our trip both directions that we could have spent working on our cabin. However, it was a dream for me to take that trip and I'm so glad that we did. It was a beautiful drive and we saw so many great things. I highly recommend it. 10, 263 miles later, we are back in Idaho, awaiting our next adventure.  Have you ever taken the Alaska Highway?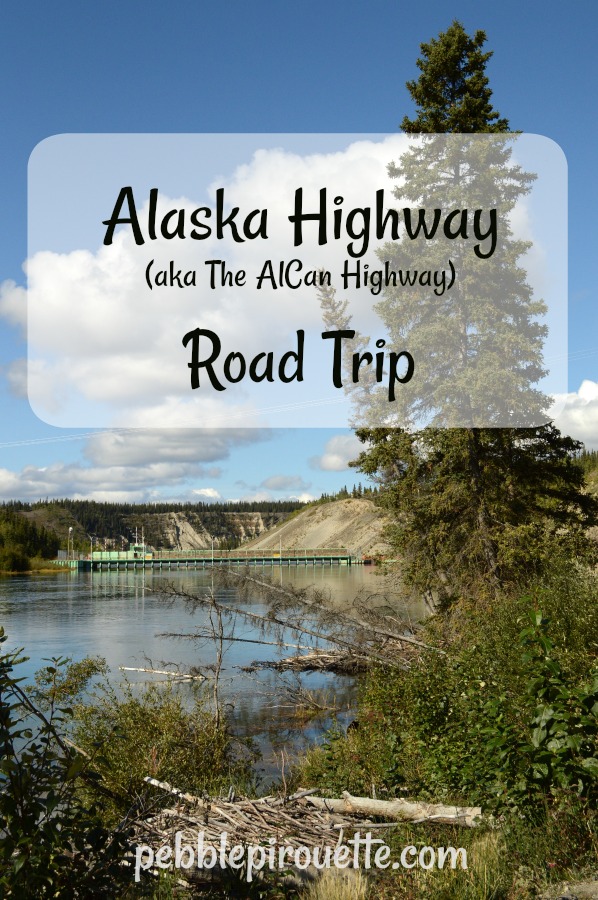 Want more about Alaska? Check out these posts!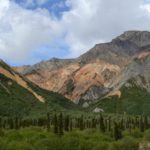 My 5 Favorite Places to Travel in the World