I love bright, shiny things. Not jewelry. I can take or leave most of that. What I really love are fireworks and Christmas lights. So much. Since it's Christmas time, I thought I would take a shot at viewing Christmas lights in Idaho Falls and see what I could find.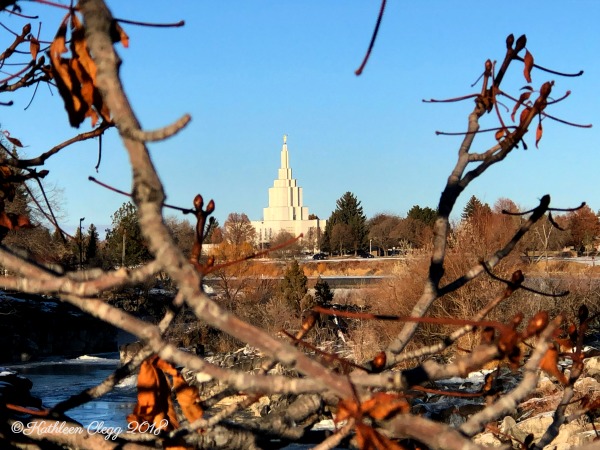 I received a discount from the owner of the Villas Downtown Loft in exchange for my review. All opinions are 100% my own and from my experience.
AirBnB
December also happens to be my wedding anniversary month. In the last 2 1/2 months, my husband has had both of his knees replaced. Since we travel all over for his work, we don't have an actual home, so we've been staying with his mom. So super nice of her, but for our anniversary, we wanted a quick, inexpensive get away. We've had excellent luck with AirBnB, so I checked out their website, found a lovely loft available for our dates right downtown and booked it!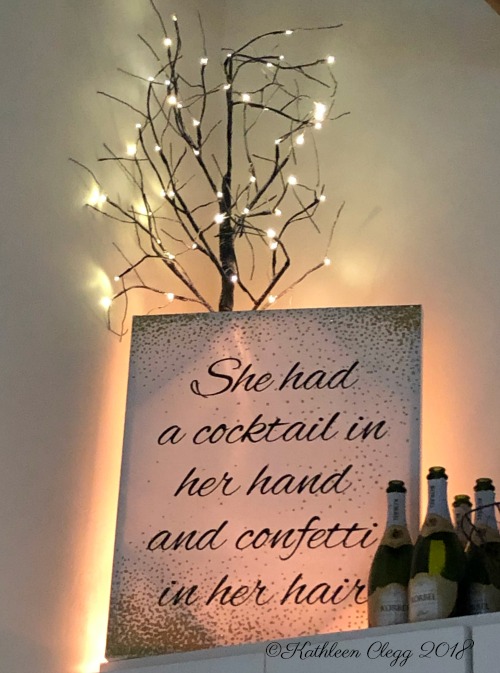 Have you ever stayed in an AirBnb? In case you have not, let me explain them to you. They are private homes where you either rent a room, a suite or the full place for your stay. We like to stay in the places that are full rentals because I like to have a kitchen and my privacy. The places we have stayed are owned by local people, so the money stays in the communities we are visiting. That's a huge plus to us. If you've never stayed in an AirBnb before, you can sign up for a free account and receive a $40 credit on your first stay using my referral link.
Villas Downtown Loft History
In Idaho Falls, as in a lot of towns, the city is working on restoring the historical downtown areas. It's slow going, but I really love the effort they are putting into the restoration. The Villas are beautiful lofts that have been built in the old Montgomery Wards building, above existing businesses.
I looked for some history on the building, because I was curious, and couldn't find much. I did learn that it was build in 1928-1929 and that it was added to the National Register on Aug. 30, 1984. When the lofts were started, they found that the original birch wood floors were still in good shape, so they were kept in tact. They are really pretty floors too.
Our Loft
When I was looking for a place to stay, I picked this particular place because it was given five stars and the hosts, Carlos and Cathy, are Super Hosts. Yay for us! I also loved that it was downtown so that we could walk anywhere we wanted to go. Who wants to spend a bunch of your down time in a car, unless you're on a road trip?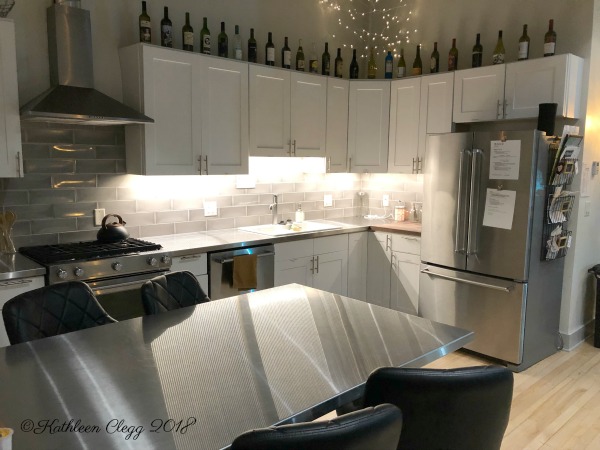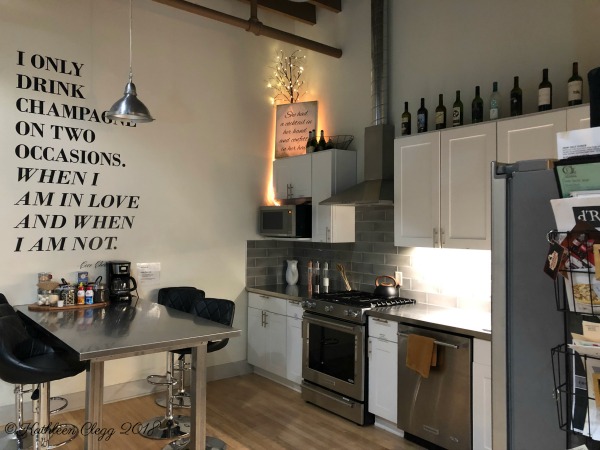 We entered the loft and were immediately happy with our selection. It is really a beautiful place, with no detail forgotten. Everything was clean and comfortable and fit our needs perfectly. I also love the little touches in the décor around the loft. I'm not sure where the large windows came from, but they are such interesting pieces.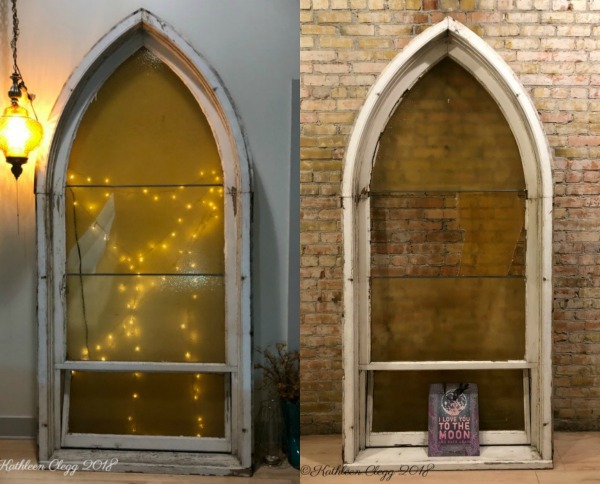 Since we have lived in Idaho Falls, off and on, since before we were married, we know the area and our favorite places very well. However, for the new visitor, Carlos and Cathy have areas with brochures for things to do and menus of close restaurants. They also have bikes you can borrow to ride around the river in good weather.

If you find yourself staying in Idaho Falls, I can't recommend Villas Downtown Loft enough. You will love it and hate to leave when your time is finished. Find the listing on the AirBnB site.
Walking Around Downtown
Downtown Idaho Falls is a relatively safe place to walk. The shops close pretty early, but there are loads of restaurants and bars that stay open into the evening and night. We decided to take a walk to look in a couple of shops and stretch our legs. Really, the walk was for my husband to exercise his new knees.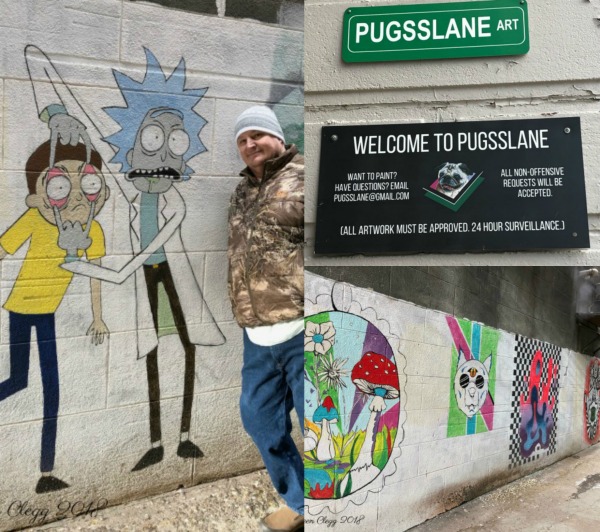 We came across someplace neither of us knew about, Pugsslane Art. It's an alley where local artists can paint on the walls, with permission. We found this picture my husband is standing by from the cartoon Rick and Morty. I've not seen it, but my daughter thinks it's a hoot. She loves it. The alley was a fun find for us.
Viewing Christmas Lights in Idaho Falls
There are many options for viewing Christmas lights in Idaho Falls. There are families who go all out with their lights, timing them to musical montages you can hear on your car radio. Does every town have these places? I don't know, but the work that must go into them is impressive to say the least. I really love these places. Below are nine places in the Idaho Falls area where you will ooo and ahh your way through, in no particular order.
Downtown
Civitan Park
Located on the corner of Park and B streets, Civitan Park is a tiny park that is all done up for Christmas. With trees in the park decorated by local school children and businesses and it's a nice little walk through the park.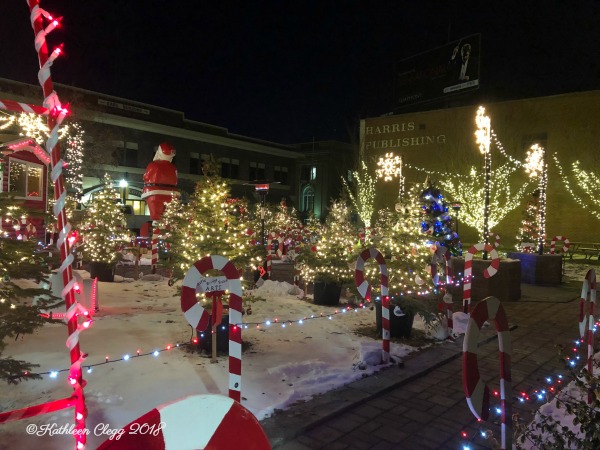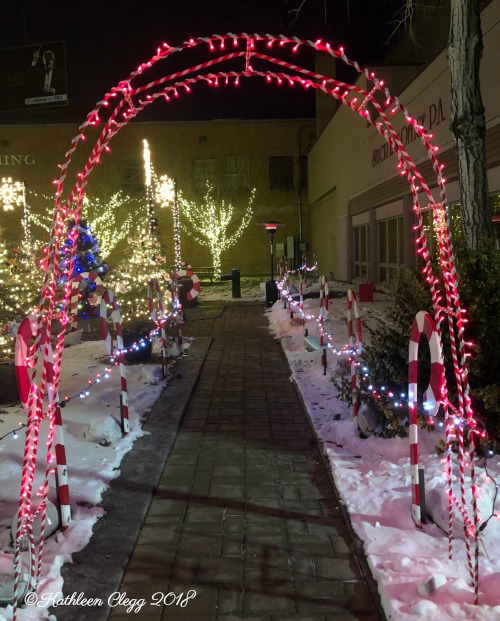 Memorial Drive
Memorial Drive is along the Snake River downtown and an easy walk from the loft we stayed. There you will find the trees all lit up for your enjoyment. Take a little walk along the river in the Christmas lights to get yourself some Christmas spirit.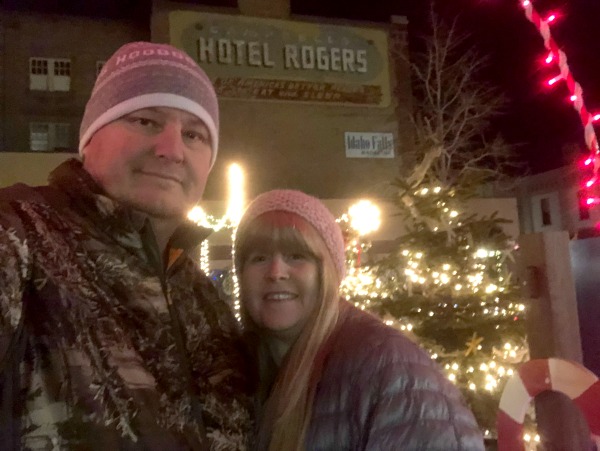 West Side
Owens Family
1385 Lowell Drive
Tune your radio to 88.5
The Owens Family has been providing Christmas lights enjoyment to the community for 12 years and is actually the first house I ever saw in person where the lights are put to Christmas music. I was in awe that first year and have visited every Christmas I've been in town since. The show runs 30 minutes long. It's in a neighborhood, so please be mindful of the people who live there.
In Town
Walker's House
21st and North Boulevard
This house is huge and done up so beautifully. They allow you to drive through their property in their circle lot and see all the sites. I especially love it because they have a manger scene, which is my favorite thing to see during Christmas.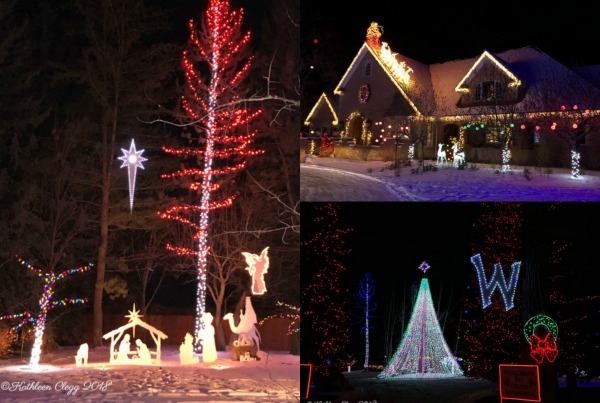 Candy Cane Lane
Hartert Lane off of Sunnyside and Holmes
I've gone to this street since I moved to Idaho Falls in 1989. Each of the homes has candy canes at the end of their lawns and most are lit up in some fashion. It isn't as festive as it once was, but it's still fun to see. On the opposite side of Holmes, on Hartert, there is a home that always has loads of lights and sometimes Santa is even there for the kids to visit.
Stonebrook Estates
North Boulevard, across Sunnyside
This neighborhood has loads of big homes and almost all of them have beautiful lights to behold. Drive slow. There are also lots of kids.
East Side
Edward's Drive
3280 E Edwards Dr.
Tune to 87.9 FM
This light show is only a few years old, but they are adding to it every year. I haven't been yet, but I hear it's great fun. Hopefully I will get there in the next little bit.
Iona
Belnap Family
3453 N. 55th E. Iona
Tune to 102.7
The Belnap family have been running their light show for 10 years. They have music tied to their program and have over 230,000 lights! Can you imagine putting them all up and taking them down? This is a community favorite.
Of course, as you drive around town you will see plenty of other displays. People love to light up their homes in the Christmas spirit. If you live out of town, be sure to look up Villas Downtown Loft and see if it's available for your accommodation. You won't be sorry. Don't forget to use my referral link for a $40 credit.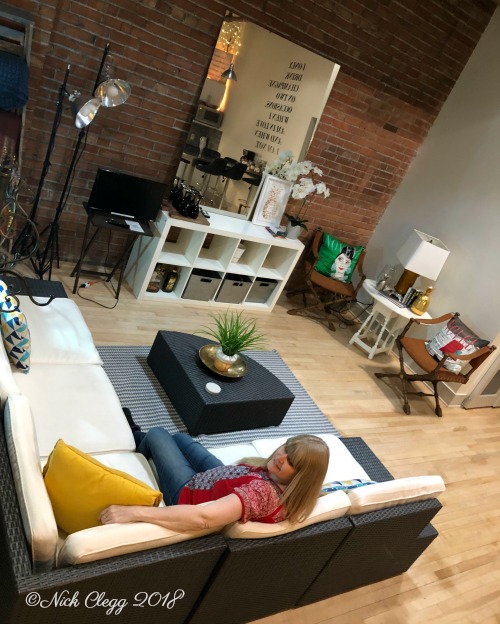 Do you love Christmas light like I do? Do places in your town do their homes up like they do in Idaho Falls? I hope you will enjoy viewing Christmas lights in Idaho Falls.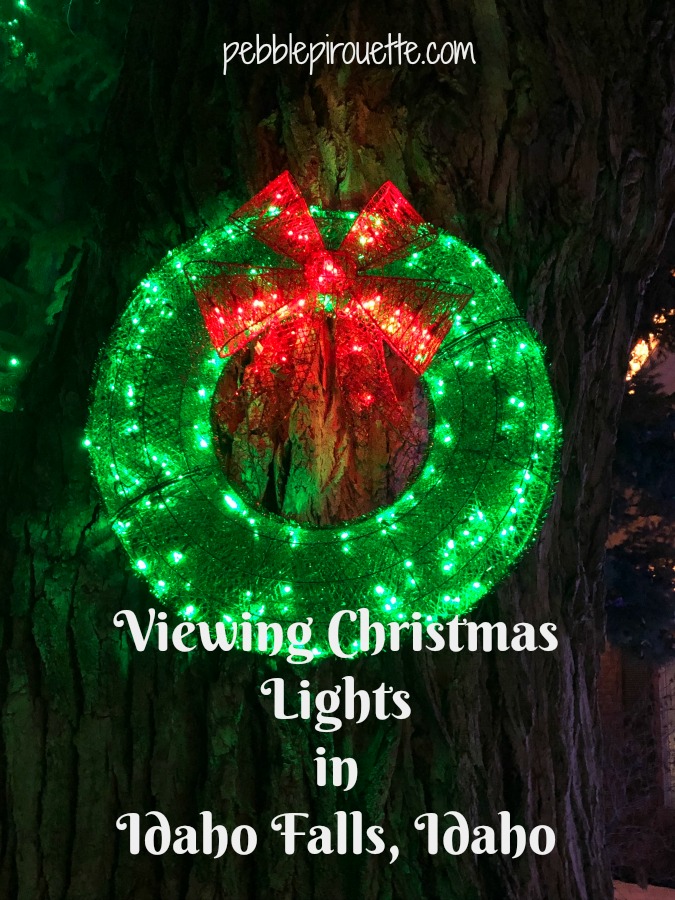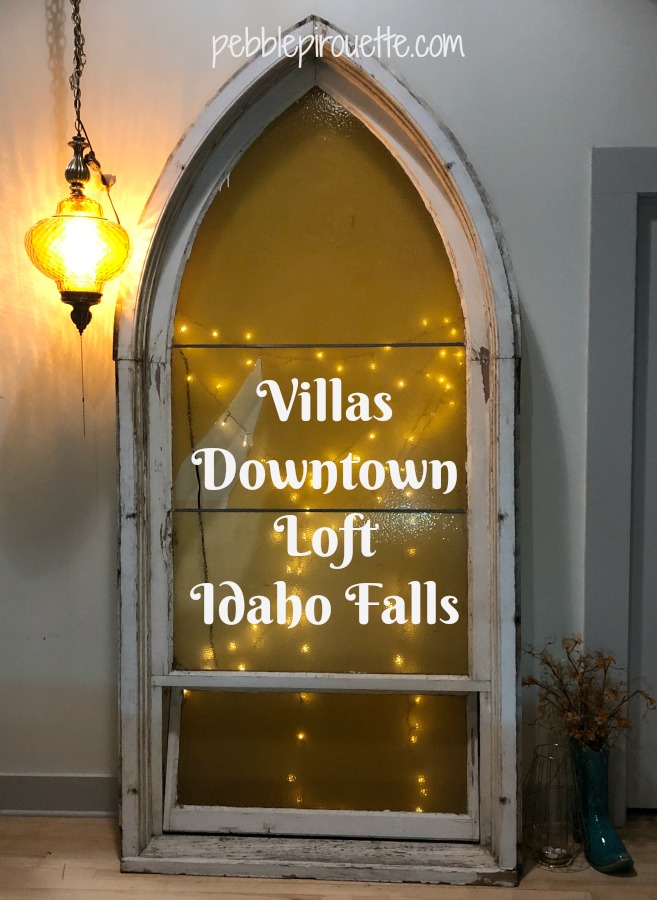 Want more information about Idaho Falls? Check out these posts.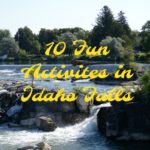 10 Fun Activities in Idaho Falls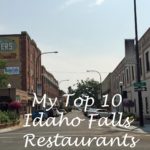 My Top 10 Idaho Falls Restaurants